Published as: North Side Sanctuary
Architecture: David Genc
Interior Design: Wendy Labrum
Text: Michael Webb
Photography: Meghan Beierle-O'Brien

It's easy to get cabin fever during the cold, dark Chicago winter, and designers are challenged to compensate for the harsh climate. A young professional couple decided they needed more room for their family, and commissioned architect David Genc (of Hirsch Associates) to design an elegant, timeless house that pulled in natural light and views through large windows. As construction began, they brought in another Chicagoan, designer Wendy Labrum, to create the interiors. "We wanted the design to be bright and happy, fun for our three small children and guests, with a bit of drama thrown in," explains the wife. "I knew we had found the right person as soon as we met. I had collected 200 images of interiors I liked, and Wendy knew them all."
Labrum opened her office 10 years ago, but she had developed an appreciation of architecture and beautiful things long before. "I grew up in New Canaan and Long Island—places that were full of impressive homes—before going to high school in Chicago," she recalls. "Later, I lived in London and traveled around Europe." During those years she was inspired by such masters as Albert Hadley and Tony Duquette, as well as her contemporaries, including Alex Papachristidis, Windsor Smith and Charlotte Moss.
The house that Genc built in the Lincoln Park district is a block of dark brick with steel-framed glass sliders opening to terraces, and a semi-basement stepping up to a leafy backyard. The living spaces have 12-foot ceilings, and stairs ascending to the family bedrooms, with a guest suite on the top floor. The crisp finishes satisfied the husband's preference for minimalism, but his wife asked Labrum to add moldings, silk drapes, reflective surfaces and jewel-like colors to enrich each room.
Both clients were intimately involved in their designer's choices of finishes, furnishings, art and antiques. "As busy professionals, they didn't have time to do the sourcing themselves, but they had strong opinions about the pieces I showed them—especially the artworks," says Labrum. "I always listen closely to what clients tell me, making selections room by room. Then we hone it together, making substitutions or even developing a fresh approach."
The couple wanted to make a fresh start and brought only one piece from their old house: a Roche Bobois sofa that the husband had owned since his bachelor days. Most of the other furnishings are custom designed and were fabricated by Labrum's network of specialized craftspeople. "Every job is different, so each piece is designed from scratch, based on a picture I have in my head and my knowledge of the basic dimensions," she says. Chicago offers a rich assortment of design showrooms and Labrum finds it easy to source antiques and vintage pieces online from all over the world, so she is spoiled for choice.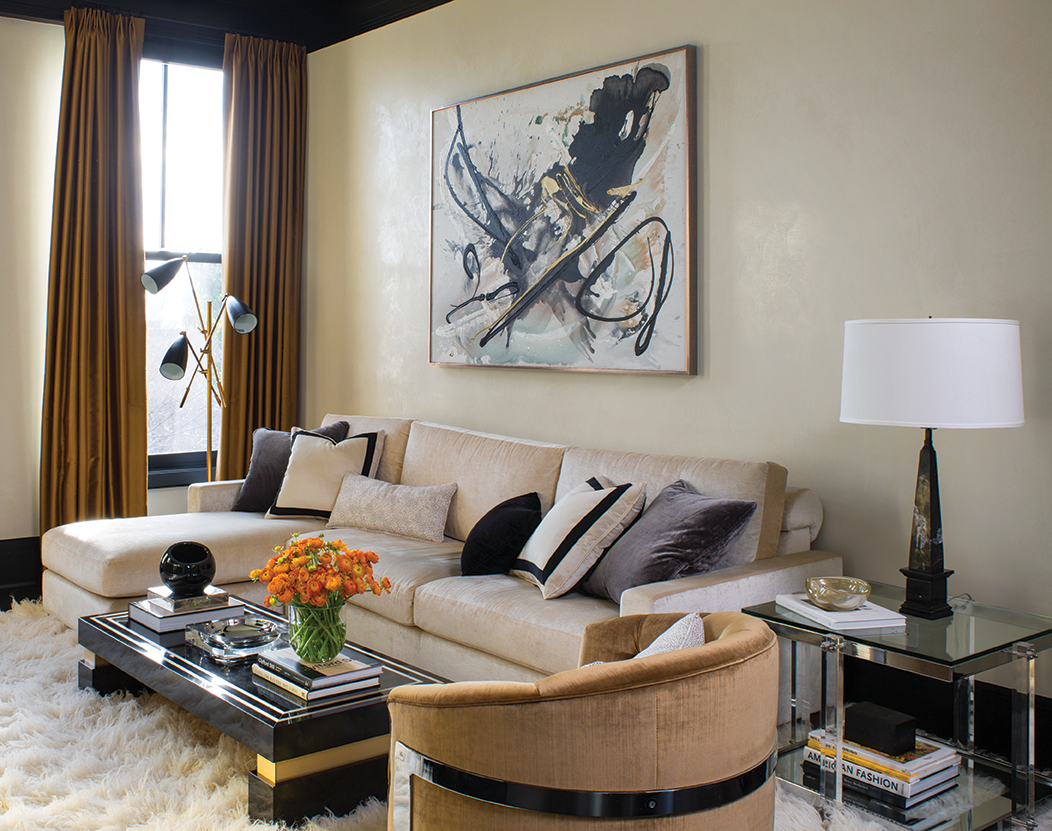 For the floors, Labrum specified oak stained to a dark tone. This serves as a foil to the turquoise, purple and blues of the upholstery, as well as to the silvery and mirrored surfaces that catch reflections and amplify the light. The milled ceiling and moldings evoke older houses while preserving the clean lines of this one. The entry foyer is dominated by Hervé Van der Straeten's console table and an antique Venini chandelier. Striped wallpaper from Phillip Jeffries unites the living and dining rooms, and it finds an echo in two silver blobs from the same designer that double as coffee tables, and in the Tom Dixon mirrored globes suspended over the Hudson dining table. Labrum's sleek fireplace is an understated counterpoint to the vintage dining chairs covered in Sabina Fay Braxton velvet, and the custom steel-and-velvet armchairs by Milo Baughman. An abstract painting by Ting Tan-Mayershofer hangs nearby.
A sybaritic family room flows out of Labrum's sleek kitchen. She designed all the principal furnishings, except for the Cisco Brothers pouf, upholstered in Edelman Leather. The basement media room is more eclectic, ranging from the restrained geometries of a custom rug and drapes to the more rugged feel of the bar, with its wood stools by Organic Modernism. The husband's home office has a more serious air, its Barcelona chairs reupholstered in a Clarence House fabric, and its custom desk, rugs and cabinetry.
The second-floor master suite is all about understated glamor, notably in the built-in storage which is silver-leafed to match the walls and enlivened with display niches and inset panels of antique mirror glass. The same silvery finishes are carried through the dressing room and the master bathroom, covered in Ann Sacks metallic tiles. The third-floor guest suite functions as an independent apartment when the husband's parents come to stay. Throughout, Labrum has accommodated the divergent tastes and needs of her clients, achieving a harmony that turns their house into a welcoming sanctuary.
Hirsch Associates, 312 836 0011, hirschassociates.com; Wendy Labrum Interiors, 312 217 4224, wendylabruminteriors.com