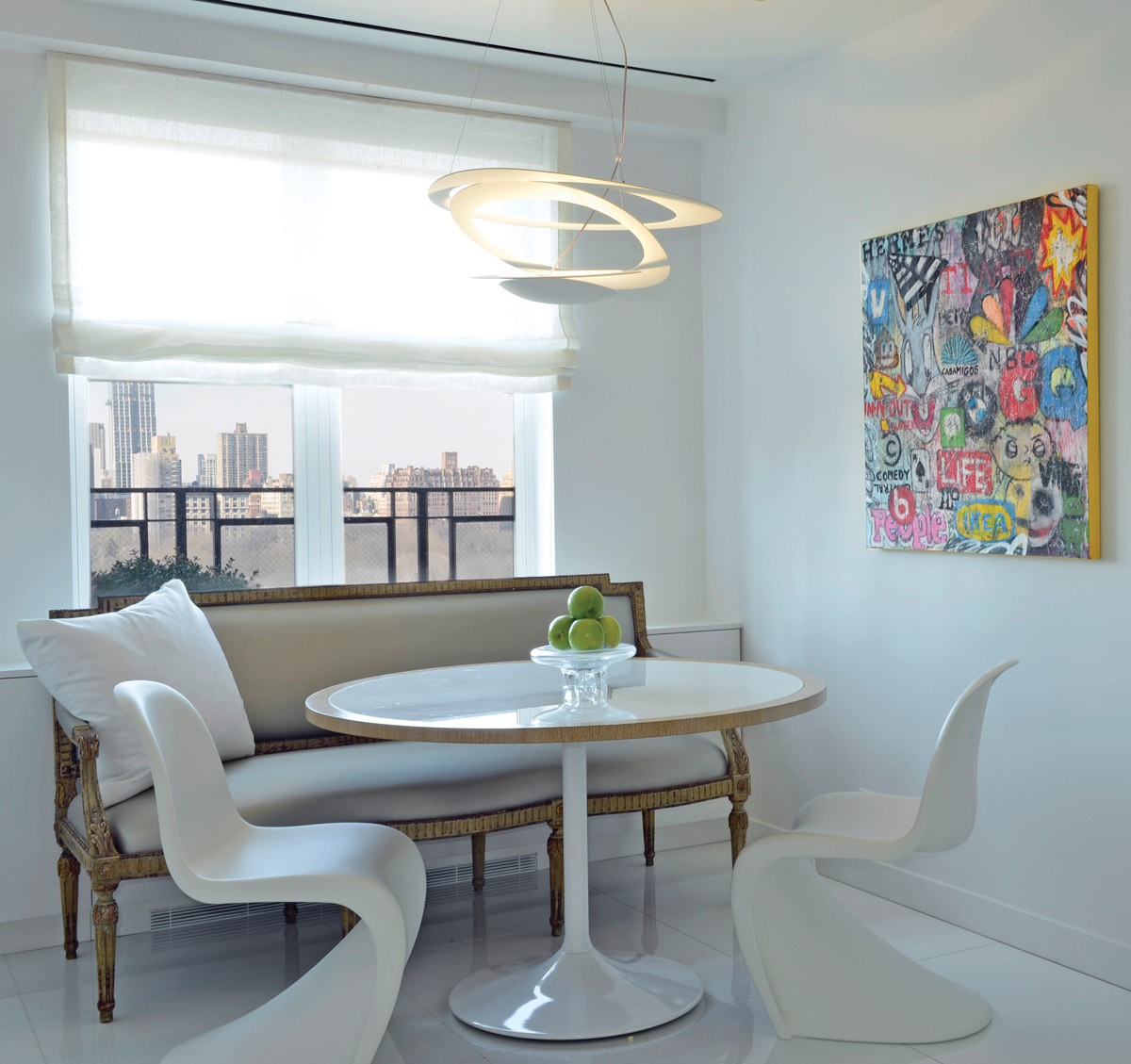 Published as:
CITY LIFE
Interior Design: Vicente Wolf
Text: Miranda Agee
Photography: Vicente Wolf
Vicente Wolf is one of those prolific interior designers that relies on his intuition rather than algorithms to create a memorable space. He is known for a contemporary and elegant approach that continues to be riddled with references to the past. It was then an appropriate move to take on a pre-war apartment in a Rosario Candela building on Manhattan's Upper East Side for previous clients who wished to turn a three-bedroom home into a one bedroom fit for empty nesters. "Originally it was a very lackluster apartment," Wolf says. "There was a lot of wasted space and not in any way functional. The clients' two children had recently moved out of their larger home and they wanted to downsize into an airier residence with light and views."
With the enviable scene of Central Park South and glimpses into the city's westside, the views were a home run. To achieve the openness the homeowners craved, Wolf played with dimension, color, and natural light. "We gave the apartment a sense of balance and order," says the designer, who moved walls and reallocated spaces to create an open floorplan. "Each space flows from one room to the next—maximizing the capability to see the entire apartment but still have areas to discover."
Noting that his inspiration for the design of the home was rooted in the idea of erasing boundaries within a space, Wolf used opaque shades of white to bounce the light around each room. He also used it as the perfect backdrop for the couple's vast collection of art. In the entrance, artist McArthur Binion's White Painting Two greets all who walk in. A neon Beverly Fishman piece hangs above a floating shelf, and down the hall, Jens Fänge's Spring to Mind both anchors the space and creates an artistic flow. "They wanted a good deal of blank wall surfaces to hang their art," Wolf says.
In the living room, the space glows, thanks to a singular light color story. A comfortable chair by Jonas Upholstery is covered in a Loro Piana fabric. Next to it, a vintage French Rococo chair is upholstered in a Kyle Bunting hide. Underfoot, Doris Leslie Blau's Persian Tabriz carpet expertly sets up the dramatic moment that artist Marcello Lo Giudice created with his piece, Orange, which rests between the two windows and proves color changes everything.
As a departure from the home's bright, white walls, the den was lacquered in blue with hints of green to reflect the natural tones of Central Park and the more stagnant color palette of the city skyline. "I always listen to my clients to understand what they like," says Wolf, who decided on a custom, pull-out sofa—upholstered with Coraggio royal silk mohair in Peacock—to aid when the residents' children or guests spend the night. Nearby, two leather chairs by VW home were upholstered in a supple leather to create a sense of warmth that the room craves. Just above hangs Dyade by Bernard Frize, awash in a rainbow of color.
For Wolf, design is as much about the personal touches as it is an intricate dance between personalities, where each element informs the next, creating a context of wholeness within the home. "I am constantly trying to evolve. I never want to get caught in time," he says. "I think in order to move forward, you need to keep reminding yourself of the past." Vicente Wolf, vicentewolf.com
Save
Save
Save