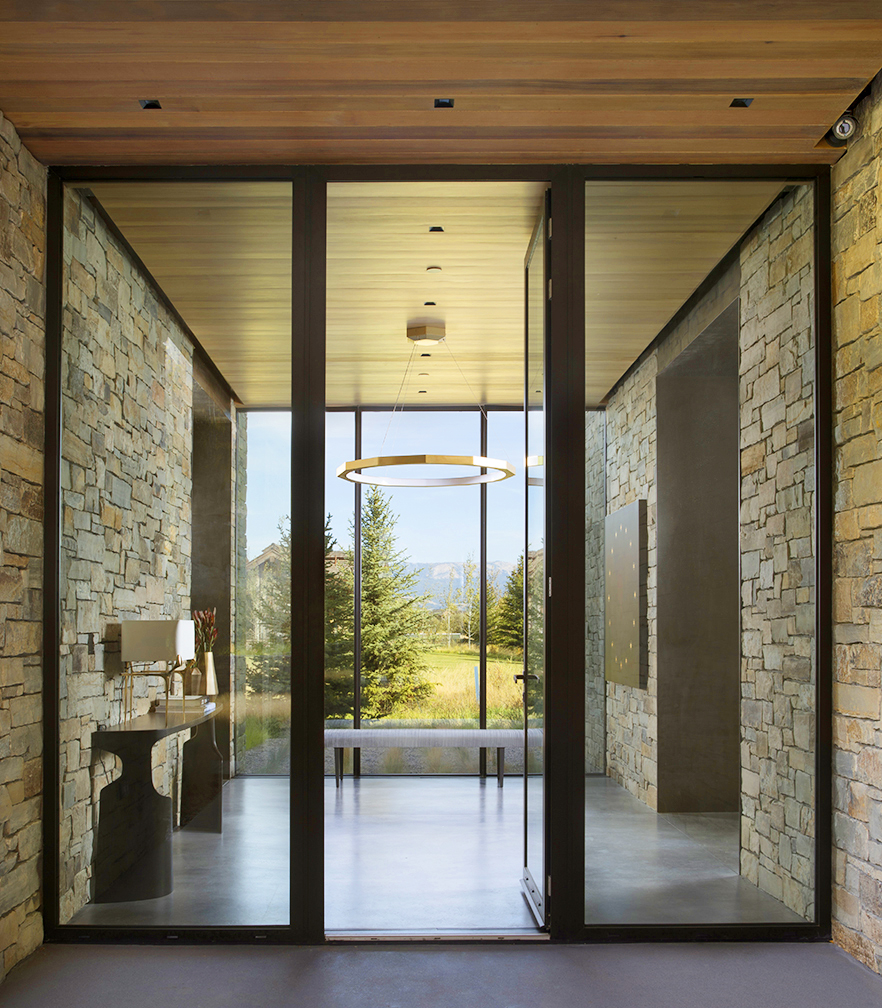 Published as:
Something
WILD



Architecture: Blaze Makoid
Interior Design: Kelly Hohla
Text: Zlata Kozul Naumovski
Photography: Paul Dyer
Nothing comes between Blaze Makoid's clients' home in Jackson Hole, Wyoming, and the view. Makoid, principal of Blaze Makoid Architecture, oriented the couple's contemporary abode toward Teton Range, upon which thrill seekers descend seasonally for world-class skiing. Located at the end of a cul-de-sac in a private community in Teton Village, the house is uninterrupted by nearby property. "There is nothing between them and the mountains," Makoid says.
But there are plenty of elk, grassy meadows and vistas of the iconic red tram that ushers skiers to Jackson Hole Mountain Resort. To take advantage of this view, Makoid placed the outdoor entertaining area in the front of the house. "It's an iconic piece of Jackson Hole," Makoid says. "Having that view was important." Added bonus: The home receives the most solar exposure from this location, a boon to guests enjoying the outdoor lounge in temperatures that swing radically over the day.
On the exterior, Makoid employed large expanses of glass as well as western quarried stone and reclaimed barn wood siding from Virginia. Interior materials are natural as well. He wrapped fireplaces in board-formed concrete, clad ceilings in cedar and installed a floor of polished concrete, "perfect for skiing and summer activities and kids, because it can take a lot of abuse," he says.
Kelly Hohla of Kelly Hohla Interiors worked with the clients to infuse warmth into the interiors of their home. From rugs to furnishings, she swathed rooms in texture and added measured doses of color and pattern. "The house is cozy and modern," Hohla says. Her directive was to deliver "clean modern, but for it to have warmth and be comfortable." In the living room, where the ceiling height soars to 18 feet, a custom rug by Tai Ping in tones of gray and navy grounds the space. "There are 20 different colors in that rug, but it doesn't read like it," says Hohla, who complemented it with a sectional from B & B Italia that incorporates cushions in two depths to accommodate loungers of all sizes. A pair of Bright Chair swivel lounge chairs upholstered in a charcoal check can easily accommodate both conversation and a photo by Richard Mosse of a mountain base camp. "There's a lot of photography in the house," Hohla says. "They are huge fans." A cast bronze drinks table by Holly Hunt continues the artful mood.
Tucked into a modern alcove framed by board-formed concrete, the adjacent dining room entices with two sculptural chandeliers by Gabriel Scott in smoked glass that gently hover over an aluminum table with a bronze finish. Hohla juxtaposed the hard surface of the table with chairs upholstered in a houndstooth. For an added sense of intimacy, Hohla played off the cedar ceiling and window frame by painting the walls in a charcoal aptly called Eclipse. "The dining room is a little jewel box," Hohla says.
At seven feet long, an overscale light fixture by Bec Brittain surprises in the kitchen. "The light fixture has some whimsy to it," Hohla says. "It's like a dangling sculpture in the middle of the room." It also serves to counterbalance the house's clean architecture and the straight lines of the Bulthaup cabinetry. The designer chose a live-edge walnut countertop and navy leather bar stools by Ochre to bring warmth into a room of mostly hard surfaces.
One of the clients' most used spaces is the cocktail room, with a wraparound glass window and bar. A graphic hair on hide rug by Kyle Bunting and a sofa from Holly Hunt detailed in modern channeling and upholstered in wool play host to homeowners and guests alike recovering from a day of skiing. "It's the room where adults can decompress and get a cocktail and relax before dinner," Makoid says. Hohla provided plenty of seating options that include a window bench, a pair of vintage chairs in a nubby boucle and a wood frame chair with brass detailing by Usona. Carrara marble cocktail tables are more than ready to handle drinks thrown their way.
In the master bedroom, Hohla employed a light silvery palette with steely blues, starting with a leather-frame bed from Holly Hunt with a woven wool headboard. "It was the first piece chosen for the room and really anchored it," she says. The headboard is inset into an oak niche and flanked by floating custom steel side tables with oak detail. Gabriel Scott pendants in emerald green add a dash of color to the room. Hohla pulled the color into pillow shams and even the strié rug from Tai Ping. "The green in there is very subtle," she says. "It's a super cozy rug." The brilliant hue repeats in a powerful punch on a pair of wood-framed lounge chairs by Luca Nichetto for De La Espada. Though most windows throughout the house do not have window treatments, the master bedroom is dressed in solid steely blue–draped panels by Holland & Sherry. "We tried to push for drapery here and there where we could," Hohla says.
A sea of oak—courtesy of the Ash Vein limestone slab on the wall—bathes the master bathroom, with a herringbone floor chevron tile in Ash Vein from Artistic Tile underfoot. A pretty little cedar stool by Usona sits patiently by the tub, but missing is a chandelier. Says Hohla: "The windows with the deep wood sills that the architect designed act as picture frames to the views outside. We wanted to leave the space open so that your focus is on the outdoor vistas." Blaze Makoid, blazemakoid-architecture.com; Kelly Hohla, kellyhohlainteriors.com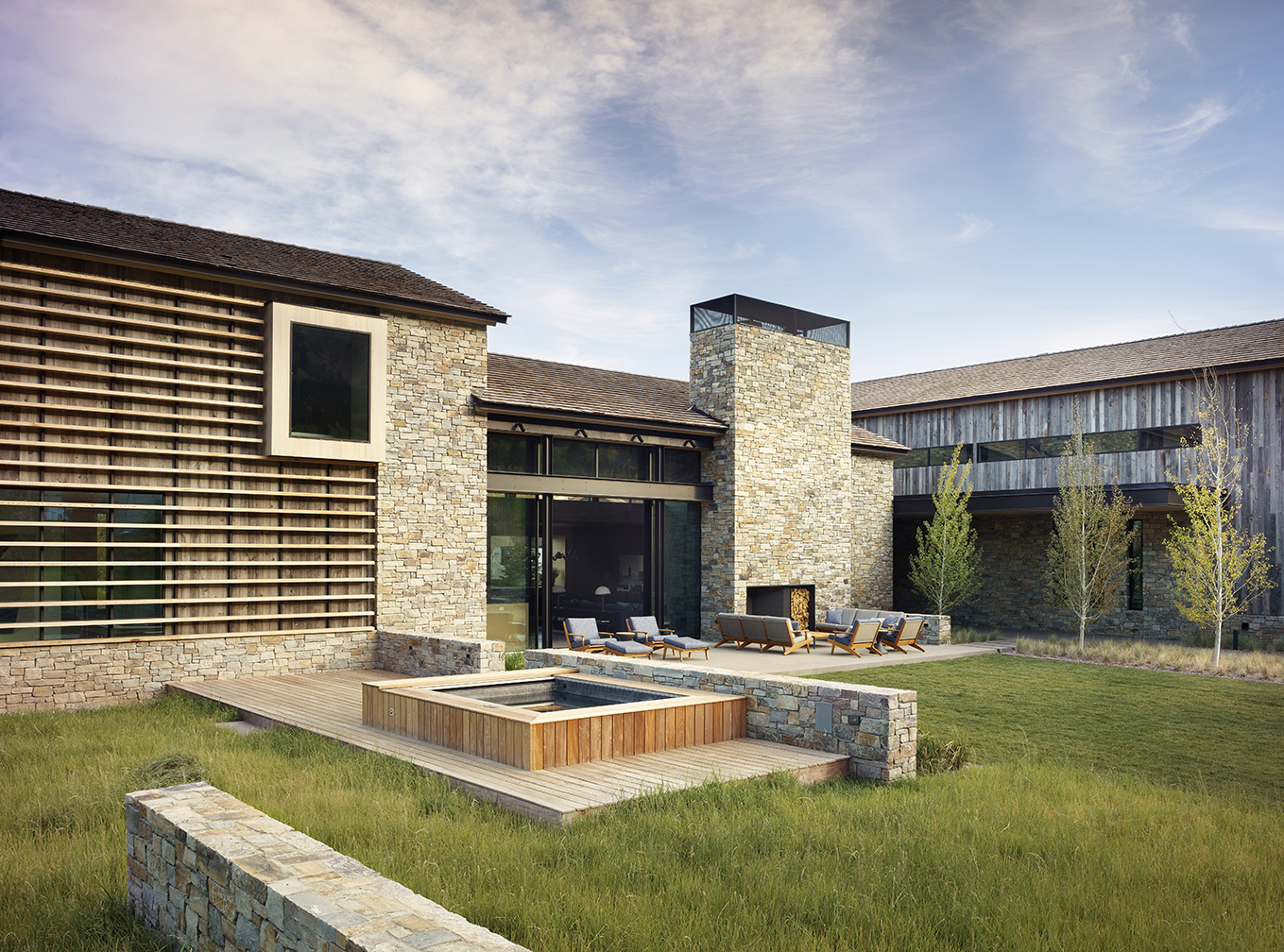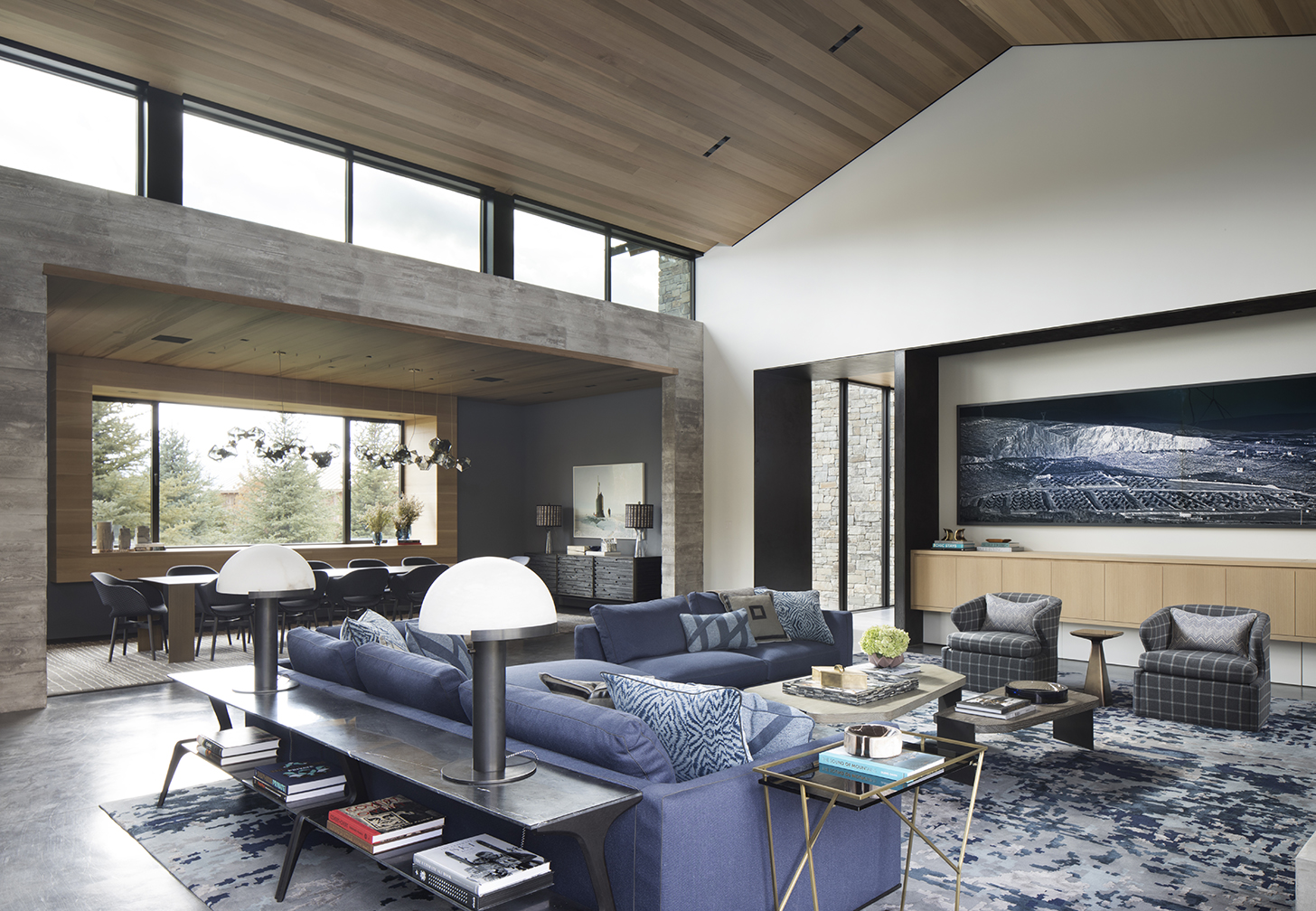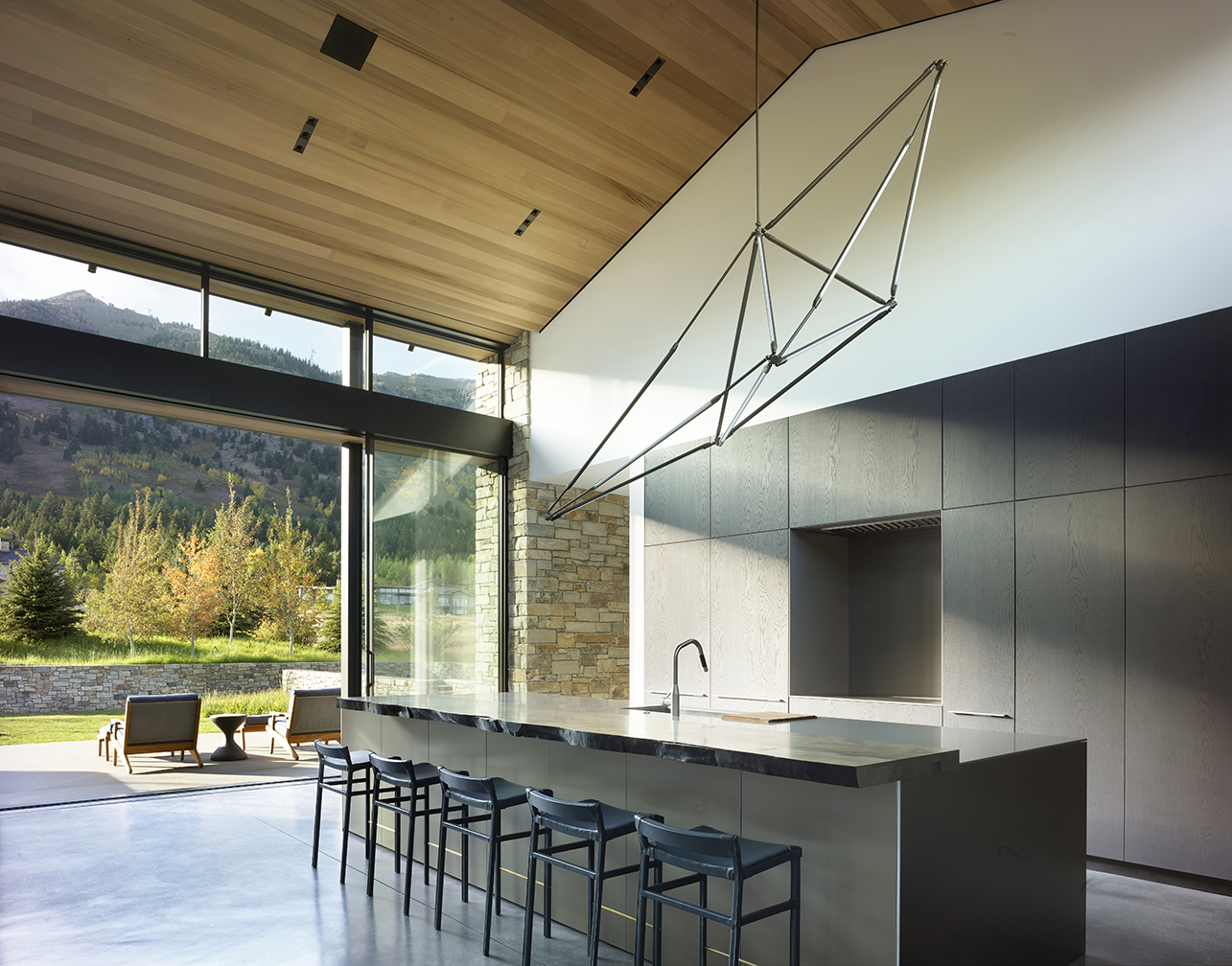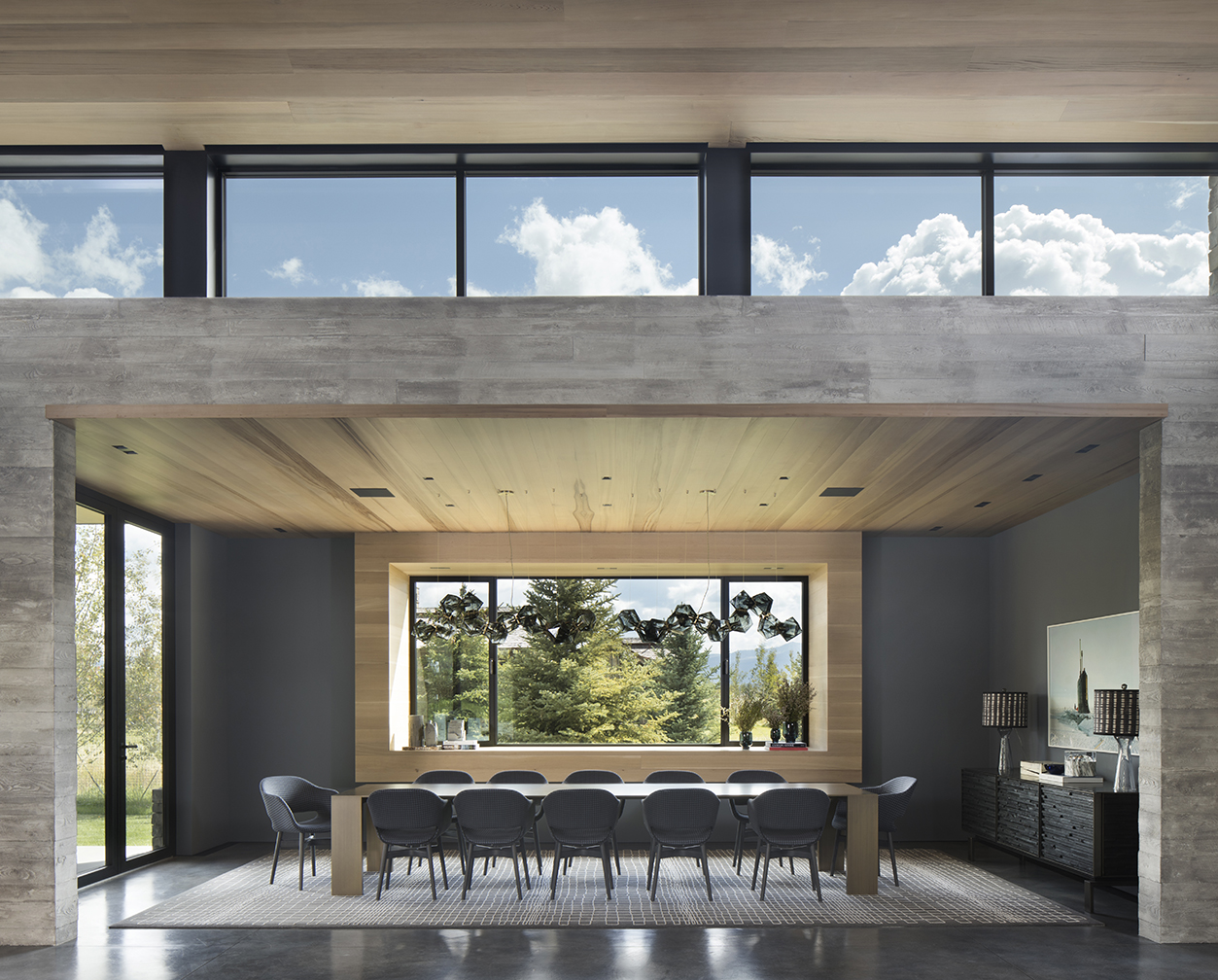 Save
Save
Save