Published as:
True Original
Interior Design: Orlando Diaz-Azcuy
Text: Erika Heet
Photography: Matthew Millman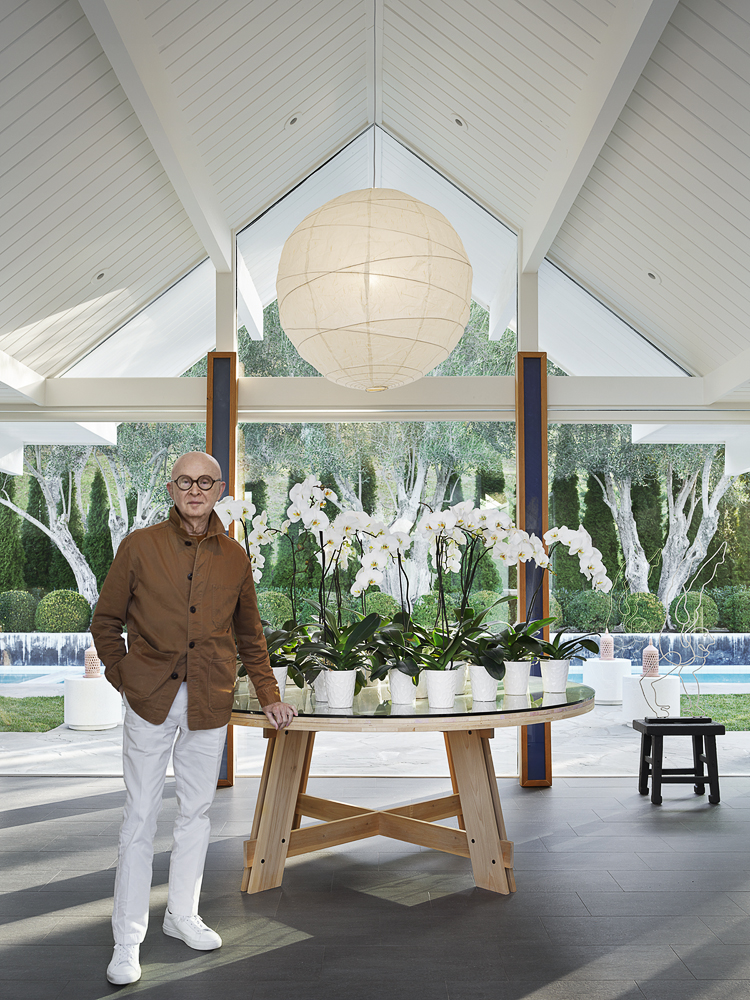 Orlando Diaz-Azcuy, legendary designer and founder of and consultant for the San Francisco–based design firm ODADA, knew he wanted a weekend house by midcentury modern developer Joseph Eichler away from the bustle of the city. He also knew the enclave he desired: Lucas Valley, located in Marin County across the Golden Gate Bridge and many worlds away—temperate, quiet, and filled with some of the most obsessed-over Eichler homes in California. Diaz-Azcuy and his partner, John G. Capo found a 1964 A-frame, one of several different models in the development, with the highest central ceiling and the largest atrium. Located at the end of a cul-de-sac that backs up to a nature preserve, the house had the privacy, siting and layout that they desired. "Eichler houses are based on a very simple post and beam structural system, which allows you very easily to modify the interiors as you need," says Diaz-Azcuy, who maintained a strict respect for the structural system while customizing the house. "Because of my philosophy of simplicity and Eichler's Miesian inspiration, I knew the design would reflect that, and the decor was nothing more than what is necessary to live in the country."
For a designer of such renown, what is necessary to live in the country is arguably different than that for the average Eichler devotee. And adopting a dogmatic interpretation of midcentury modern décor was never even a consideration for a person who has created singular, groundbreaking interiors for decades. "I did not want to re-create midcentury decorative style," Diaz-Azcuy says. "I believe that midcentury, like any other architectural style, should allow one to decorate in the style of personal preference."
Though Diaz-Azcuy's approach is casual and elegant, there is a certain rigor to the design that well suits the architectural layout, owing to his education and experience in architecture and landscape architecture. This begins at the entrance, whose stark-white exterior ("what color represents modernism more eloquently than white?" he asks) and exaggerated pitched roof is further dramatized by naked maple topiaries outside the front door, which leads, like other Eichlers in the neighborhood, to an open-air atrium off of which the rooms in the house extend. He refers to the front door, then atrium, then living room entrance as "a procession." On its axis is a six-foot-plus round table of his design ("wood, because I wanted a humble material to not create a luxury grandiose traditional attitude") used for dinner parties with friends, and always dressed with multiple flowers in ceramic containers. His current flora: white orchids. "It is like walking into a garden connected to the garden outside," he says.
On either side of this serene central space are two living areas—one for day and one for night. The day room has a pair of vintage wicker chairs, a simple white sofa, a pair of 19th-century wrought iron trees, and an Ellsworth Kelly print. This area can be easily separated from the kitchen via yellow sliding panels. "I hate to see the kitchen after dinner and when guests are still visiting," Diaz-Azcuy says. Nearby is a simple breakfast table with a pair of aluminum chairs Diaz-Azcuy recently designed for Janus et Cie. Their stylistic opposites a pair of wood chairs he designed for McGuire, add substance to the night room, which has blue panels to slide over the floor-to-ceiling window. Both living rooms can be separated and opened as needed via long white drapes, reminding one of the convertible nature of rooms in many Japanese houses that shift focus and purpose throughout the day and night. Overhead, white wood ceiling slats are a soothing visual interlude, while a single finish on the floor "makes the movement inside more uniform, with a cleaner visual flow."
Time at home of late has been spent working in the library, at circa 1980 tables made by the quintessential California designer Michael Taylor, accompanied by circa 1929 by Axel Einar Hjorth chairs. "To have a library office has been a blessing, and since I have a mountain view from there sometimes I need to be reminded to stop and come out," Diaz-Azcuy says. Two bedroom suites—one for Diaz-Azcuy and one for Capo—reflect the owners' preferences, which are night and day, much like the living rooms. Capo's is dominated by a large, bright orange canvas by Robert McGill he acquired in 1968, a midcentury Scandinavian chair in white fabric from Henry Calvin, and a light wood dresser by T.H. Robsjohn-Gibbings. "He likes more summery colors," Diaz-Azcuy says, "while I prefer a room for the evening, therefore the charcoal gray walls." Here, Diaz-Azcuy has selected a George Nelson for Herman Miller chest of drawers, prints by artist and paint colorist Donald Kaufman, and gray draperies.
That post and beam construction allows the entire back wall of the house to be floor-to-ceiling glass, through which the couple enjoys uninterrupted views of the pool, the garden, century-old olive trees and an open nature preserve. "It is a contemplative space," says Diaz-Azcuy, who admits that designing for himself proves distracting at times. "Designing for yourself is more difficult; after you set the direction you are always tempted by the latest ideas you have. You have the tendency to maintain the path with the client more than with yourself." Even so, his vision of what an Eichler house in the country can be, appears very steady indeed.