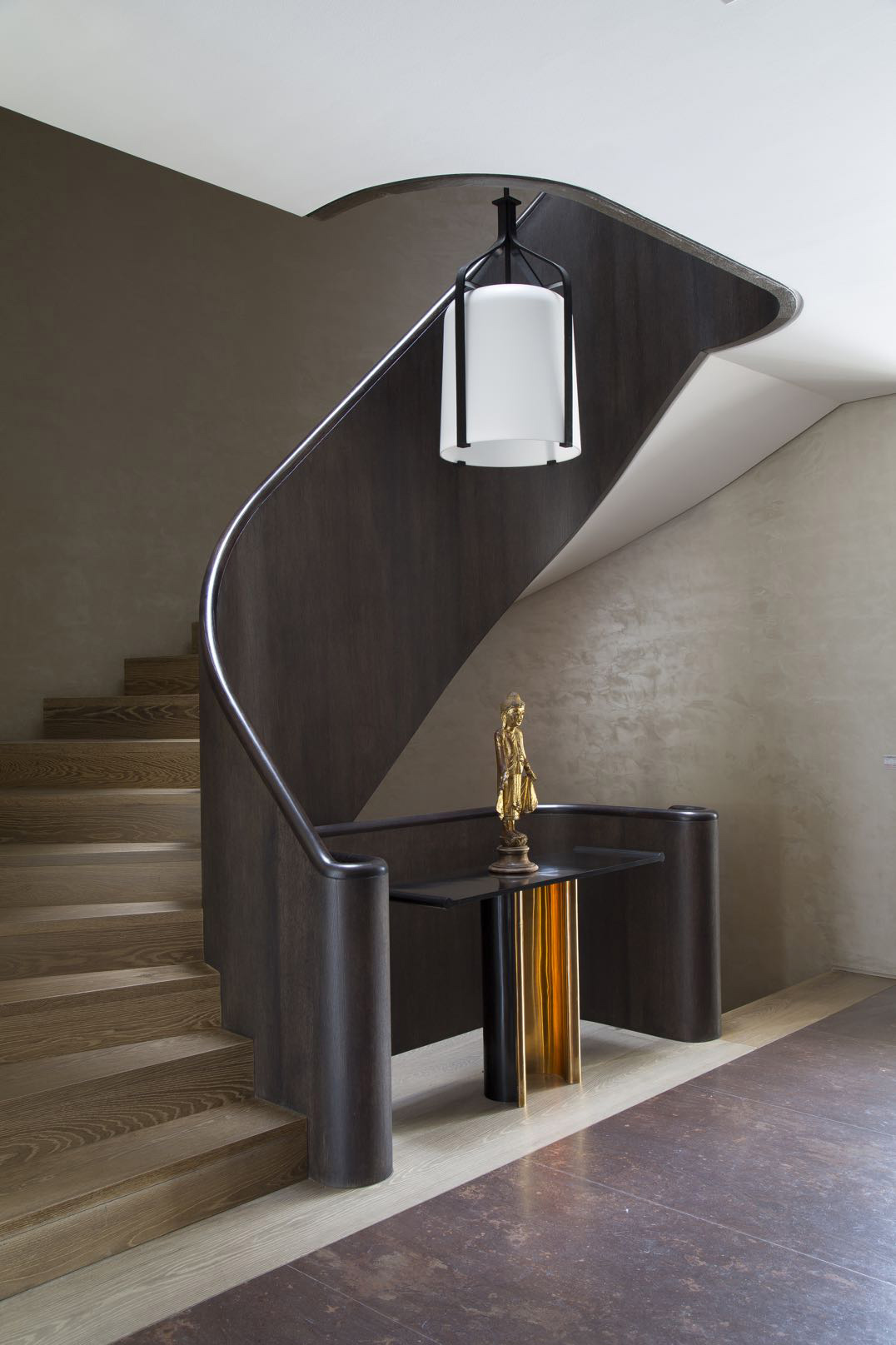 Published as:
MODERN
LOVE
Architecture: Jenny Nomikou
Interior Design: Liaigre Design Service
Text: Erika Heet
Photography: Jean-François Jaussaud
It is difficult, if not impossible, to pinpoint the most dramatic moment in a residence in Athens, Greece—seamlessly designed by Déborah Comte- Liaigre, head of Liaigre Design Service—as there are many. But one standout is the custom black-patina brass chandelier in the stair hall that spans three floors, setting the tone for the home. Because of the chandelier's tremendous size and structural requirements, it was fabricated in Liaigre's Paris-based light factory to rigorous specifications. This level of customization is a distinct advantage of Liaigre Design Service, which Comte-Liaigre (who has modernized the vision of Christian Liaigre, who burst onto the design scene in the mid-1980s with his clean and cool design lexicon) founded in 2005 as a personalized approach to interiors—from rooms to entire homes—within an existing architectural space.
In this case, that shell was created by architect Jenny Nomikou as a series of stacked white geometric volumes, each one unique and serving the needs of the resident, a Greek businesswoman who requested a series of casual hangout areas for entertaining family and friends. Those areas consisted of bright, open rooms inside and no fewer than five terraces outside. "The outdoor areas are very important for the overall look and feel of the house," Comte-Liaigre says. "Outdoor furniture is one of Liaigre's specialties, so I was very happy to be able to design furniture for these areas. It was also very challenging, as all five terraces can be seen simultaneously from certain angles of the house. We therefore had to ensure an overall harmony, while maintaining the individuality of each separate area. We don't often have the chance to tackle so many outdoor areas in a single project, so this was a great opportunity to give free rein to our creativity."
Those bright open rooms offered their own challenges. "The main challenge was to handle the large volumes and impressive height of the rooms," Comte-Liaigre says. "I tried to bring in some warmth and intimacy by creating versatile and flexible spaces such as double living rooms, and a dining room that can easily adapt to two or twenty-five people, as I think this is the way we live today. I wanted the rooms to be airy and relaxed and allow you to move effortlessly from one to the other and from indoor to outdoor with ease. Your eye can embrace the space globally and immediately feel a sense of well-being." That sense begins beneath the behemoth chandelier, with a custom console by Eric Schmitt for Liaigre, sublime in a symphony of bronzes. That his piece is featured so prominently in the house is by design. "Eric is a very dear and long term partner to Liaigre," Comte-Liaigre says. " We always love to integrate his designs in our spaces, whether in our own Liaigre showrooms or projects. We share the same vocabulary of sleek, timeless, silent luxury."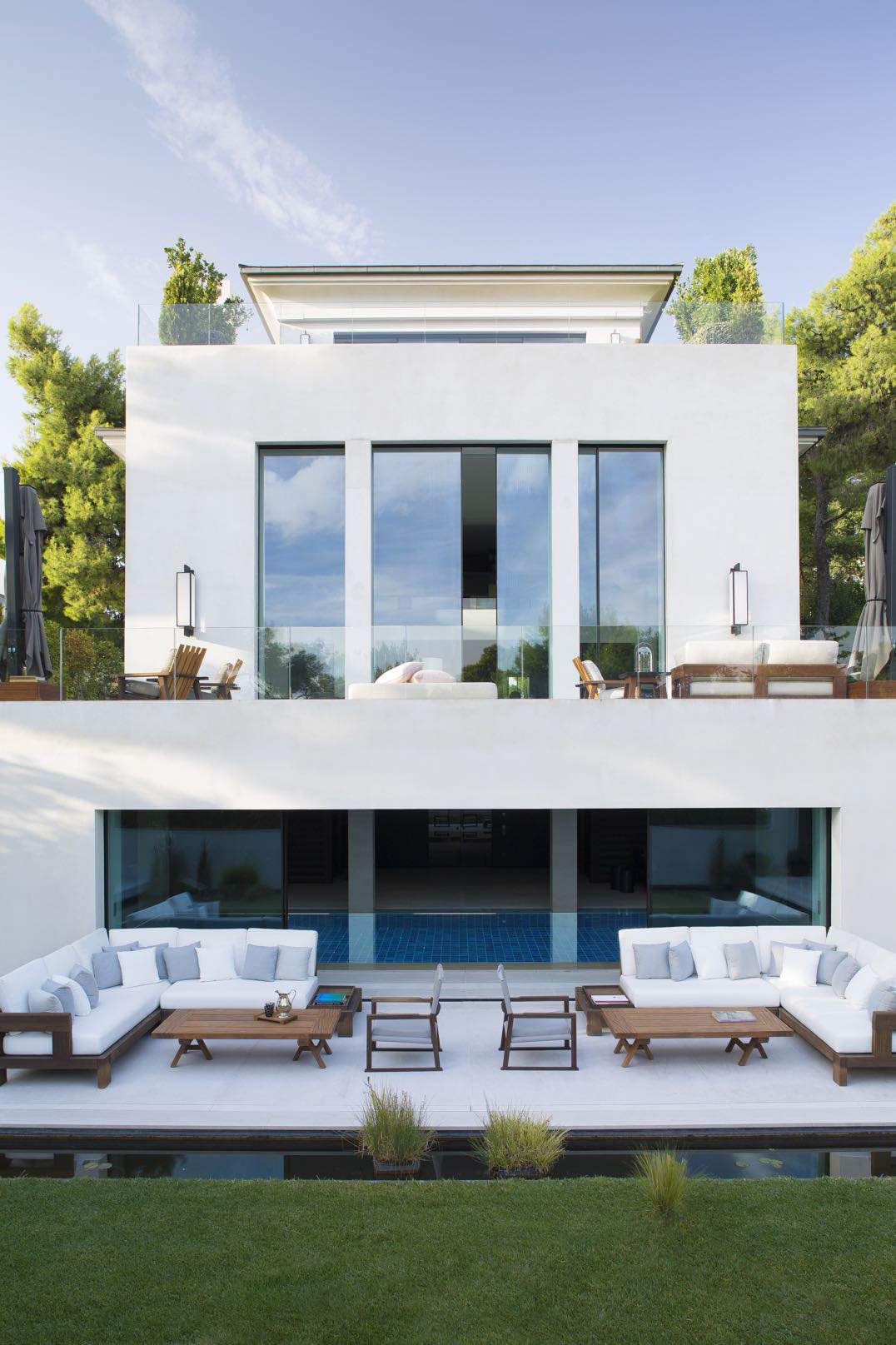 Another way in which Comte-Liaigre tempered the soaring spaces was to introduce an oversize scale to some pieces, a kind of meta- Liaigre approach. "The bookcases in the living areas hold the owner's large collection of art books and were specially designed for the house," Comte-Liaigre says. The same is true for the square Jamaican wood Racine coffee table, the indoor chaises, and the Hestia armchair designed by Studio Liaigre, an elegant but casual chair made of wenge that Comte-Liaigre says "connects the indoors with the outdoors." Spaces are further warmed by the art collection, which the owner, who belongs to a family of artists, brought to the home. "I worked around her collection, which is strong, colorful and eclectic," Comte-Liaigre says. "Art played an important part of the conversation I wanted to create between the French Liaigre signature and the Greek identity."
The symmetry and rhythm between the architecture and interior design is due to Comte-Liaigre and the entire Design Service team embarking on the project while the house was still deep in the construction phase. "Our collaboration with Jenny Nomikou lasted three years," Comte-Liaigre notes. "She was very respectful toward our input and ideas. We had a very pleasant and smooth collaboration." Just as Nomikou drew upon the surroundings for the architecture, so did Comte-Liaigre for the interiors to strengthen its sense of place. "Greece, with its strong visual aspects and its tremendously impressive cultural references, was my best inspiration," Comte-Liaigre says. "When Liaigre is entrusted with a project, be it interior architecture or interior decoration, the first things we look at are the surroundings and the location, while always bearing in mind how the interior can match that particular context. Because the light in Greece is so special, I felt the need to create contrasts. I also took into account the orthodox aesthetics and took inspiration from the monumental proportions of the orthodox churches and temples when, for instance, designing the bookcases. One of the challenges of this project was to create a dialogue between the French sense of elegance and proportions and the Greek architectural style the house was built in. Both, however, also share a sense of minimalism, which I hoped to express."
It is indeed minimal but in no way austere. Rather, with the rich materials from the earth, such as wenge, teak, bronze and lava stone, layered with leather, velvet, linen, silk and cashmere, the result is a chic and elegant mood with a barefoot disposition. "At Liaigre, each project and design is unique and customized," Comte-Liaigre says of the service, available in Liaigre showrooms in Paris, London, New York and Bangkok. "We never use the term 'concept,' as each creation represents one person with one dream and one vibe. We are always driven by the same thing, whether our Studio Liaigre is creating a piece of furniture or a whole interior architecture project, or our Liaigre Design Service is tackling an entire interior decoration project like this Athens house: You will never experience the same atmosphere or encounter the same combination of fabrics and furniture." Liaigre Design Service, liaigre.com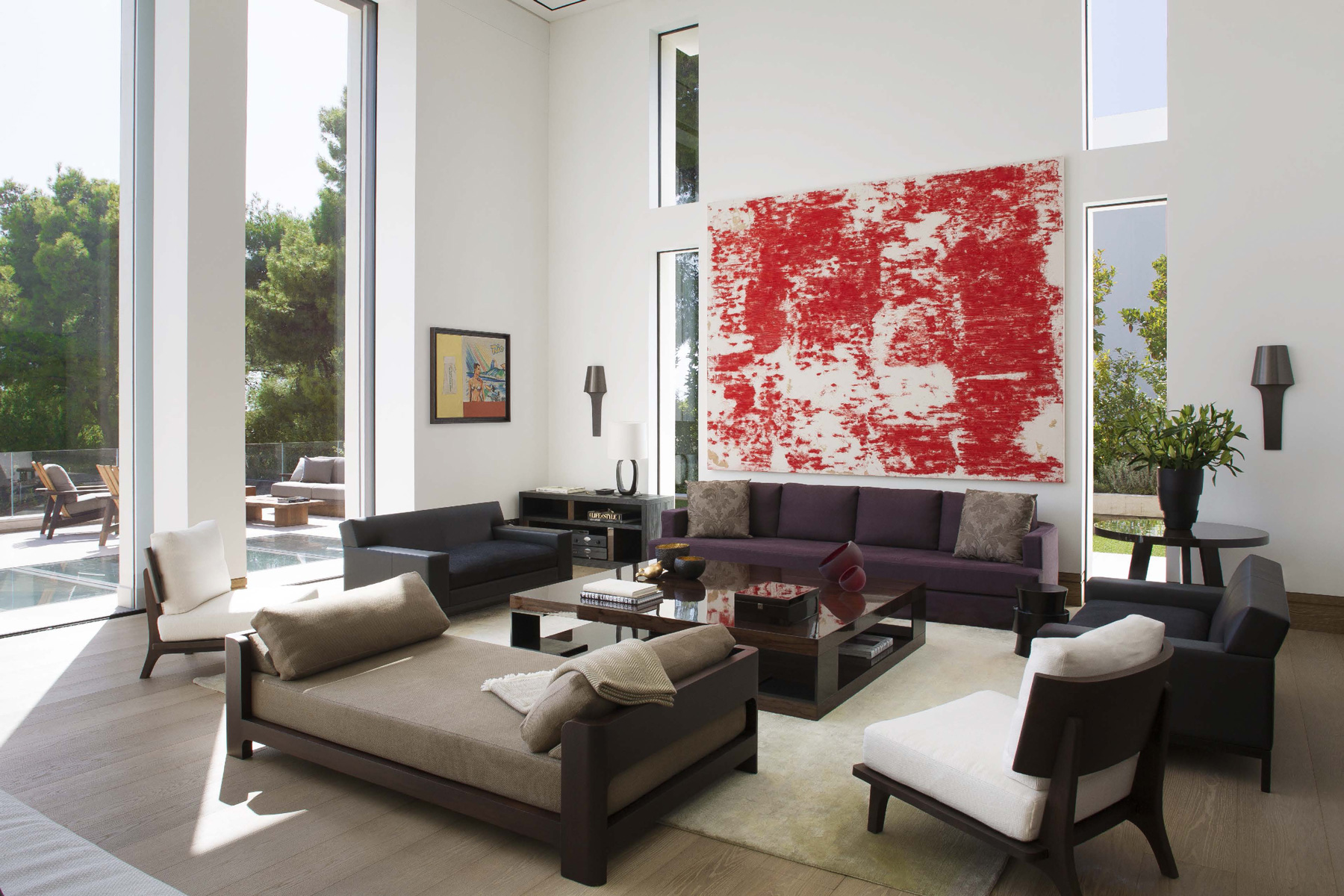 Save
Save
Save