Published as: Industrial Chic
Text: Erika Heet
Photography: Charles Kay Jr.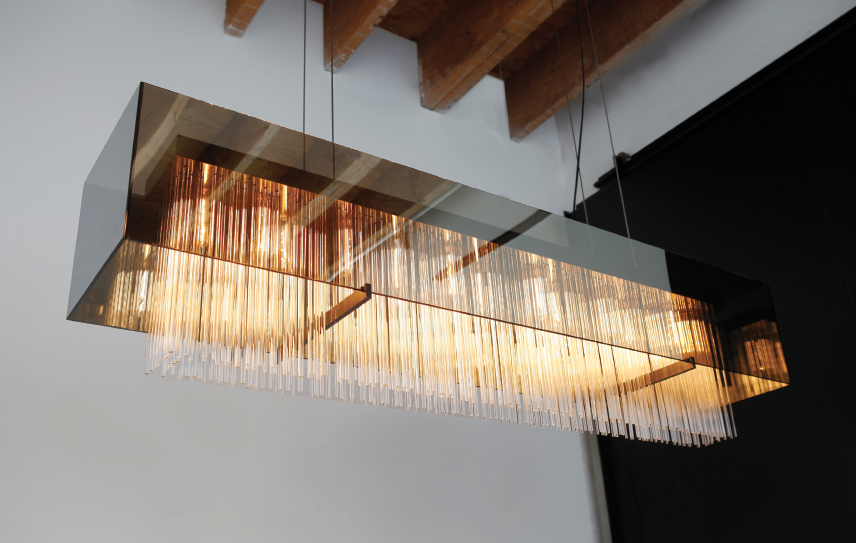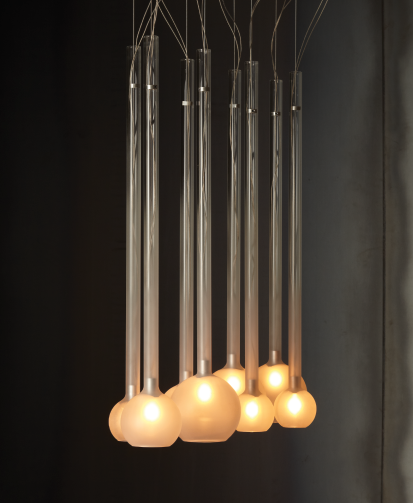 Within a humble building in San Francisco's industrial South of Market neighborhood, distinguished by a geometric steel door, is the world of Larissa Sand, a designer, metalworker and artisan who runs her eponymously named studio over several floors. The bold, understated exterior is a fitting introduction to her designs, which range from commercial and residential projects to architectural elements like doors, windows and lighting. "Doors and windows are the components of architecture people interact with most," Sand says. "A door should be more sculptural, because it's the first entry point, the trumpet that lets you know you're coming in."
Another highly interactive core component in Sand's design milieu is lighting. "From early on in my design projects, I was looking for lighting that was architectural and not blingy," Sand says. "I was not finding it, so I started to develop my own. I made lights out of found objects: mechanical, technical fixtures that came to be part of our projects." Those morphed into her current line, Alcyone Lighting, including simple, opaque globe and cylinder pendants and the stunning Rain chandelier, measuring five feet long with glass rods showering down from a rectangular glass enclosure. "I fell in love with lighting," Sand says. "It has become a big part of our architectural focus."
Though each project has a different set of needs, "They all inspire each other," Sand explains. Whether commercial or residential, her initial approach is the same. "No matter what, a design still has to fit people," she says. "A lot of our work deals with architectural perception, feeling, human scale and texture—there are still the same users in the end, but with different personalities. Residential designs are more timeless. In commercial designs, you want to create an emotional architectural impact in a shorter amount of time—a little more wow to inspire people immediately." Among Sand's residential designs are sleek houses and apartments in Miami and San Francisco, while her commercial projects include offices and galleries in San Francisco, and the Golden State Warriors lounge in Oakland.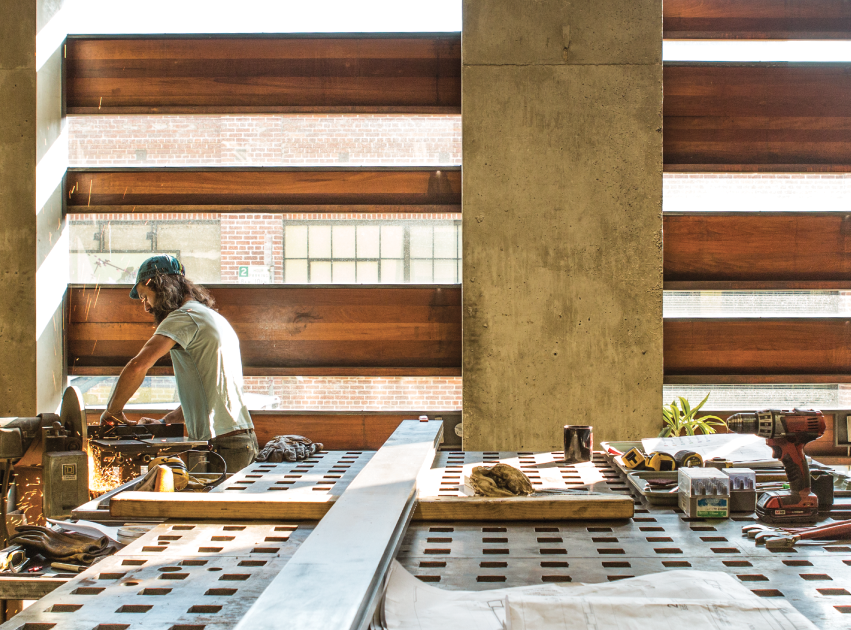 At her studio, the transition between commercial and residential is a seamless one. Near her office, behind another steel-and-glass door with Mondrian-esque geometries, is her own home above the treetops. A light-filled space with board-formed concrete walls, a kitchen dominated by stainless steel and a bathroom sheathed in white marble, the residence feels like a modern urban tree house beneath a lofty beamed ceiling. Sand welcomes friends, family, colleagues and clients alike into her home as a sort of extension of her studio.
Sand and her team—which includes seven employees between the street-level fabrication shop and the design office—divide and conquer as each project dictates. "We're like a band, with different talents," Sand says. "We're a team, and we all go downstairs and build together."
"Our pieces evolve from the needs of our projects," continues Sand. "Different needs keep a designer more inspired and more inventive when you're not solving the same problems and doing the same thing over and over again." Among her greatest inspirations are the materials she selects. "The materials inform the design," she notes. "Working with stone or metal, you design for what the properties are, because what it already has in it is so amazing. Materials make the ordinary more extraordinary." Sand Studios, 415 974 6622, sandstudios.com