Interior Design: Kimberly Denman
Text: Erika Heet
Photography: Jose Manuel Alorda
Published as:
L.A. Makers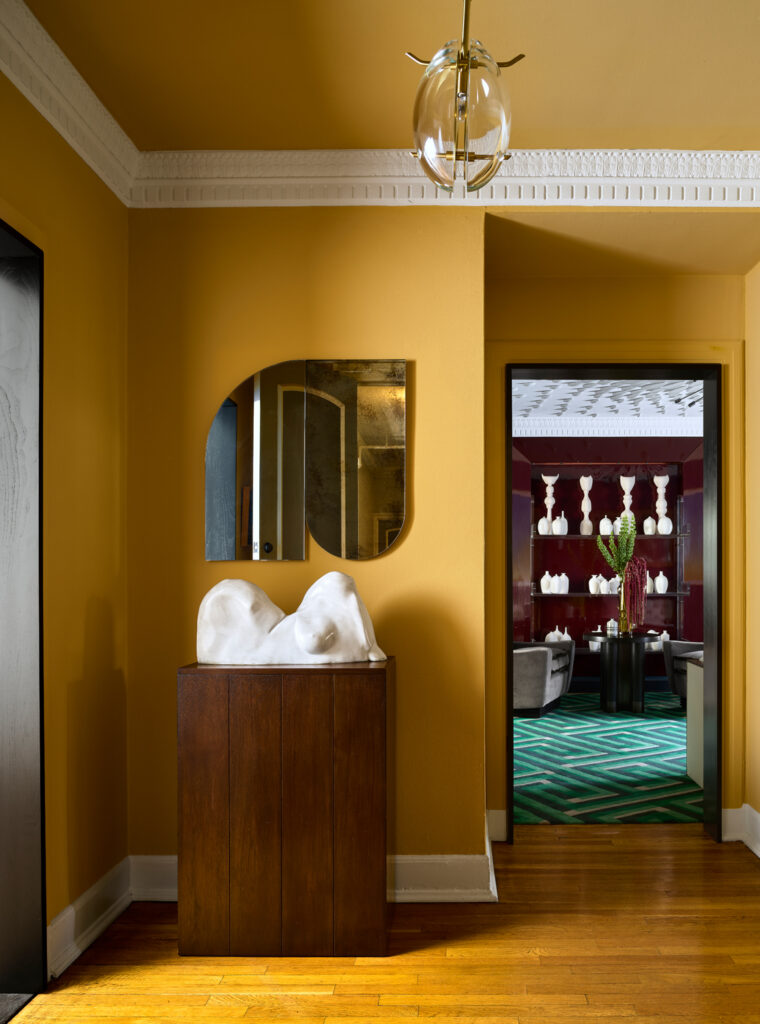 Home as creative laboratory is not a new concept in design, though one might argue that designer Kimberly Denman and her husband, Laurent Rebuffel, helped pioneer the idea in Los Angeles. For most of the last dozen years, Denman and Rebuffel have lived, worked, created and entertained in the Talmadge, a 1924 elegant brick apartment building in Koreatown bearing the name of silent film actress Norma Talmadge, for whom it was built as a gift from her husband. Even its very foundation is romantic.
"It was love at first sight," Denman says of discovering the building. "It has the feel of an NYC apartment in which we bring a very European flair." (She is a well-traveled Coloradan and he's from Cannes.) "But it also reminds us of Los Angeles in the '20s and '30s." For a time, the couple lived a divided life between their previous apartment and an office space in the building. Not long before the world went into various stages of lockdown, a larger apartment adjacent to the office opened up and they moved on it quickly. "We had the opportunity to move to our current setup and link the two spaces together," Denman says. "It is magical to work there and display our collection."
For this apartment, they brought with them many pieces of furniture, art, antiques and collectibles from the previous space, then began introducing new pieces, especially her own designs, as the rooms and their desires dictated. The design lab part is especially useful for Denman, who had a personal renaissance and created 16 new furniture pieces in lockdown. "It was wild," she says. "When the confinement started, we re-created the apartment with new colors, new pieces." For the pair, it's not just about making the pretty. "Laurent and I spend most evenings talking about furniture," she says with a laugh. "Someone told us we needed a hobby, but this does not feel like work."
As in their former apartment but on a grander scale, the impact is immediate upon entering. In the entrance, which the pair painted India Yellow from Farrow & Ball, hangs an Oberon pendant by Fuse Lighting, designed by Kevin Kolanowski. Other pieces by Kolanowski, a friend of the couple's, punctuate the apartment: his Legato torchiere stands in the living room and his Boa pendants hang in the dining room near a table and chairs of Denman's design, and a striking photograph from Melanie Pullen's The Red Shoes series. The main rooms fan out from the entrance: the bar and foyer, the living and dining room, and the salon blue, which had been the master bedroom but its overscale size begged for it to be another space to gather with friends and clients. In the living room, Sound Wave, designed by Denman for The Rug Company, vibrates as it pours from beneath her bronze-legged Gratitude sofa and Renoveau chairs. Denman replaced the fireplace ("too Victorian for our taste") with a custom steel surround, and added a circa 1998 bronze sculpture by Aviva Shemer and 1970s French mirror by François Monnet.
"The art and sculptures enhance the presentation and allow us to imagine how a designer can interpret our furniture in terms of different finishes or upholstery," the couple says. "We have come up with some new finishes because we changed the color of the room or the design concept." Wall colors are bold, moody and deep throughout. "I like to experiment with colors," Denman says. "It would be hard for me to recommend a client live with bold colors if I hadn't done it myself. I also like to show that color as well as white can highlight great artwork just as beautifully, if not more."
"This space is mostly for creation and featuring our line," continues Denman, whose furniture can be found at Jean de Merry in Los Angeles and De Sousa Hughes in San Francisco. "We are in permanent design mode. It is also a magical place to entertain." It is well known that Denman and Rebuffel are perfect hosts, and they look forward to being able to welcome guests again on a larger scale in this new space. "The rooms flow better from an entertaining standpoint, which is important to us," she says. "We are gathering a community of super creative people around our dining table and have some wonderful dinner parties. We are also hoping to have some larger events soon like we had done pre-pandemic. People who come to visit spend more time with us than if we had a store, so we create tighter bonds. It is rewarding from a personal standpoint, and it allows us to be more in tune with their needs." Kimberly Denman, kimberlydenman.com