Interior Design: Arianna Noppenberger
Text: Erika Heet
Photography: John Ellis
Published as:
Into the Blue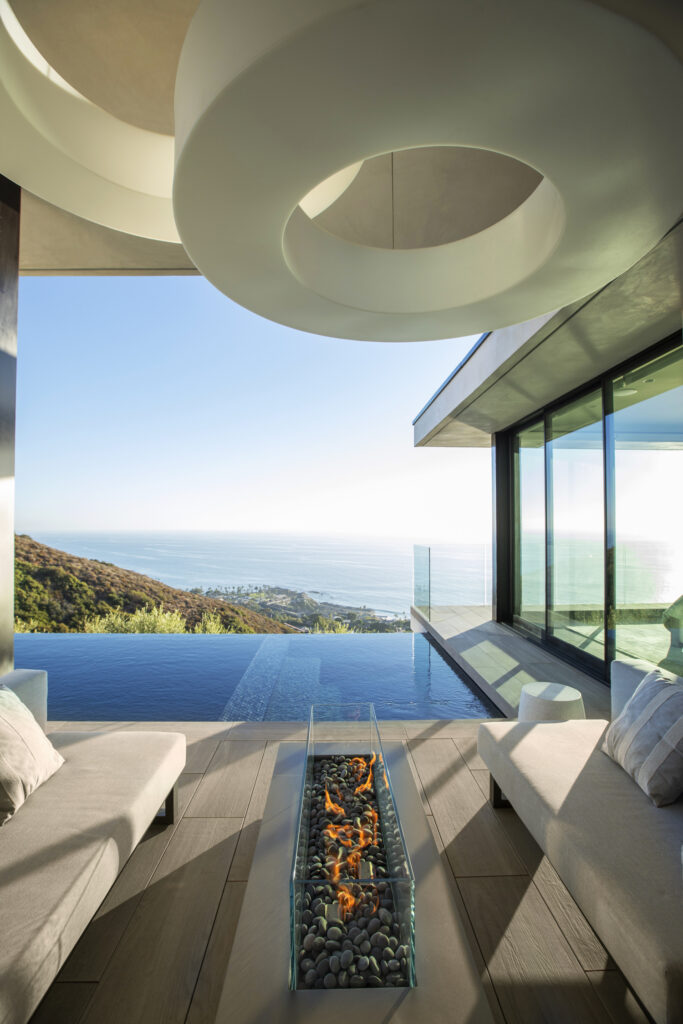 Just above the shoreline of Laguna Beach in southern California, the narrow neighborhood streets wend through cliffs that rise steeply to a dramatic crescendo. It is on one of these streets, whose dizzying height affords its residents incredible views of the Pacific Ocean below, that designer Arianna Noppenberger of Aria Design created the interiors of a home for a couple. "The clients wanted a simple, serene place to retire by the ocean to enjoy the beautiful Southern California weather," notes Noppenberger, who was brought in to the project by the architect, Horst Noppenberger.
Laguna still feels like the old days in Southern California—it's an artist's town first, and there's evidence of that everywhere, with ceramic shops, funky cafes, bohemian canyon holdouts, and families in flip flops strolling Main Beach. In this spirit, despite its incredibly luxury, the house Noppenberger designed is still deeply connected to the natural world. This begins at the entrance, where a solid wall of titanium travertine brings the layers of the earth into the house immediately. This material continues on one wall of the main bedroom, situated on the ocean side of the top floor to best take advantage of the views beyond. A thin layer of wood lines the headboard wall, smooth oak floors are underfoot, and a fire roars in the double-sided fireplace that also warms the en suite bath. More travertine lines the wall of the rear facade facing the ocean, where a guest bedroom sits in a glass pavilion with a green roof planted with succulents to help cool the structure. Simple, modern plantings by landscape architect Michael Wilkes stand up to the salty sea air and create a subtle green screen around the home.
On the main level, a vestibule is softened by the curves of a Vladimir Kagan sofa, available at Holly Hunt, which leads to an open kitchen, dining area and living room. The dining area's round table follows the curve of the sofa and the bay window, accompanied by a multimedia artwork by Jan Maarten Voskuil. The floor-to-ceiling window walls continue in the living room, which can open completely to the adjacent terrace. A mélange of stone lines the fireplace wall, while a limestone floor by Walker Zanger resembling the color of sand invites the residents to go barefoot. Noppenberger contended with an existing structural column that could not be moved by cladding it in polished quartzite backlit by LED light, so it glows like a lantern at sunset. "We transformed it from an ugly structural element to an eye-catching feature for the living room," Noppenberger says. The furnishings—a dramatic Arco lamp from Flos, a leather sofa from Minotti—are just intriguing enough to distract one from the view, but briefly.
Because this was what Noppenberger calls a "major renovation and addition," she and the team were able to reconfigure the entire flow of the house. "We removed interior partitions where we could, to open up the floor plan," she says. "We wanted to orient the space toward the ocean view. With the use of the large sliding windows throughout, the interior is totally connected to the outdoor deck space." They introduced a stair from the living room to the lower level, where that bedroom pavilion aligns with the pool and spa, the blue mosaic tile melding with the sea and sky. The planes of the house, reminiscent of the flat-roofed magic of the International Style, cascade down the hill it hugs like a waterfall. For the residents, it's as far from their years working in finance in New York as they could get. It's pure California. Arianna Noppenberger, Aria Design, ariades.com