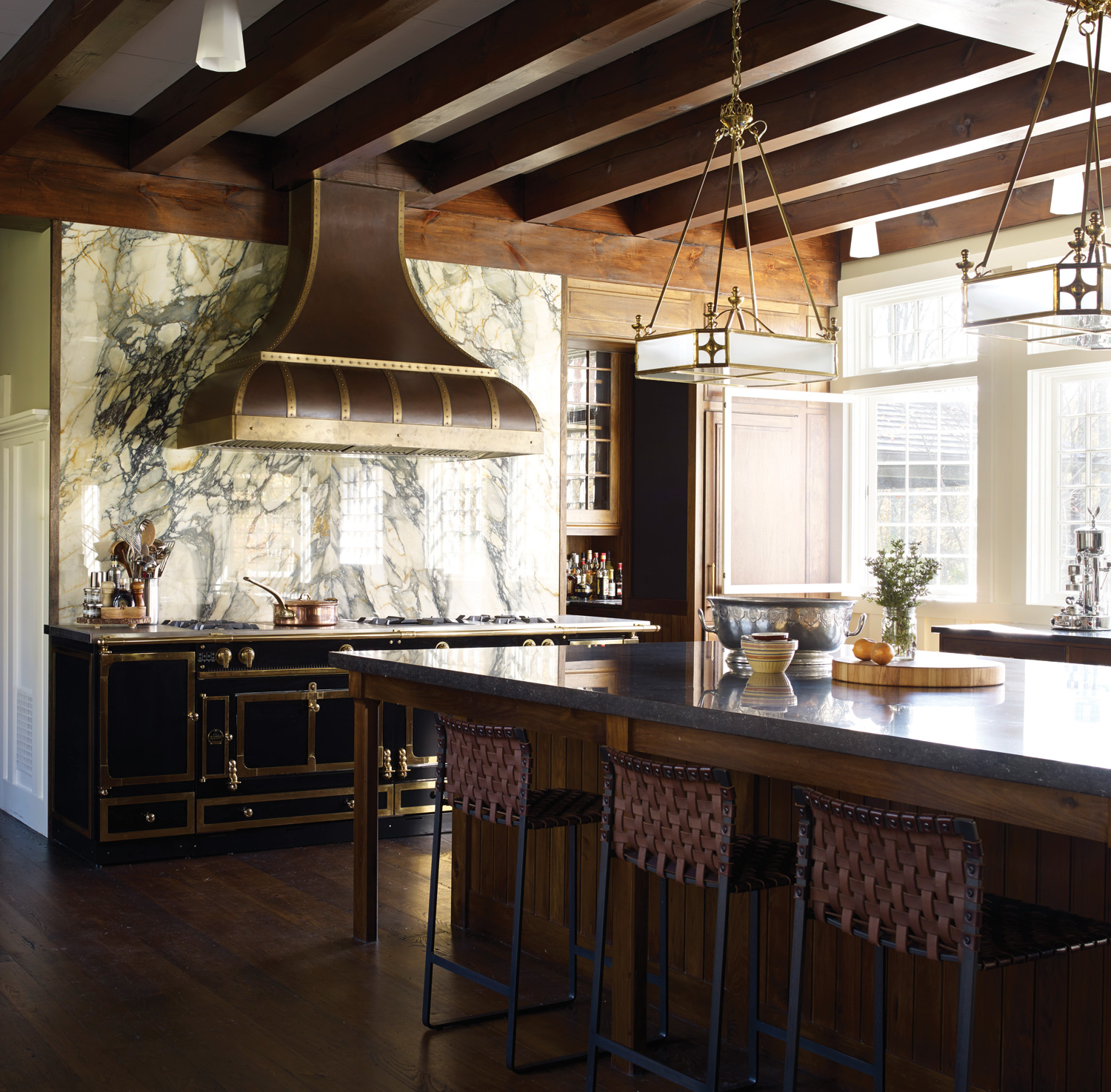 Published as:
Upstate

Revival

Restoration Architecture and
Interior Design: Ike Kligerman Barkley
Text: William Lamb
Photography: William Waldron
When a professional couple from the New Jersey suburbs west of New York City embarked on a search for a weekend getaway nearly a decade ago, they were drawn northward to the rolling, wooded hills of New York's Catskill Mountains. "It feels like you're going back in time," says the homeowner. "We both lead a hectic life, and it was nice that it was quiet. There's not too much going on. It's rolling land with stone walls—very picturesque and very appealing."
The Catskills had particular resonance for the homeowner; she had spent much of her childhood there, visiting her grandparents in a onetime stable and post office that dated to 1742. "I grew up with the idea that it's fun to live in an old house, and it's also fun to understand its history," she says. Buying and fixing up a house with a similarly storied past to share with their son, now 12, became the goal.
In early 2007, they pounced when they saw an Adirondack-style lodge for sale at the fringes of Onteora Park, an artists' colony co-founded in the 1880s by Candace Wheeler, one of the first successful female designers of interiors and textiles. George A. Reid, a Canadian best known as a landscape painter, designed the house for Maude Adams, an actress whose star turn as Peter Pan on Broadway in 1905 made her one of the biggest celebrities of her time.
While the house, built in the 1880s, retained its strong architectural bones, much of its original character had been subverted by a series of haphazard additions, starting with a period after Adams' death in the early 1950s when it served as a convent. The core, consisting of the living room, a series of upstairs bedrooms and an imposing stone fireplace, became the focus of a restoration effort, but its structural deficiencies—including sagging floors and support beams—became glaring once the interior was gutted.
The couple turned to John Ike of the Manhattan-based architectural and interior design firm Ike Kligerman Barkley for help in executing their already well-defined vision of restoring the core, expanding the house into a spacious but warm retreat, and deploying a mix of antique furnishings to knit the whole thing together.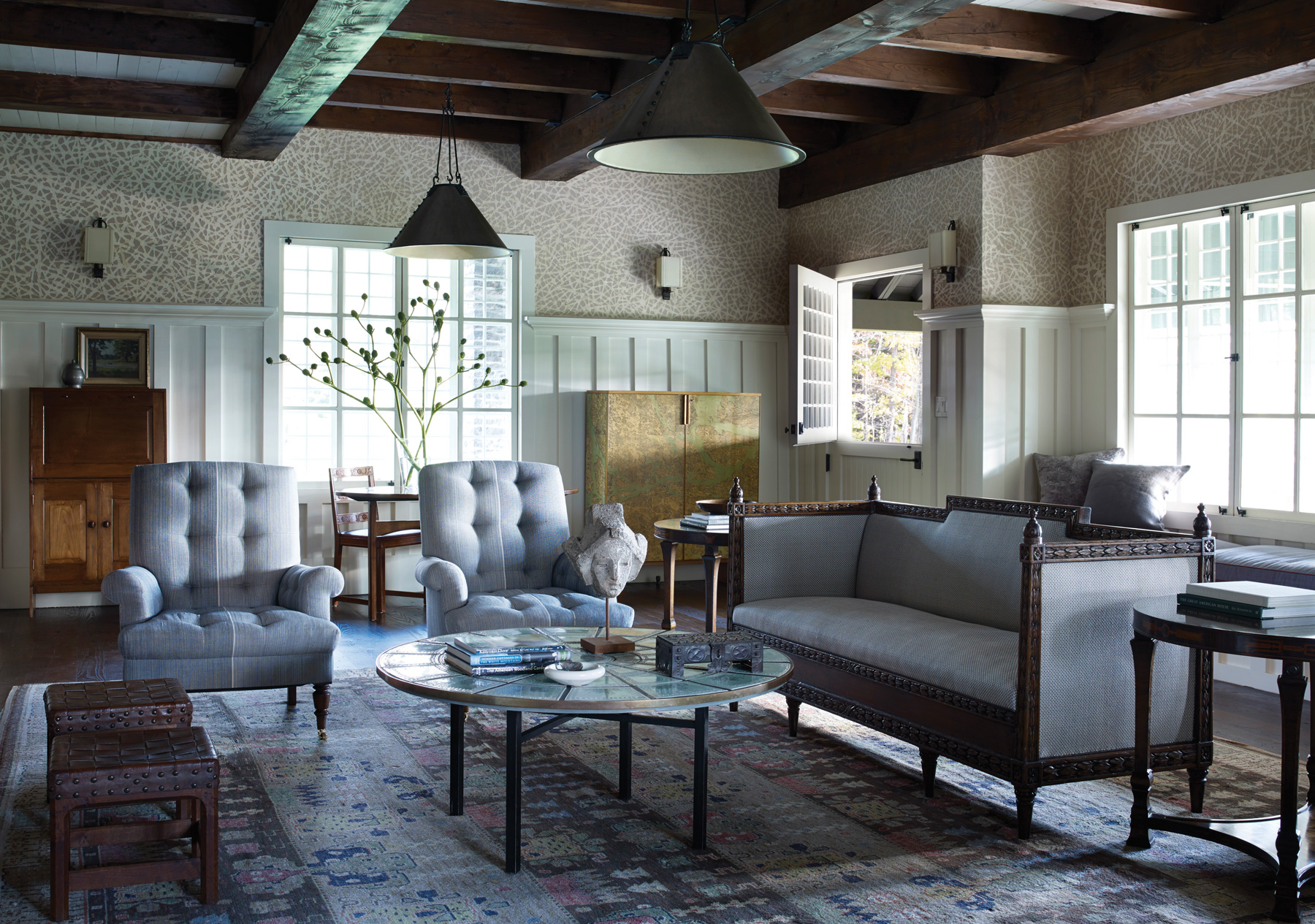 Working collaboratively, the couple and Ike set about tearing away the questionable additions, and expanding the house in a manner that, through clever and deliberate use of materials, would make it difficult to tell old from new. This was achieved in no small part with careful attention to the woodwork—largely reclaimed chestnut and butternut that complemented the weathered board-and-batten carpentry of the original house while lending warmth to the new interiors.
Perhaps the most dramatic structural change was the creation of a double-height entry hall. The wife was enamored with Blackwell, the Arts and Crafts estate overlooking Lake Windermere in northwest England designed by Baillie Scott, and borrowed a few of its flourishes, such as the fork-shaped wood panels. "I think they worked," she says. "Obviously, this wasn't in the house before, so I took liberties, but I don't really feel too wedded to any particular period as long as it has some harmonious elements. I'm very flexible in terms of what works."
That ethos drove the furniture choices. An antique Persian rug, purchased from FJ Hakimian in New York, has a contemporary look that lends a hint of modernism to the space, while custom chandeliers, designed by Ike and produced by Avi Kendi of Metal Dimensions of Brooklyn, cast it in a warm glow.
There was a shared desire to avoid an aesthetic that Ike called "Aspen 1970s: Either too Adirondack or mountain lodge; you know, horns and Navajo rugs," in favor of a variety of Arts and Crafts pieces. "But Arts and Crafts was done around the world, certainly all over Europe. My feeling was, to narrow it to American Arts and Crafts furniture, which was basically Greene and Greene and Stickley, was sort of limiting, and there was a whole world out there of Arts and Crafts—Swedish, which I was familiar with, and English. And so we took this kind of European approach to the decorating."
This approach is on most vivid display in the living room. A tile-top table by the Danish designer Bjørn Wiinblad, purchased from Jacksons Design in Stockholm, shares the space with an antique Swedish sofa with new upholstery from Jonas and a chest by Josef Frank, the Austrian-born Swedish architect and designer, featuring an elaborate map of the Stockholm archipelago. The couple found the chest at Bukowskis, a Stockholm auction house.
Elsewhere, elements were copied unapologetically from the work of McKim, Mead and White, a favorite of architect and client alike. These include the brass-studded leather panels in the hallway outside the intimate library (which features a stained-glass cabinet by Rohlf's of Mount Vernon, New York) and the glass-paneled cupboards in the pantry, modeled after a feature in a McKim, Mead and White house in Newport, Rhode Island. "Was it Picasso who said, 'Good artists copy, great artists steal'?" Ike says. "We have no qualms about taking things wholesale. I think what makes them different is you're installing them in a new context, which changes the whole scenario."
The kitchen is the home's hub. It is dominated by a large limestone island—ringed by woven stools by Mark Albrecht Studio—that matches the width of the book-matched Calacatta paonazzo marble backsplash and the Château range by La Cornue. The custom hood, by Vent-A-Hood, was left over from another Ike Kligerman Barkley project, and the Eydon suspended lights are from Charles Edwards of London.
The result of these choices is a house that is authentic without being slavishly in-period, furnished with a lovingly curated collection of eclectic pieces that reflect its owners' tastes. It wasn't simple to pull off, and it took a long time—nearly five years—but it worked out. "One of the things that makes it easier to do is to have the architecture be so strong that it really can absorb a variety of design influences," Ike says. "I think it makes a much more interesting dialogue." Ike Kligerman Barkley,
212 268 0128, ikekligermanbarkley.com