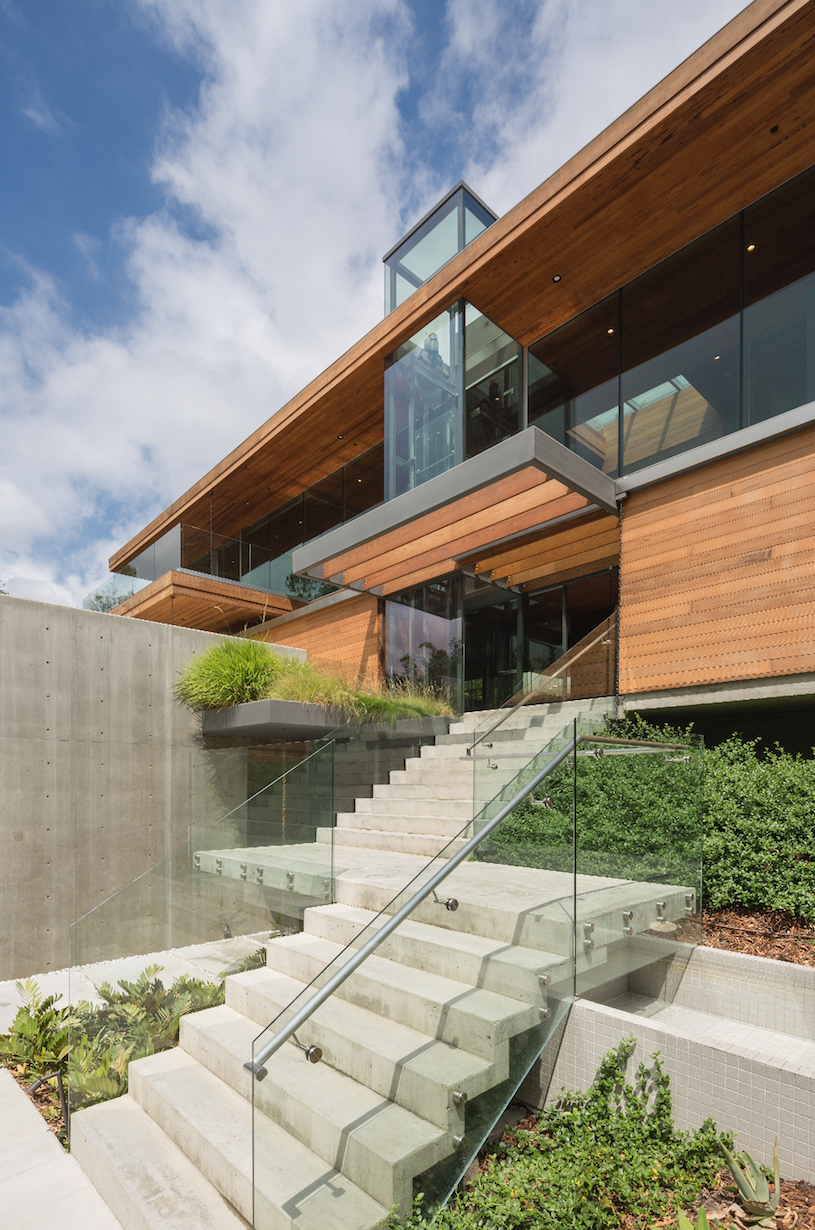 Published as:
MODERN



WINGS



Architecture: Kappe Architects Planners
Interior Design: Marcello Pozzi
Text: Erika Heet
Photography: Richard Olsen
After having lived in and renovated a modest midcentury house by architect Ray Kappe above Sunset Boulevard in Los Angeles, a developer and architecture aficionado with a growing family was ready to build a new one from the ground up. So he again turned to Kappe, with whom he had worked closely on the last home's renovation, which included a new master suite, kitchen and pool. This, however, would be a much more significant undertaking, and finding the right site was critical. After some looking, the client found a large, private, sloping and somewhat complicated property with an unremarkable existing house set well back from the street in Beverly Hills, a rarity in the neighborhood. Among the first people he brought to the site was Kappe, who studied it and quickly produced a sketch of what a wood and glass house there might look like. ("Ray works very fast," he notes.) After seeing that first sketch, he told the architect, "This is going to be another masterpiece."
Any devotee of modern architecture would agree. The 7,500-square-foot house, fairly large by Kappe's standards, appears poised to take flight from the cascading site yet is still firmly embedded in the landscape. Each of its three levels—the lowest mostly subterranean and nearly undetectable from the facade—is generously horizontal. Redwood fronts the entrance side of the main floor, which holds the public, family and entertaining areas, while the floor above, which contains the bedrooms, is clad in floor-to-ceiling glass, flooding the house with ambient light. A deep roof overhang helps shield the structure from direct sunlight; it is punctuated by one of the house's most striking gestures: a glass elevator.
The challenging design process—defined by setbacks, tricky easements and multiple municipalities—required a savvy team, including Kappe's son Finn, who served as project architect. Another architect son, Ron, contributed to the project from his office in Northern California. "Working together on this job has been a reunion of our efforts after many years of working separately," Kappe says of their collaboration. Another familiar aspect of this house is its occasional resemblance to the home Kappe designed for himself, his wife, Shelly, and their family in Rustic Canyon in 1965. In this new house, the front door opens onto a very Kappe staircase: surprisingly barrier-free and almost floating, like the ones in his own home. Similarly, warm woods and glass dominate, as do jutting horizontal planes, and the main living space is set several steps down, creating a more intimate atmosphere within a large volume. "There are some similarities in the use of materials and the expression of structure," Kappe says. "However, I do not find it necessary to invent a new architecture with each project. The constraints, site and client's program create enough differentiation for me."
For the interiors, the owner called upon Los Angeles architect Marcello Pozzi, who helped temper the open spaces and expanses of glass. He began with the sunken living area, where "the seating arrangement springs from the middle of the room with a 360-degree sofa system that creates different lounge areas all around," Pozzi says. "This takes advantage of the views and the glazing on all sides." The low, modular Extrasoft sofa by Piero Lissoni for Living Divani (found, like many of the home's pieces, at Graye in Los Angeles) sets the tone for sleek tables from Gallotti&Radice and chairs from Knoll, including a single, sublime Riart rocker, which draws from Mies's Barcelona chair and offers a rare moment of bright blue color. A bamboo silk rug from Delinear is just a whisper away from the gray hue of the concrete floor, adding warmth and shimmer. Pozzi carried this elegant simplicity throughout the house, introducing the modern, contemporary look that the owner had requested, being mindful to stay in rhythm with the architecture. "I learned a lot observing Ray's work and I gathered precious insights on several aspects of his architectural design," Pozzi notes of the process.
At the rear of the house, the kitchen and breakfast area break up the massing by playfully popping out of that facade. This glass box opens onto pavers integrated into the pool, which extends beyond the length of the house to an oversize daybed that Pozzi covered in a leafy pattern from Sunbrella. The fabric evokes the greenery surrounding the house, masterfully integrated by landscape architect and longtime Kappe collaborator Mia Lehrer, who also handled the site planning and hardscaping. "The complex topography called for terracing and interesting circulation, which created many garden moments and beautiful views," says Lehrer, who mixed drought-resistant and native plants with cedar, plum and oak trees. A switchback-like stairway hugs and climbs the concrete retaining walls along the back hill as it rises to a secret pergola that on a clear day reveals the house below and sweeping views of the city beyond. From this angle, it is obvious that the house belongs here—the result of patience, diligence, creativity and, ultimately, teamwork. "I consider myself a problem-solver, but doing it in an artful manner, while respecting nature," Kappe says. "I don't consciously attempt to make my work stand out. If it 'stands out,' it is due to the integrity of the design." Kappe Architects Planners, kappearchitects.com; Kappe Studio, kappestudio.com; Marcello Pozzi, mllo.net; Mia Lehrer + Associates, mlagreen.com
Save
Save
Save