Published as:
ART
DRIVEN
Interior Architecture
and Design: FORM Design Studio
Text: Erika Heet
Photography: Brittany Ambridge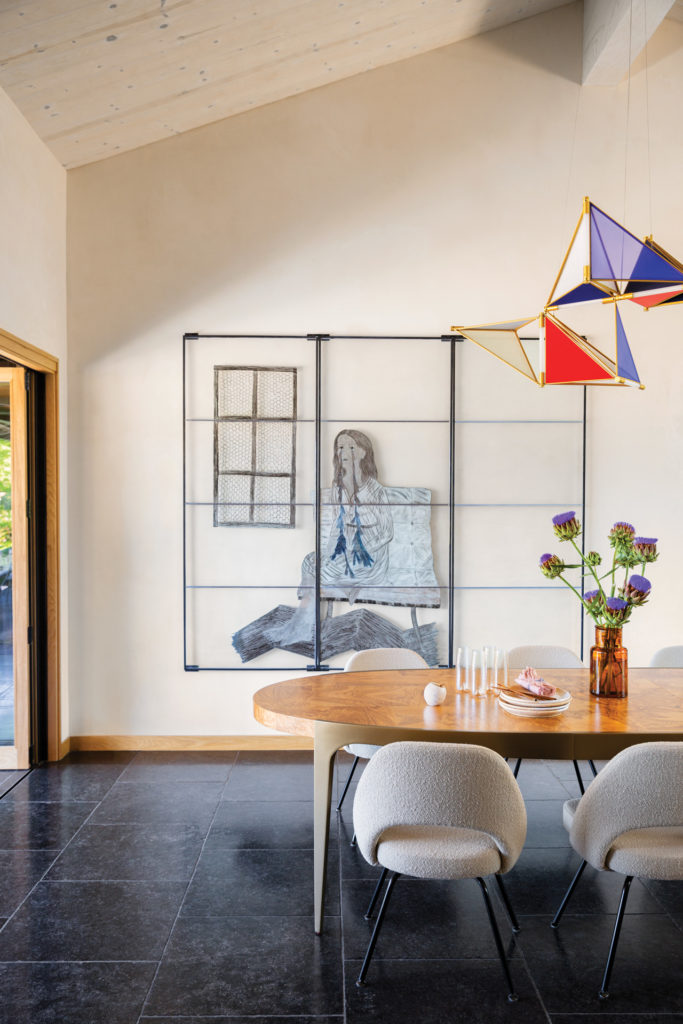 The project wasn't a project yet when Joshua Rose and Rafael Kalichstein of FORM Design Studio were asked to give their opinion on what their friends, an art-collecting couple, might do to bring life to their early-'80s ranch house in Santa Barbara County. "We immediately had a vision for the house," Kalichstein says. As Rose and Kalichstein drove home from a "foodie weekend" with the couple, they called, eager to go forward with the plan. It soon became a matter of what to keep and what to throw, and how to highly elevate both.

To keep: the living room's original sunken conversation pit (!) and high ceilings, for example, and to throw: carpeted bathrooms, a "horrible" '80s bar, and the dark, low-ceilinged chopped up rooms that paid little attention to the sweeping views outside. The new layout begins with an entrance hall whose floor is covered in antiqued Belgian bluestone, antique Carrara marble and white oak, arranged in a custom geometric pattern that would not feel out of place in a midcentury modern interior. "Even though the house was completed in the early '80s, it had a real midcentury bent," Rose says. "It had only been lived in by the original owners, was in pristine condition, but the program left something to be desired."

That hall opens to the living room, where the pair traded out the light-blocking pony walls flanking the threshold for open, floor-to-ceiling slatted wood room dividers "to give a little bit of mystery and to continue to create a reveal of the space," Rose says. The conversation pit is front and center, but now set up with built-in leather seating and a recycled leather floor. Patagonia stone ("It has an almost phoenix-like pattern to it," Kalichstein says) lines the fireplace wall and continues along the tops of the built-ins, ideal for holding drinks. "This space was planned for cocktails," Rose says, noting that the new bar—now clad in dark-stained oak and woven brass panels that will eventually patina to match the wood—is just on the other side.
A treasured family heirloom, a backgammon board made of vintage Catalina tile, lives anew as the games table, customized by FORM and surrounded by four chairs from Missana, covered in a yellow velvet from JAB Anstoetz through Thomas Lavin, and set upon a custom octagonal rug by FORM for Mehraban. A pendant from Roll & Hill echoes the curves of the furniture, and offsets Movableness, an artwork by Lorna Simpson. This piece is one of many personally placed by the owner, who collects the work of contemporary female artists almost exclusively. "She's not interested in works that are not really knocking it out of the park," says Kalichstein. Her choices include a Cindy Sherman (as Lucille Ball) photograph in the entrance (see "Parting Shot," page 98); Savage Chair, made from found objects and jute by Jay Sae Jung Oh in the living room; The Watcher by Kiki Smith in the dining area of the great room; The Writer by Caitlin Keogh and a collage by Frida Orupabo, both in the bedroom; and Openings II by Faith Wilding in the library. Two notable exceptions to the collecting rule are in the latter room: La Dormilona by Alex Hubbard, a small shipping container converted to a bar for one person, and a distressed antique rug with hand-painted writing by Cole Sternberg.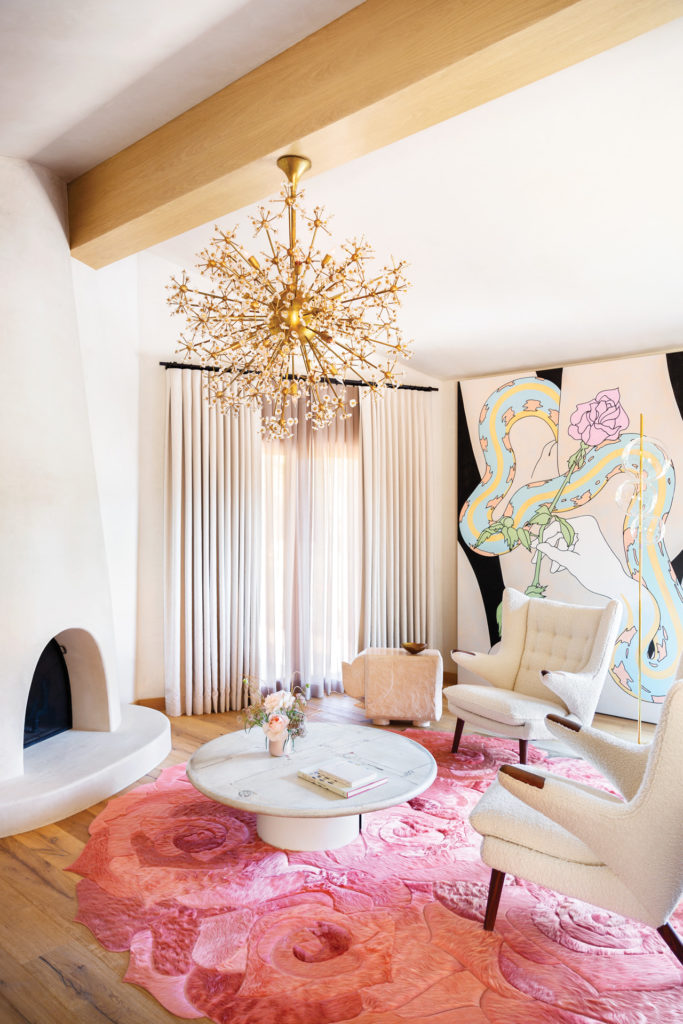 Because the client was set on the placement of the Keogh painting in the bedroom, the design was somewhat built around it, which worked to the benefit of the room. The single pink rose in the piece is picked up in the petals and colors of the hide rug, Coronation, an ode to a rose in "Oink," by Kyle Bunting. "There are very few times that I can recall where we looked at something and said, 'I want that,'" Kalichstein says of the rug. Another wish from the client related to her longtime dream of having original Hans Wegner Papa Bear chairs in the bedroom. Rose and Kalichstein went on the hunt for true originals and found a pair, plus a matching ottoman, with adjacent serial numbers—a real coup for hardcore Wegner collectors. A sleek, rounded Kiva fireplace replaced the dated one, and a 1980s Barovier brass and Murano glass chandelier hung from a beam along the ceiling—raised high with the help of architect Jerry Rocci—provides just enough of a memory of the house's premier era.

The pink of the rug carries into the couple's bathroom, rendered in a brighter tone in the Brentano fabric on the 734 vanity chair by A. Rudin—designed for Rita Rudin for her own vanity at the Rudin family home in Palm Springs. Across the pristine white Italian hand-brushed oak plank floor is a freestanding Stone One tub in Rose Gold by Aquadesign, while veined terrazzo marble rises to separate the couple's individual facing sinks and mirrors. FORM expanded the room, borrowing a bit of square footage from a guest room to make it more spacious for the couple. In this room, as elsewhere in the house, Kalichstein and Rose opened it up to the outside with large windows to harness "the effect of the light beaming in and the valley beyond," Kalichstein says. "None of that was part of this house before. We wanted to capture all of the beauty that's out there, and the wonderful light." FORM Design Studio, form-designstudio.com