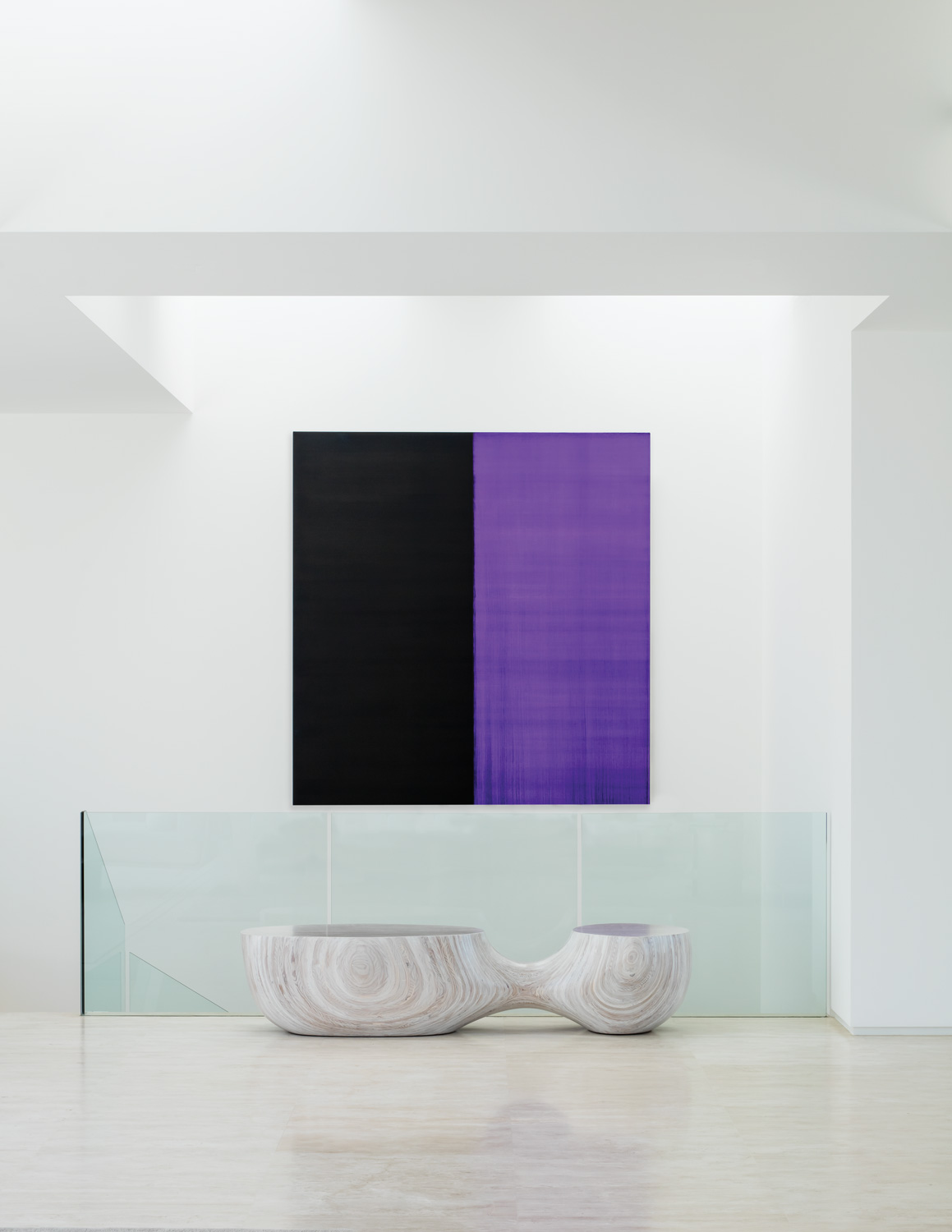 Published as:
New

Attitude



Interior Design: Magni Kalman Design
Text: Arianne Nardo
Photography: Manolo Langis
James Magni has been a revered designer for decades in Los Angeles, but it was his Midwestern roots that also intrigued this client. Anyone familiar with his book, Magni Modernism, might recognize the cover: a striking, sun-soaked image of a contemporary home that captures elevated California living. It's a bold but tailored contrast to the louche display found on real estate reality shows.
That Corona del Mar home was designed in collaboration with architectural studio Fleetwood B. Joiner & Associates a decade prior. With jaw-dropping angles and uninterrupted views, the space would make even life-long traditionalists question their tastes. Flipping through the book on a flight home from house scouting, the client was compelled to reach out. And eventually the executive's real estate patience was rewarded: He bought the house the moment it went on the market, and Nebraska-born Magni, the co-principal of Magni Kalman Design, found himself returning to the property for a second chapter. Instead of experiencing a lulling design déjà vu, he found the project invigorating, an opportunity to express something new and relevant with a client who was serious about art. "He collects for beauty—he's an aesthetic man," says Magni, who partnered with interior designer and former colleague Joanna Parol on the project.
With a fresh take, she ushered in a dramatic edit almost immediately. "The biggest material change was getting rid of the really dark wood," says Parol. Spiriting away the rich finishing on the walls and cabinetry, she a created a clean, neutral equilibrium that asserted tonality as a separate but still-sacred element. "That was really your call to push the idea onto him and to me because I had already done the house 10 years ago," says Magni to Parol. "We went from a high-contrast environment to a very sandy, low-contrast, very pale environment so all you really notice is that waterway, which is spectacular."
Entering the space is a sensorial experience. Blending sky and structure, the design is so fluid it's easy to muse over where the interiors begin and end. Light and shadow angle across the threshold revealing an L-shaped layout with a courtyard and exterior lounge with seating by Paola Lenti, fabrics from Holly Hunt and a Mansour Modern rug. The glass doors can be pocketed back (and usually are), opening the living/dining space across a horizontal expanse. "When you walk into the interior courtyard, you feel like you're in a James Turrell [sculpture] and the skylight becomes the James Turrell box," says Magni. "To enhance that even further, we hired Jennifer Steinkamp, a digital artist and brilliantly talented woman."
They commissioned an original installation, one of Steinkamp's Bouquet creations, a graceful, moving work that is as vivid and dynamic as it is complex. "It's very site specific. You have to do a lot of computer engineering," relays Magni. The team had to create a six-by-six-inch window in which to embed a computer system that projects the piece on the wall. The resonant effect of Bouquet reflected on the water is ethereal, says Magni, noting how dramatically the piece changes from day to night.
Embracing white walls and travertine floors, Parol envisioned a space in communion with the natural surroundings. "I wanted the house to have a connection to the environment and provide a really clear background for art," she says. The designers, both collectors, introduced the client to emerging artists like Callum Innes, whose abstract work is paired with an undulating Caste bench from Holly Hunt in the stairwell. Mary Borgman's charcoal work Portrait of Justin Shanitkvich is arresting not only as a composition but for the emotion it summons, simultaneously inviting you in and presiding over the interior.
With ocean views, open sky and soulful architecture, the site is naturally absorbing. Unlike a well-appointed and composed home, this residence isn't static; it is constantly reacting to its environment. Magni and Parol created an atmosphere that could shift with it. "I always tell clients, 'I can't compete with God," Magni says. "So let's just get out of the way and create a structure and spaces to sit on that enhance the work God has done.' " Rather than an austere showcase or a temple to perfection, the designers expanded on the serene setting without imposing too much.
"I wanted to bring in texture," says Parol. "It's a very, very contemporary house so it was important to present something you actually touch and feel, not just create something visual. And as a result the house is actually very warm." The team selected quiet, sculptural pieces that could handle the inside/outside transitions and still hold their own. Luxurious materials like silk velvet, cashmere, alpaca and mohair kept the space from becoming too cool. "It was a juxtaposition of very sleek refined metals against the rough woods or more organic shapes," Parol notes. Two Platner chairs from Knoll sit opposite a white leather Minotti armchair and ottoman, while a custom Mark Jupiter dining table features a sleek live edge. The client collects work by Omaha-based ceramic artist Jun Kaneko; two of his pieces add a colorful, handmade counterpoint to the neutral interiors.
The client encouraged the pair to use designs from the Magni Home Collection, and they conjured new pieces like the Henry sofa and round Jewel table in the living room and the Joanna bench in the master bedroom. "I like to think of the line as architecturally classic, which isn't totally in favor right this moment but it will be because it has been since Modernism was born, since Bauhaus was born," says Magni. "And to be able to use classic modern pieces against wooden stools carved by Holly Hunt, a Mark Jupiter dining table carved by hand—that juxtaposition is very beautiful. So whenever we use the collection, I think it takes on a different personality."
The master bedroom, a soft, blush space guided by Parol, features vintage table lamps by Cedric Hartman—another Omaha maker—and a photograph by Mona Kuhn. The palette is reminiscent of the sunset. It's an approach that favors the purity of just enough. "When I walk into that home, I see blue sky, I see water and I see great works of art. I don't want the furniture to make a big statement. It's simply to sit and be comfortable," says Magni. "To Joanna's credit, the palette is very easy on the eyes, and that's all you can expect from a home—it shouldn't do any more than that on a site like this." Magni Kalman Design, magnikalmandesign.com; Joanna Parol, joannaparol.com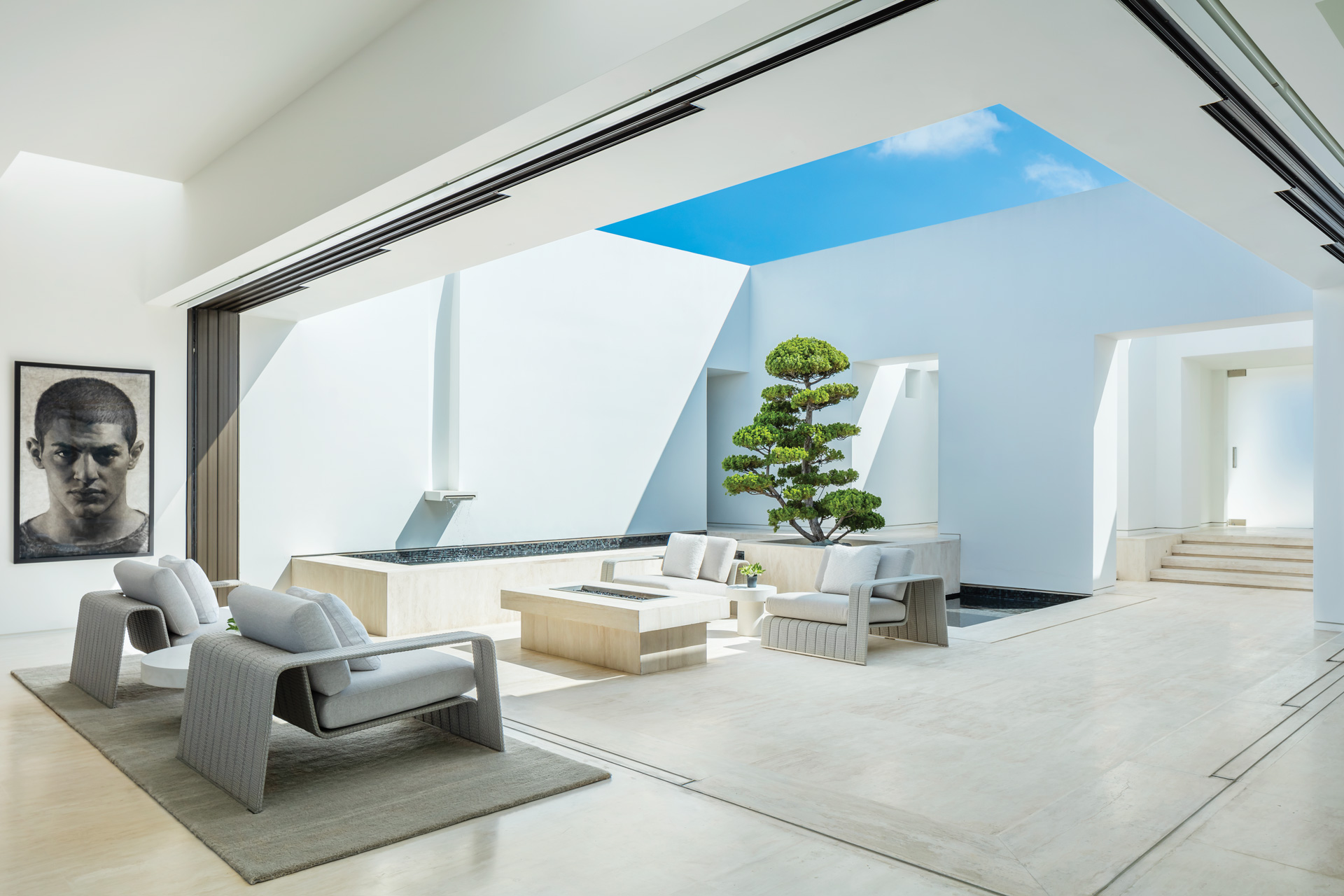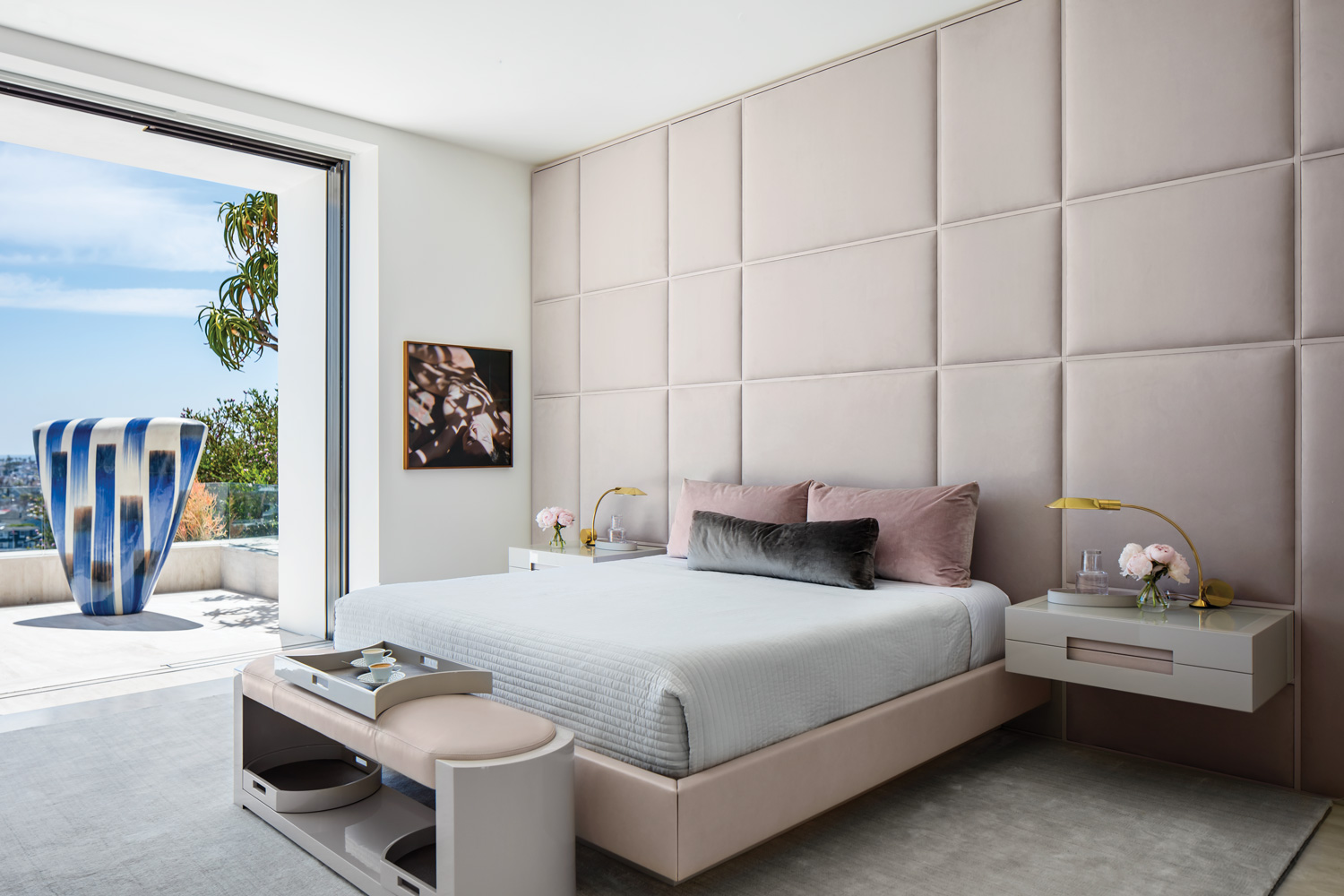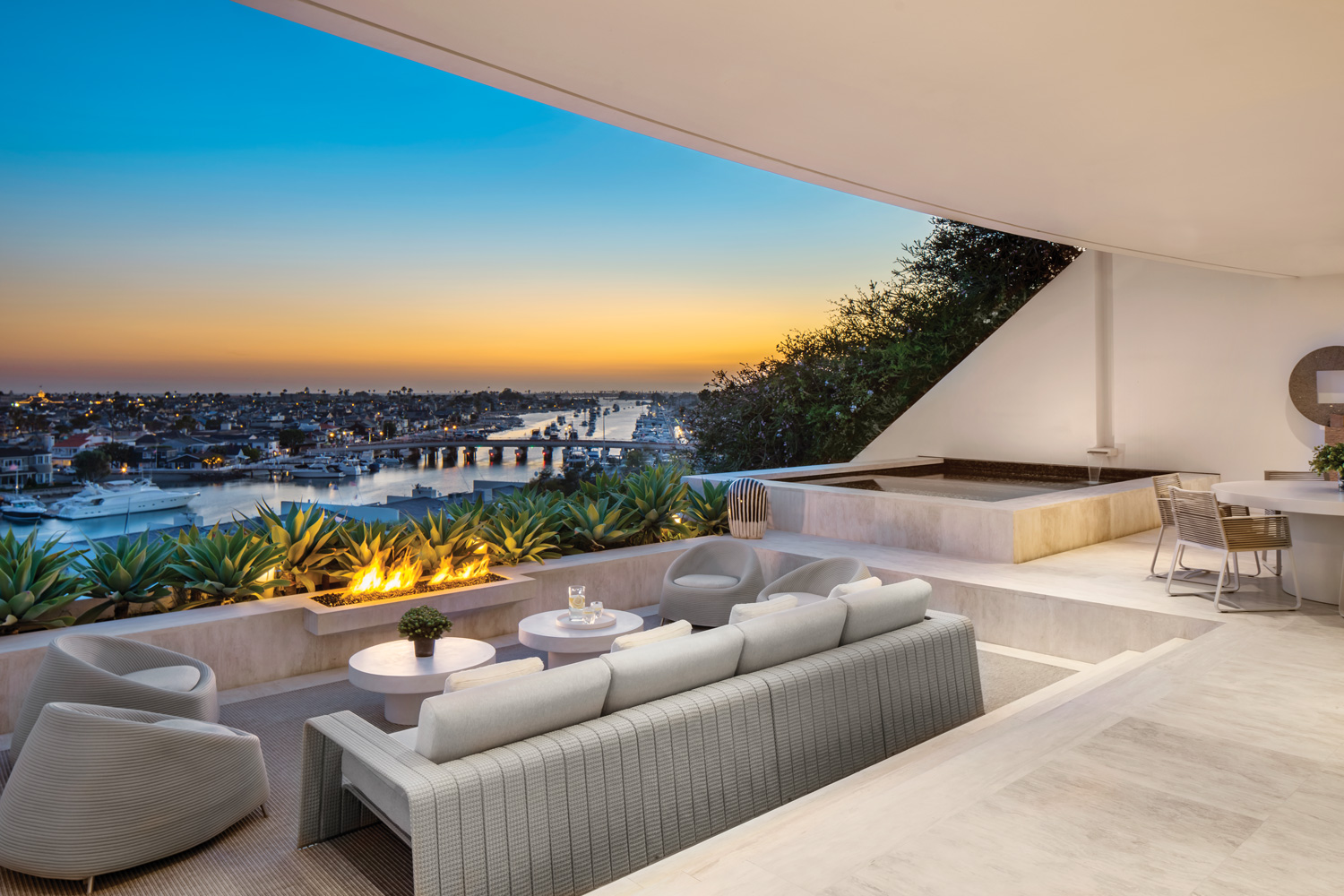 Save
Save
Save