Published as: California Zen
Architecture: Harvey Sanchez
Interior Design: Conrad Asturi Studios
Text: Zahid Sardar
Photography: Charles Kay Jr.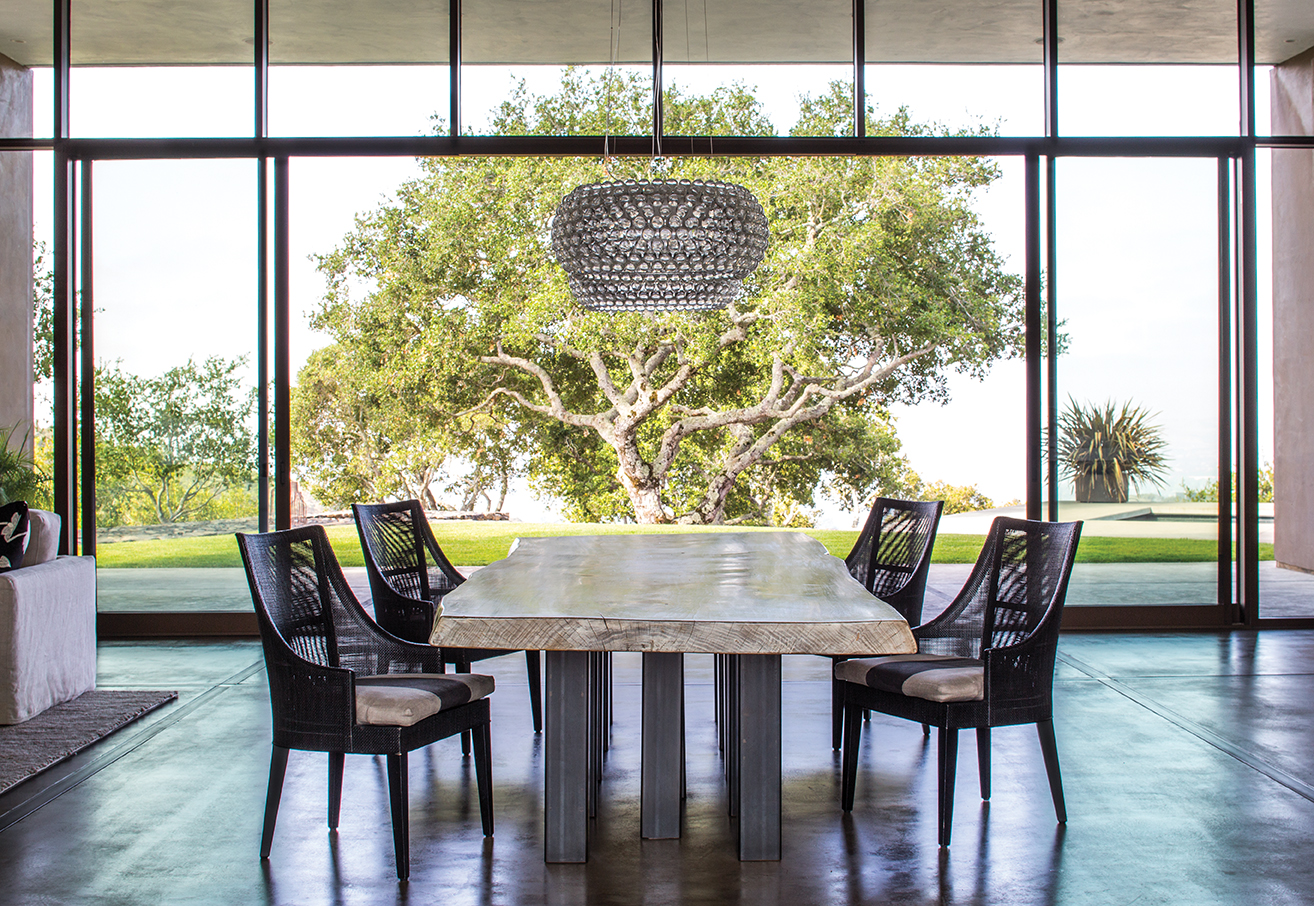 "An interior floor plan isn't the only thing to focus on," Modesto designer Conrad Sanchez says, pointing to the single-story, 4,400-square-foot home he built nearly six years ago with his father, architect Harvey Sanchez, for entrepreneur and winery owner Fred Favero and Sotheby's International Realtor Ginger Martin. It sits high up on their hilly 25-acre vineyard property in Sonoma, facing the Mayacamas Mountains. Several acres are planted with Cabernet Sauvignon and Sangiovese grapes and the rest is a native landscape of parched golden grasses and live oak and bay laurel trees.
"The elevation and the spatial aspects of the design and how it sits in this environment are even more important than the floor plan," Sanchez says. That appealed to Martin, who saw the refined modernist work of Sanchez's firm, Conrad Asturi Studios, in California's Central Valley, and soon hired father and son to design an L-shaped house from the outside in. The house they created can ostensibly resist forest fires, stay cool through the summer and is a lens through which to view the valley. With its entry courtyard, the wood-frame-and-stucco building recalls the work of the legendary Mexican architect Luis Barragán, its thick, adobe-style earth-colored walls arranged asymmetrically in shifting planes and stacked higher in the middle above a central living room with a giant, 20-foot-high wall of steel and glass in back. The house also has a kinetic sensibility borrowed from Mies van der Rohe's iconic Barcelona Pavilion, a building Sanchez has long admired.
A grid of tough yet elegant concrete and stone pavers in the entry court, punctuated by rectangular ponds of water that have papyrus and water grasses growing in them, are all also fire barriers. Until it became impractical, "we used to have koi living in those ponds under the ceramic Swimmer sculptures by Mark Chatterley," says Favero, who oversaw the construction of the home and maintains it vigilantly. In back, paved concrete decks merge with a lawn and the swimming pool. Broad terraces made of volcanic rocks found on the property step downhill toward distant views of the town of Sonoma Valley to the west and Mount Tamalpais looking south.

Large-paned steel-and-glass doors and clerestory windows on the north and south sides bring in ample light, but a thick, flat roof fitted with solar panels that floats above them has deep overhangs that keep out direct sunlight for most of the day within the high-ceilinged interior. The overhangs rest on monumental four-foot-wide squared and cylindrical posts and form equally lofty outdoor rooms that meld seamlessly with the landscape.
Inside, the open-plan main rooms are separated from the master bedroom and an office suite at the east end by a steel-clad fireplace wall with hinged doors; a guest room on the west side is separated from the main house by a breezeway/carport just outside the kitchen and the dining area.
"I rely on talented artisans and great builders," Sanchez says. "My design-and-build process is very hands-on, and we partner with artisans and builders who are in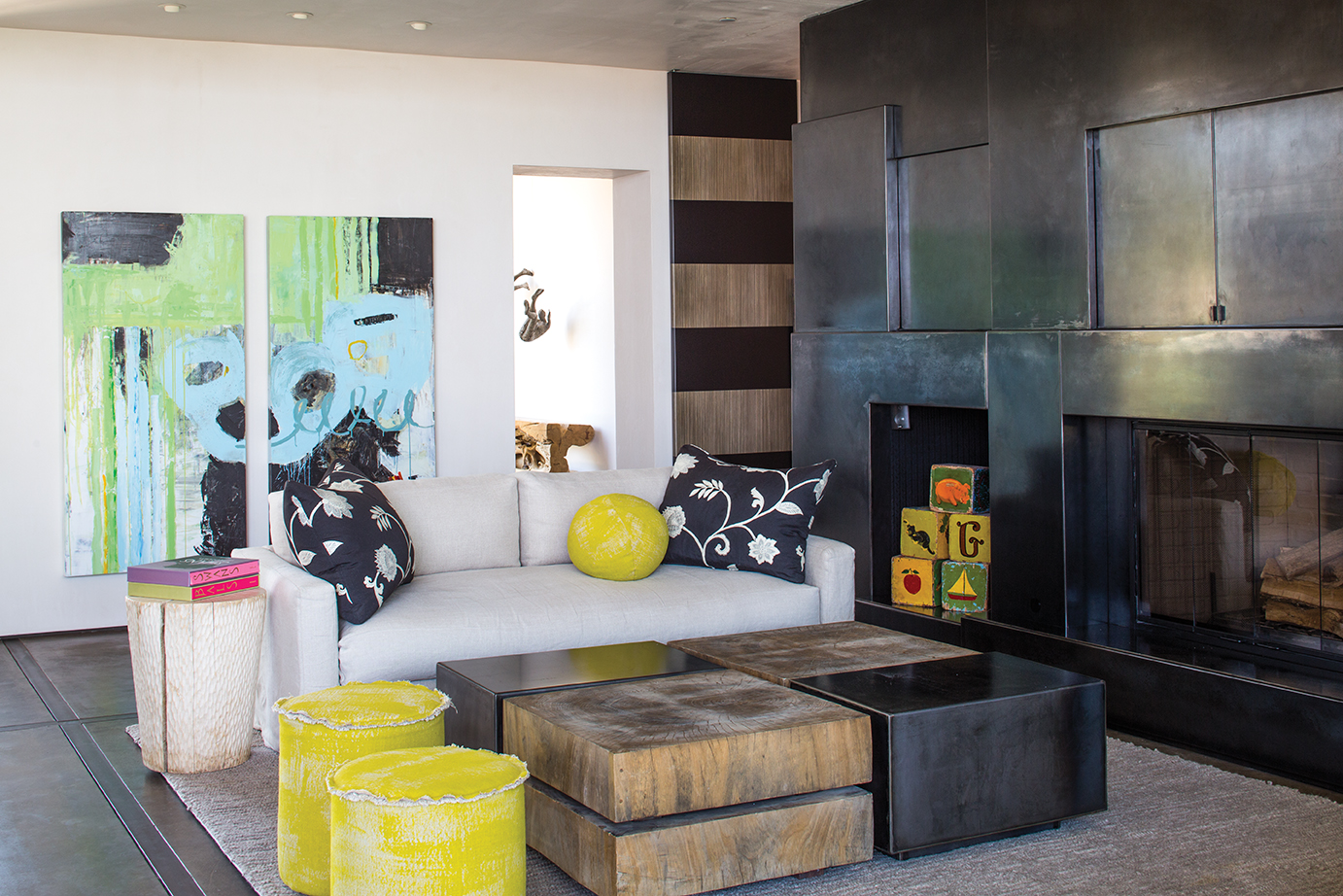 alignment aesthetically with what we do." Here, Sanchez collaborated with interior designer Louise Mann, whose husband, Ron, is also one of Sanchez's design heroes. Mann provided her signature fabrics for soft furnishings and stenciled hemp drapes, introduced large-scale accessories and chose bold, striated finishes by James Stancil for pocket doors that can close off open-plan rooms when needed. "Louise was responsible for the steel media wall surrounding the fireplace," Martin says. "She understood my need for contrasting hard surfaces with soft ones."
Bright paintings in the living room and the master bedroom are by artist Brigitte McReynolds, a friend of Martin's. The master bedroom holds vintage garden cherubs, an antique chandelier, crystal drops, burlap shades by Wendy Owen, and a custom media cabinet at the foot of the bed that was designed by Sanchez and made in Mexico.
Such an eclectic interior allows Martin to mix things up for informal living, especially when the couple's three grandchildren visit (they are free to run around with impunity). She describes her own aesthetic as "Gucci meets Gap," where something bespoke, such as the bay laurel dining table and wood-and-steel coffee tables Sanchez designed to go with Verellen sofas from Erin Martin are juxtaposed with off-the-shelf pieces. Pendant light fixtures in the dining room and above the kitchen counter and bar stools all came from Limn. Sink fixtures from DJ Mehler, a Calacatta marble backsplash and wormy pine kitchen cabinets add textural contrast.
Sanchez created a unique kitchen island of French limestone atop giant blocks of salvaged eucalyptus provided by local wood purveyor Evan Shively, all held together with heavy steel corner brackets designed by Sanchez. "The eucalyptus wood was still green when it was installed and it has continued to twist and shrink within the frame—I love that organic quality," Martin says.
"A house needs to come to life and have the feel of the seasons and different times of the day with the sun casting shadows. It needs to be playful and leave you wanting more," Sanchez says. "Even the simplest interior should make you want to look at details around the corner." Conrad Asturi Studios, 209 521 7200, conradasturi.com