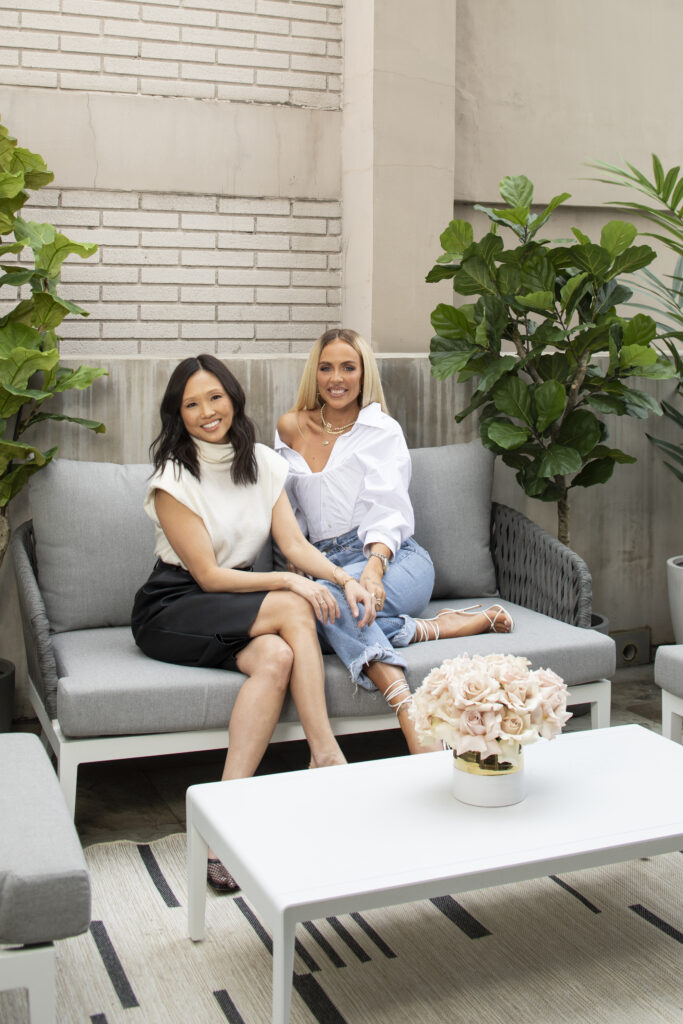 Celebrity closet designer Lisa Adams, principal of LA Closet Design, recently took on the glamorous task of transforming Hollywood stylist Maeve Reilly's modern co-op in L.A. into a chic office and client dressing room. Reilly, a street style expert and personal stylist to fashion powerhouses including Hailey Bieber, Ciara, Khloe Kardashian, and Priyanka Chopra, reached out to Adams with the goal of transforming the two-story space into a dedicated office and dressing room for clients. 
Adams started the design process for Reilly pre-pandemic, but was able to fine tune and tweak design details once quarantine began. Reilly soon came to realize that nearly all her fittings and media interviews would need to take place in her office space for the foreseeable future, so the team worked on an expanded vision that would allow the space to pivot and function as Reilly needed throughout the day and into the evening.
The white-walled, wood-floored modern space was a blank slate. Adams kept the bright, open feel, adding warm, neutral accents. The downstairs area functions as Reilly's office area and gathering space, with rows of neatly organized looks, while the upstairs is reserved for more sections for styling, and walls of shoes and accessories. (Beyond editorial and personal styling, Reilly does consulting work with large brands including Levi's, Pepsi, Covergirl, Kith and Disney.)
Lisa collaborated with Rove and CB2 to furnish the space. Downstairs, a cream sectional rests atop a cozy shag rug, while a chunky marble coffee table sits adjacent to the fireplace, which is punctuated with a custom branded neon art piece to serve as a backdrop for online styling seminars. Reilly's glass desk overlooks the entire light-filled, double-height unit, which is distinctly minimalist.
Black metal industrial built-in hanging racks cover much of the wall space both downstairs and in the lofted fitting and dressing room, providing ample storage and display for everything from couture gowns to graphic hoodies. Adams created floating white shelves for the extensive shoe wall in the loft, which is broken up by a glamorous full length gold framed mirror. Cozy boucle seating and an oversize rug impart an inviting feel for clients and visitors in the loft area, which Adams also outfitted with a white lacquer bureau for jewelry and clutch storage to give Reilly an area to land and accessorize. The finished project embodies the positivity, warmth and grace Reilly extends to her fans and followers through her brand, Local Love Club.
Adams and Reilly sat down with Interiors magazine for an exclusive interview on their collaboration.
Interiors Magazine: How was designing this space for Maeve different from the residential spaces you have designed?
Lisa Adams: It's different in the sense that it is much more of a working closet than residential closets. While my residential closets are designed to be functional and accessible, in Maeve's studio closet, this was a top priority and drove the design process—how she needs to pull clothing and accessories for numerous clients daily, so in a way, it has to be that much more organized and efficient. Also, the sheer quantity of clothing—various sizes in the same style—made me think of creative ways to hang all over the studio (e.g. a low wall upstairs, going up higher downstairs, etc.).
Interiors Magazine: What did Maeve ask for in this design and how did you deliver?
Lisa Adams: Maeve asked for all of her clothing and accessories (pulls and in-stock items) to fit in the space, and to create areas for her office to conduct business, and for her clients to be able to sit, try on outfits, and enjoy the space. The downstairs clothing includes outerwear, bottoms, and tops, so the pulling of these items happens downstairs, and then Maeve goes upstairs to add shoes, bags, and accessories, including bodysuits. It was important to really understand Maeve's styling process to design the spaces accurately and efficiently.
Interiors Magazine: Since the space is being used so much due to quarantine, now that we are coming out of it, how does the space pivot for any situation?
Lisa Adams: The closet is ready to come out! During quarantine, Maeve found herself shooting a lot in the space, which was a bonus; now that we are coming out of it, she can still use the space to shoot, but to now really use the space for her clients to come into and enjoy!
Interiors Magazine: Tell us a little bit about how the flow of the space works for your styling and client needs.
Maeve Reilly: My space is so great because it's big enough to hold everything—or almost everything—without being too overwhelming. My space is two floors and everything is organized by item and color so I can visualize everything. I spend more time in my office than I do at home, so I needed a space that was functional, but also homey.
Interiors Magazine: Describe how the flow and organization works for you.
Maeve Reilly: I section all my clothing by category—denim, jackets, active wear, swimsuits, etc.—and from there I make sure that all my sets are together so it's easy to pull exactly what I need. I also have designated drawers for everything, whether it's underwear, double sided tape, etc., and every bin or closet is labeled. From those sections I arrange everything by color. This helps me visualize outfits and makes it "easy" to find exactly what I'm looking for.
Interiors Magazine: How has this space served you and your clients during quarantine? Did you have to make any adjustments to the space because of this?
Maeve Reilly: My space has really transformed over quarantine, which gave me time to reorganize and clean out everything that wasn't serving me or my clients. Every item has a home, which makes fittings so much easier.
Interiors Magazine: Now that things are opening up a bit, is the space still serving you the way it was intended? Are there any adjustments that are taking place?
Maeve Reilly: Because my space got revamped over quarantine, it really has served me and my team for everything we need. It has become my second home—I host my styling series there, take all my fittings there, have design meetings there for my brand Local Love Club—it is the headquarters for everything that pertains to my business and since I am working around the clock, it is the place where I spend all of my time!
Lisa Adams Closet Design, laclosetdesign.com; Maeve Reilly, Local Love Club, thelocalloveclub.com