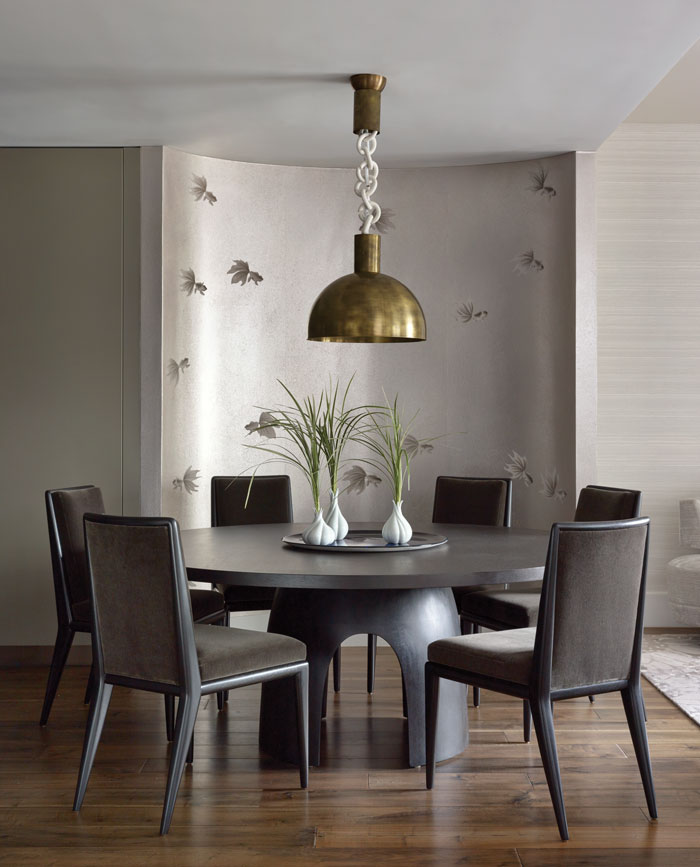 Published as:
FABRIC OF
LIFE
Interior Design: Joe Lupo
Text: Heather Corcoran
Photography: Peter Murdock
What if someone told you to picture a home just like Cate Blanchett, wrapped in slinky satin and cashmere, and lounging on a generously proportioned sectional? Would you be able to see the 20-foot-long silk-and-wool Alexander McQueen carpet from The Rug Company that spans the living room's two seating areas? Could you envision the softness of the color palette, feel the textured seagrass wallpaper, or sense the subtle curves that echo throughout the space? That concept, the idea that personal style sends a message to the world, is something Joe Lupo thinks about often. As the co-founder of Visual Therapy, Lupo began by styling wardrobes before expanding into interior design under the label of VT Home. He believes the things we choose to surround ourselves with, just like the things we wear, say a lot about who we are.
"I have to understand what a person's style is before I can give them a version of who they are," Lupo explains. It's a theory he distilled into five fashion types for his book, Nothing to Wear: A Five-Step Cure for the Common Closet: classic (the Kennedys), chic (the Clooneys), whimsical (colorful and playful), bohemian (earthy) and avant-garde (minimalist and sculptural). And the way Lupo sees it, this philosophy extends easily from the wardrobe to the home—once you've got your reference points nailed down. "Probably the most important job of a designer," he says, "because nobody wants to walk into a home that's not 'them.'"
When distilling the style of a couple starting a new life together in a loft-like Manhattan three-bedroom apartment in a building by architecture firm ODA, Lupo honed in on "urban chic" as his touchpoint. Taking cues from his clients' personalities and lifestyles, he worked with them to create an art-filled space with a touch of Art Deco opulence, a home that's as sophisticatedly elegant as the Oscar-winner Lupo says the finished apartment evokes and, it turns out, the designer himself. ("I could move right into this apartment," he jokes.)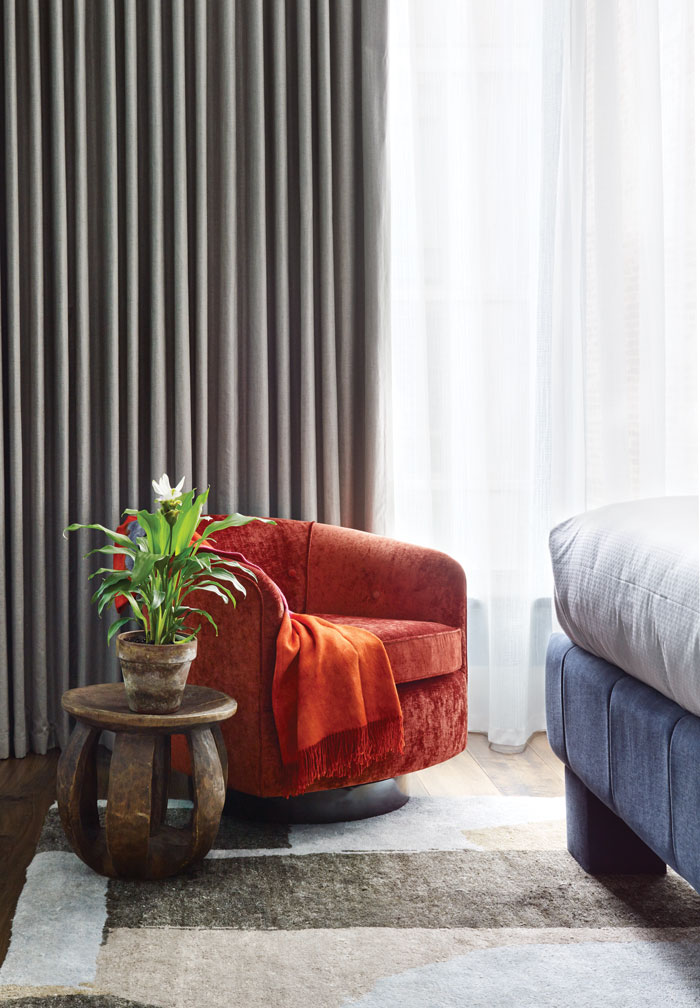 The stylistic synchronicity between designer and client was apparent from the beginning, when the homeowners discovered the VT Home–designed apartment of German model Toni Garrn on Instagram and knew they'd found their match. Since the couple would be starting fresh, there was the added challenge of building from a blank canvas without creating what Lupo calls an "instant apartment." So he sourced a range of modern art pieces, like the Marc Horowitz canvas that contrasts with the lilac palette of the study and a burst of pigment by Thilo Heinzmann that hangs above a Holly Hunt sofa upholstered in Romo velvet. "We wanted it to feel like it's something that they've collected; something very thoughtful," Lupo says. "Even the library. There's not a single book that was there before."
To tailor the space to its residents, Lupo created custom solutions, like the hand-wrought bronze entry mirror, now part of his VT Home line, and a TV-hiding wall unit with a subtle luster from a Maya Romanoff wood veneer. He customized others, like blowing up the pattern on that Alexander McQueen rug (and adding silk fibers for shine) and paring down the number of koi fish on the hand-painted Brunschwig & Fils wallpaper for a more subtle effect. The first piece Lupo found for the apartment was an unlikely place to start: a blackened Brutalist sculpture by James Bearden with abstracted figures that appear to be embracing. "The minute I walked into the space, I said, 'This is where a sculpture needs to go,'" Lupo recalls. Now, the piece (which adds a bit of "avant-garde" to the "urban chic" mix, Lupo says) draws the eye from the entry hall into the expansive open living area beyond. Playing off of the totemic figure's organic form, Lupo looked for ways to bring curves to what felt like a masculine space. Rather than altering an imposing round column, Lupo used it as an inspiration, placing a custom dining table by Caste nearby beneath a ceramic bronze fixture by Apparatus, all within a curved alcove he created and clad in chinoiserie.
With his background in fashion, Lupo is as keen on color as he is on fit and fabric. He plays with layers of shade texture—"I don't want anything that doesn't feel really nice to touch"—to create a cohesive, but interesting look. For this home, each room is a study in color: the living room's neutrals, grays and greens; the master bedroom's blues; and the lilac of the office. For added interest, and a "bohemian moment," the guest room features a crystalline blue Romo wallcovering, countered by a burnt-orange Milo Baughman swivel chair. For Lupo, creating the perfect look, no matter the scale, is all about that balance. "Putting together a look is easy; putting together a room is like a jigsaw puzzle," Lupo says. "There are so many pieces, and each piece has to fit properly or it throws off the puzzle." VT Home, visual-therapy.com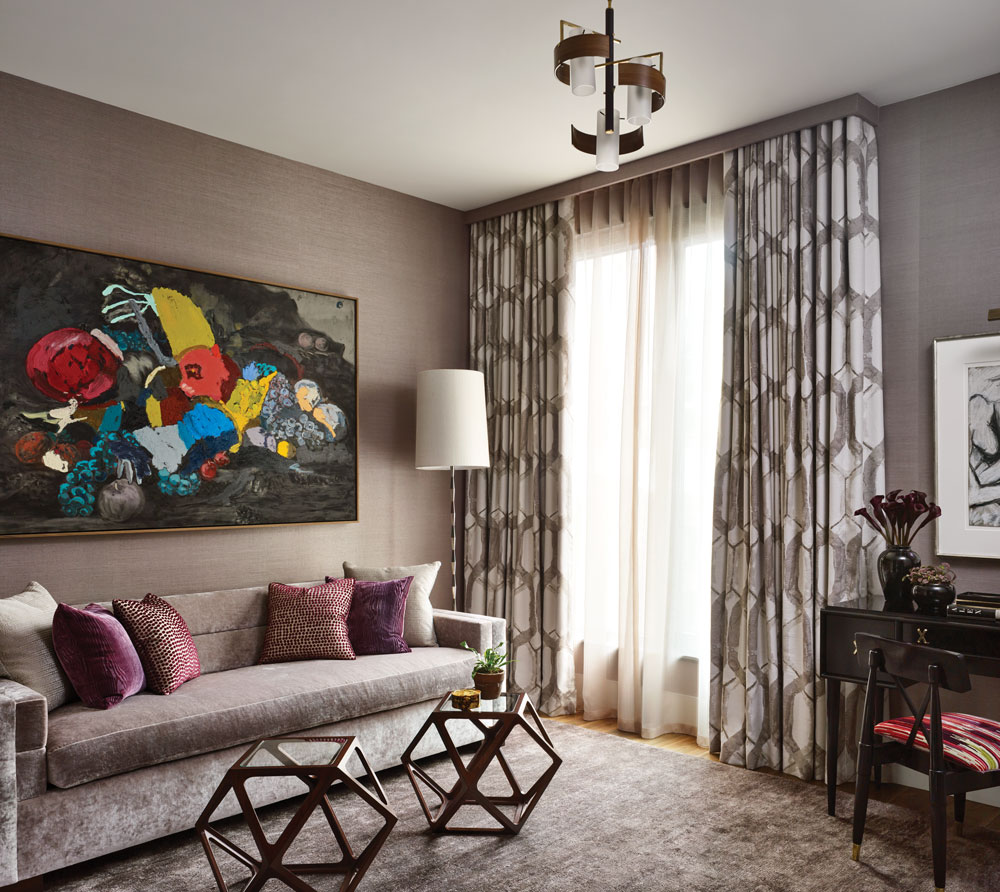 Save
Save
Save