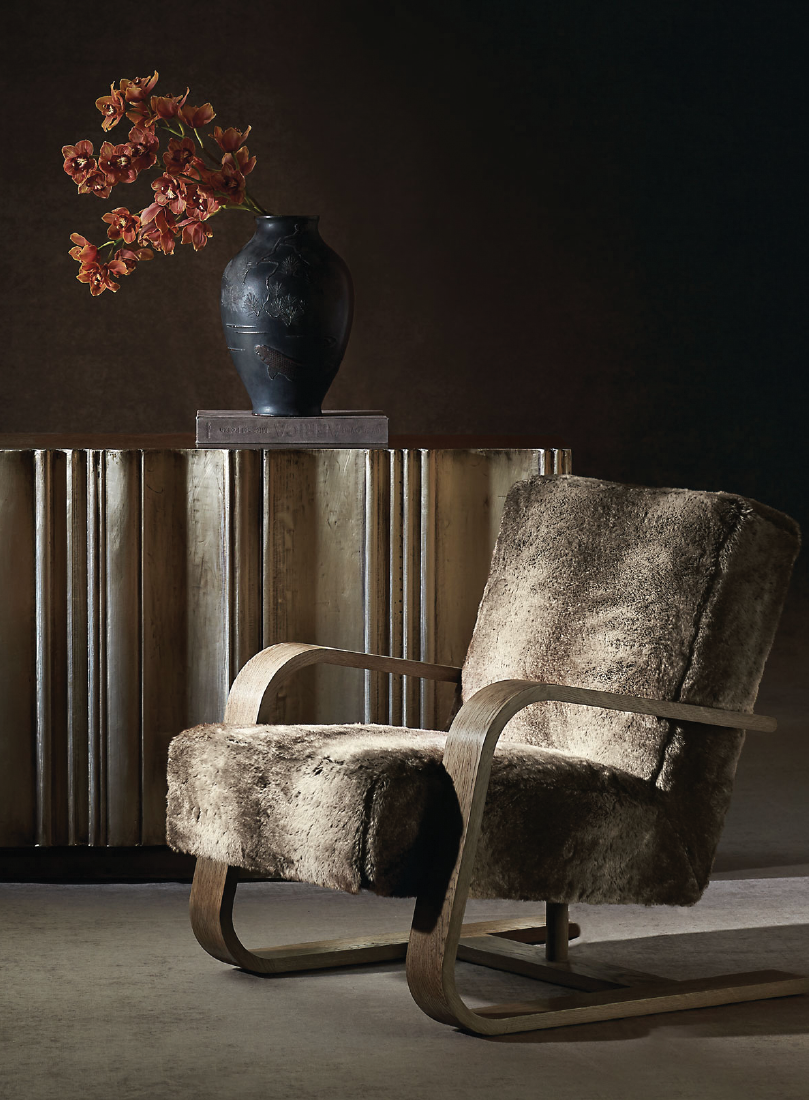 Within the ancient hills and valleys of the Blue Ridge Mountains in western North Carolina lies a pocket of sweet serendipity in which a unique mélange of ideal materials, excellent geographic locations and, above all, generations of highly skilled craftspeople creates exquisite high-end furniture.
In the way that soil, climate, heritage and skill perfectly blend to produce outstanding wines in the Sonoma Valley of California, this area of North Carolina boasts the finest of home furnishings manufacturers, nurtured by nature's gifts of timber, cotton and rivers, blessed by the arrival of railroads in the 1800s, enhanced by the latest technology and located in comfortable proximity to the very heart of the furniture industry in nearby High Point, N.C.
The dominance of the furniture industry in this area was no accident. Native stands of walnut, oak, cherry, pine, poplar 
and more made it a natural draw for lumber men since before the Civil War. Over generations a fraternity of family-owned companies have become famous for fine furnishings highly favored by designers for their tailoring, woodworking, blacksmithing and finishes that can require more than a dozen individual steps to achieve.
For more than 125 years, Bernhardt Furniture has been a genuinely venerable manufacturer of high-end furniture. The company, now in its fourth generation, was founded in 1889 by John Mathias Bernhardt, who as a logger once built a 20-mile log flume to move lumber down the mountainside for local furniture manufacturing or to be shipped by rail throughout the country. That flume is historically believed to be the longest such structure ever built. Currently at the helm is the founder's great-grandson, Alex Bernhardt, Jr., president and CEO, whose fellow executives are also family members.
"The two main raw materials for the making of furniture—timber and cotton—were available here," Bernhardt says, "and the railroad's arrival in 1885 made it possible to ship goods much farther. In addition, the manufacture of furniture attracted a pool of workers who learned the skills needed, then passed those skills down through the generations. We have craftspeople whose children and grandchildren have followed 
in their footsteps."
The Shuford family, who owns Century Furniture in Hickory, has been in western North Carolina for nearly 200 years, with a long tradition in manufacturing from yarn mills to fabric to furniture.
Current president Alex Shuford III represents the third generation of the family operating the high-end company and has a clear vision of the roots of the fine-quality furniture produced by his and other companies that thrive in the area. "For us," Shuford says, "the area and its people are the very foundation of what we do. The access to materials such as Appalachian hardwoods is important, but the relationship with the western North Carolina craftsmen and women is vital. We derive our culture from the area's hardworking, determined people who believe in treating others with Southern hospitality regardless of whether they are family or new customers."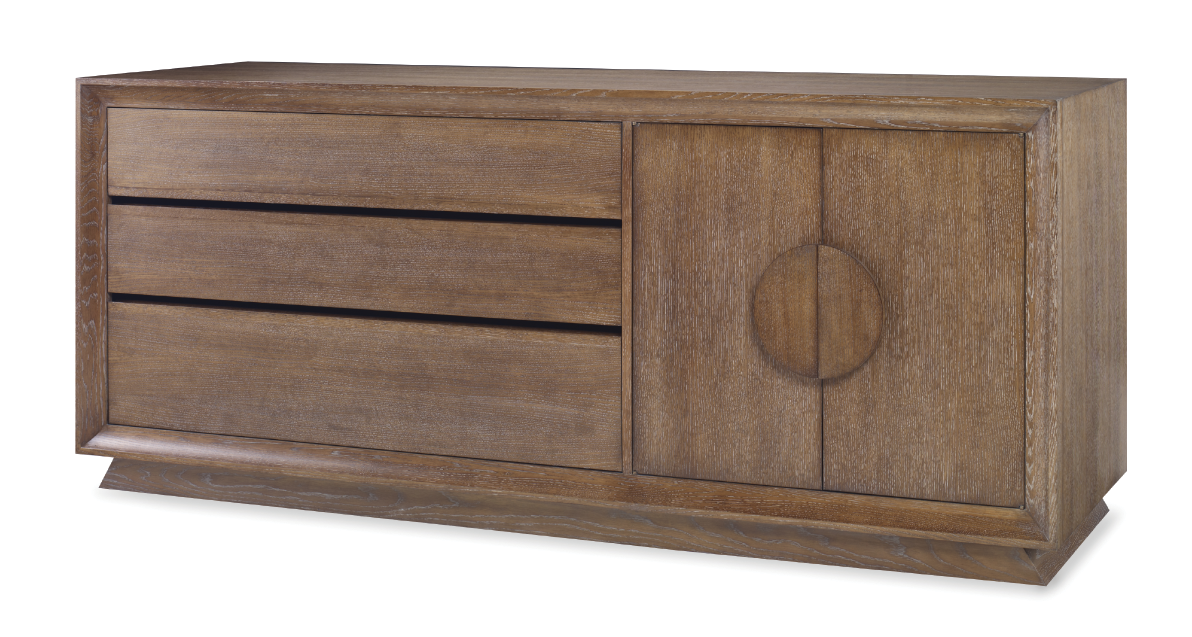 Producing everything from classic traditional designs to the edgiest of contemporary and stunning hand-forged steel pieces, these companies marry Old World craftsmanship with cutting-edge high-tech manufacturing to create freshly updated silhouettes, finishes and surprisingly customizable furniture. Indeed, nowhere else in the world but in this pocket of North Carolina can discerning retailers and designers find this level of quality combined with the luxury of personalization, and with such competitive delivery times and price points.
Shuford points out that technology provides these companies with the ability to offer almost infinite possibilities for customization. "Twenty years ago the U.S. furniture industry was based on large production runs driven in part by the high cost of machinery set-up times," he says. "Essentially, the only way to justify the hours it took to set up a single machine to do a single operation was to enable long runs of a particular part, such as a leg or table top."
Today, Shuford notes, "with computer-controlled equipment, set up times are lightning quick and that has opened up a world of affordable custom furniture. Of course, the level of craftsperson you need also increases because a modern custom factory is literally creating new products every day."
At Chaddock Home in Morganton, North Carolina, president and CEO Dan Bradley points out that the use of computerized drafting allows a quick sketch to become a detailed drawing the same day, and a precision-cut prototype can be produced within days instead of weeks.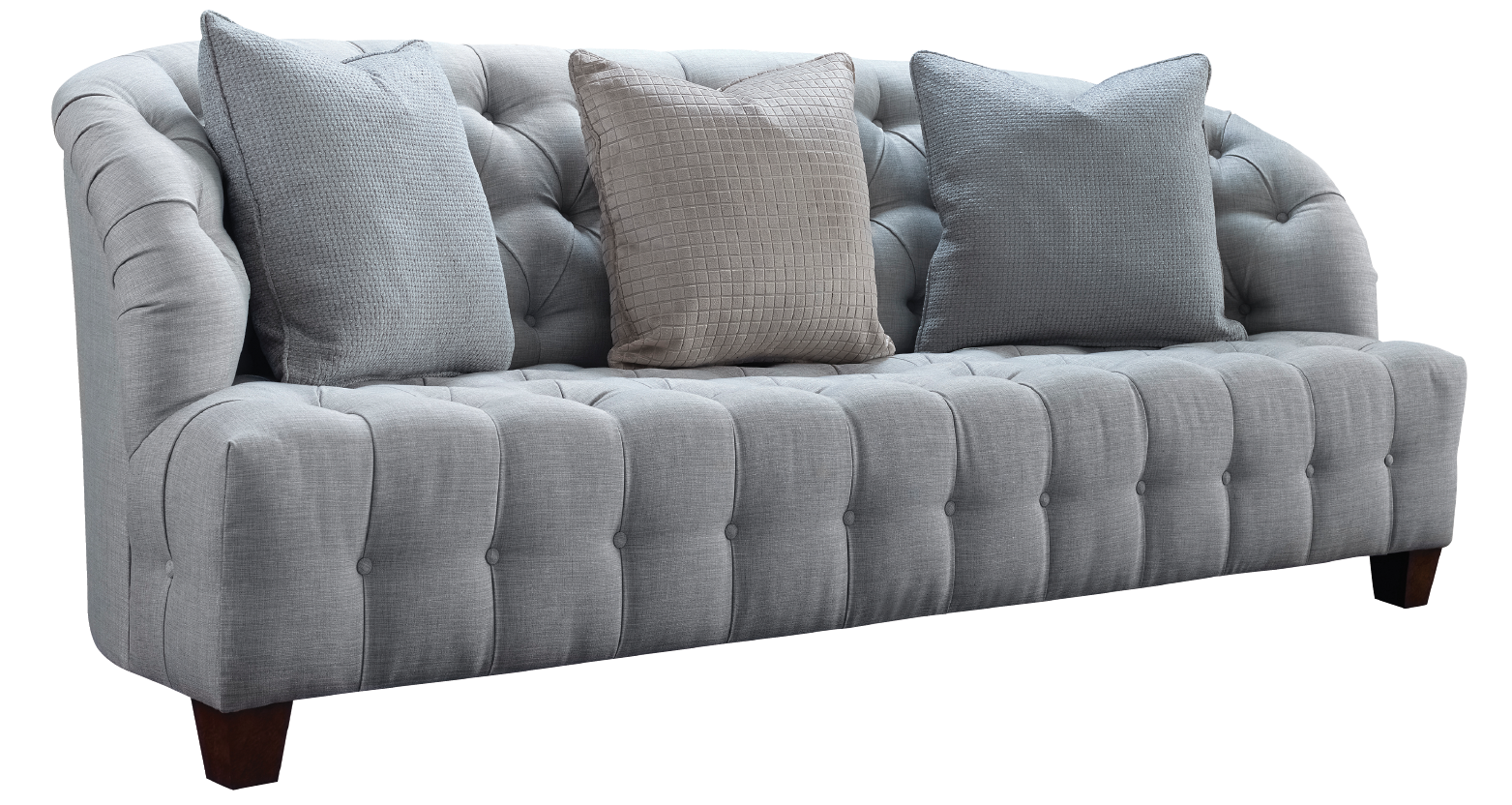 Chaddock, which is represented in 25 retail operations around the world, including 13 retail stores in China, takes customer choice to another level, Bradley explains. Beyond choices of finishes, fabric and hardware, he says Chaddock's philosophy on customization means being able to say to a customer, "The answer is yes, now what is the question?"
Consequently, one might see a seven-foot table being produced and behind that a 14-foot version. "Our customer can even choose the number of drawers or the number of doors on the piece they love because the craftspeople we employ have adapted to this unique level of customization," Bradley says. "Depending, of course, on our backlog, these custom pieces can be created in as little as four weeks."
"Many of our craftspeople have been with us since the company started 19 years ago," Bradley says, "and we are proud when their children and grandchildren come into the company to join us as well. I believe that is a testament to our determination to provide an environment where people want to come to work and hold a heartfelt pride in their work."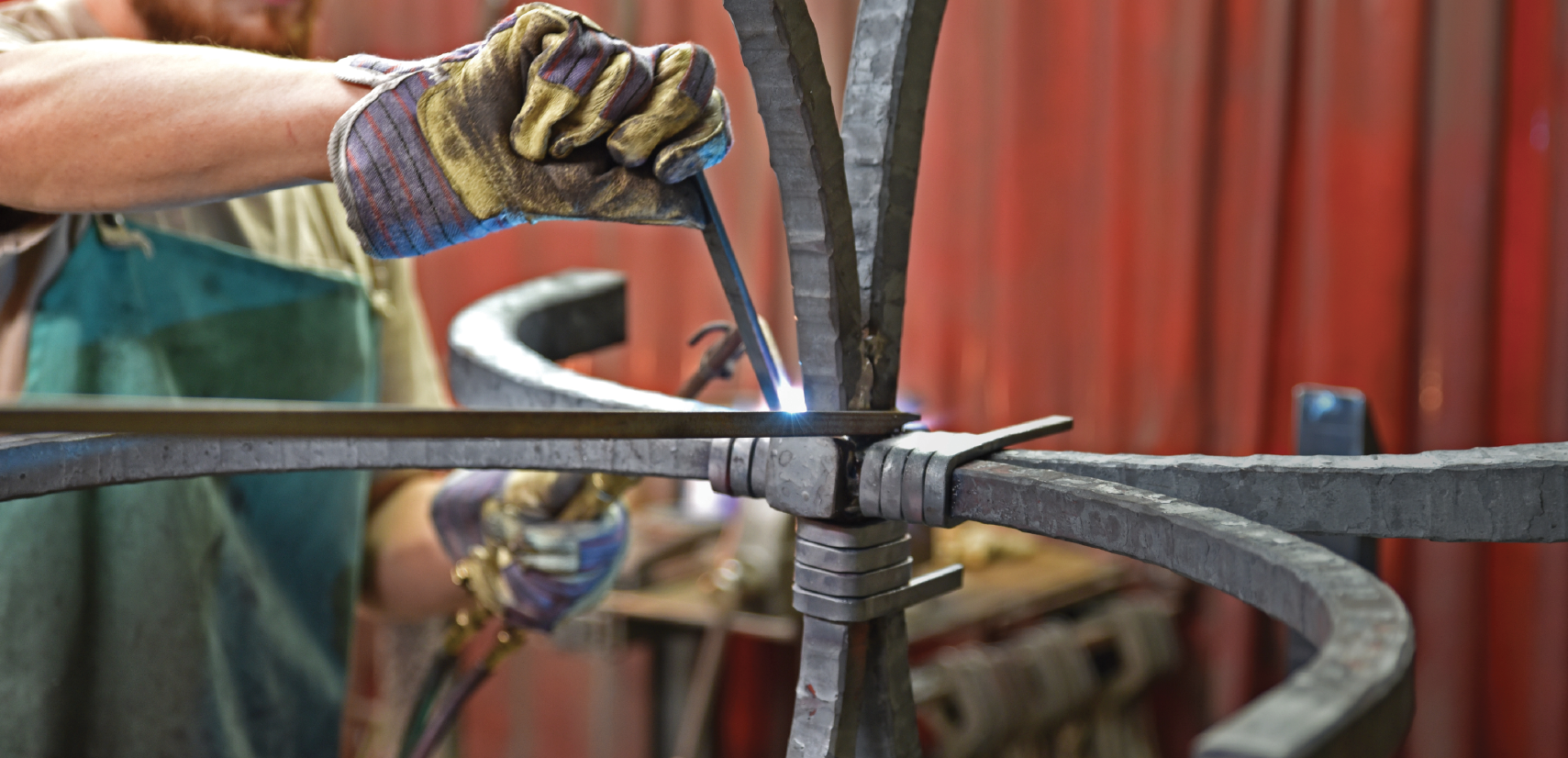 At Charleston Forge in Boone, North Carolina, the factory floor vibrates with the concussion of hammers against anvils as skilled artists create stunning, solid metal furniture amid the unearthly glow of molten steel and the fierce blue of welding torches.
A remarkable company that grew organically from a retail origin, Charleston Forge and its founders, Art and Susan Barber, have benefited for more than 31 years from a location within the realm of Carolina Couture country, and celebrate what they call "the creative spirit" that exists among the local craftspeople and the community of artists who draw inspiration from the panoramic mountain views and cool summers.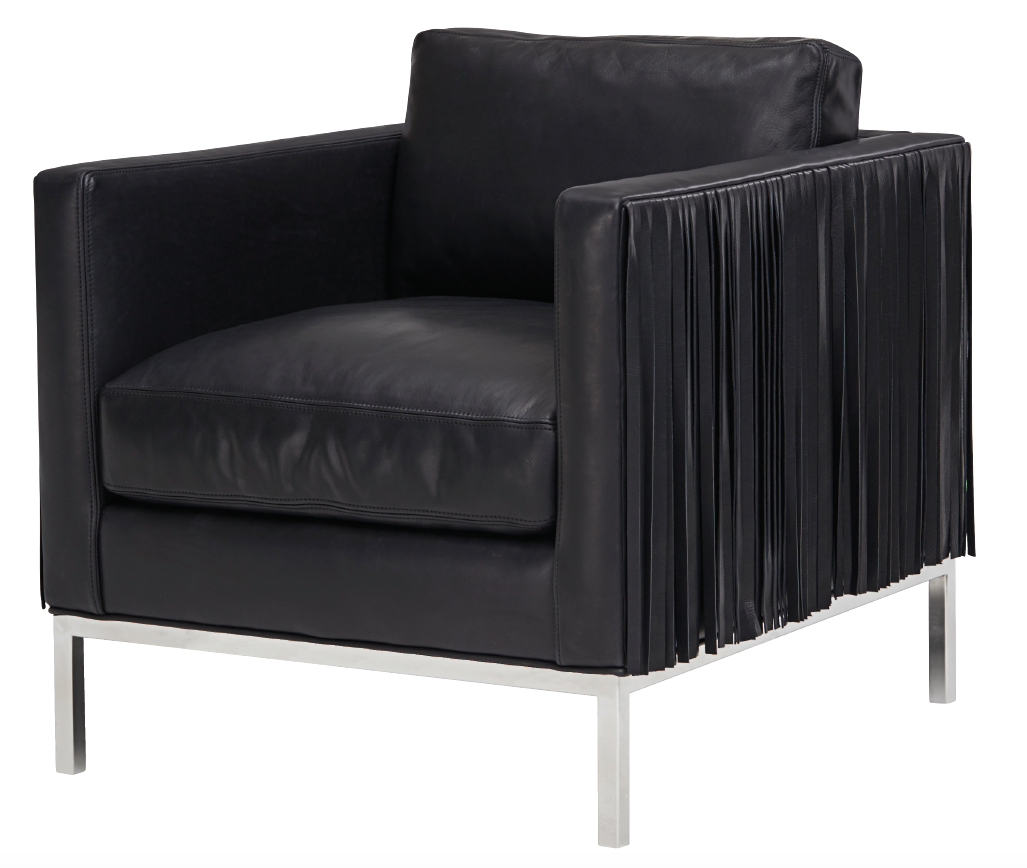 No high-speed production lines operate at this 100,000-square-foot factory, as every item is hand-wrought to order and retains what the Barbers call a "sense of hand." Customization is key to Charleston Forge, and like others, the Barbers have craftspeople who have been with the company since the beginning, and spend time and energy seeking out new artisans who are carefully trained to achieve the unique needs of their product.
"I'm constantly fascinated, after all these years," Art Barber says. "Every time I walk through the shop and see what these people can accomplish, I want to celebrate them."
To ensure a talent pool capable of 
the exquisite tailoring that has marked Lee Industries since its founding in 1946 by Bill and Dottie Coley, the Conover, North Carolina, company has developed and invested in "training pods" that span three months dedicated to training associates in the traditional skills of upholstery and sewing required to produce its high-end bench-made seating.
This family-owned company remains committed to manufacturing in North Carolina, employing about 700 associates and "sourcing a large percentage of our supplies from a 100-mile radius," says Bondi Coley, marketing manager. "More than 95 percent of the components used to make our furniture are made in the U.S. We pride ourselves on sourcing locally and helping to promote economic growth within our communities."
Technology has been paramount, Coley says, in maintaining Lee Industries' immense reputation for customization. "All of our files for frames are sent to vendors using a CAD system and they are all sent electronically. We have taken the guesswork out of development by educating our development team on the newest technologies in pattern making. Our cutting systems are all automated and require highly skilled operators. Our system navigates patterns in fabrics to produce the best yields and conserve the fabric yardage. The sewing systems that are in place haven't varied much over the years, although the techniques have become much more complicated—topstitching, zigzag stitching and whipstitching." Lee's customers can select anything and everything—from thread colors, stitching and button options, to what type of cushioning is used—and choose from 1,000 fabrics and 100 leathers.
Whether it's a venerated family business operating since the 1800s or the dream of forward-thinking entrepreneurs, these upscale sources benefit from their location near the center of the home furnishings business. High Point, North Carolina, is known universally as the Furniture Capital of the World, bringing together hundreds of other global industry leaders to meet twice a year to buy and sell at a trade show that draws 75,000 people from around the world to explore 12 million square feet of home furnishings on display.
Century's Shuford calls the High Point market "the next best thing to the old days of buyers visiting our factories in Hickory. Beyond the obvious value of the show being close to us and our craftspeople, High Point itself is steeped in furniture heritage. Many of the buildings are monuments to the fine brands the industry has created over the years."
Chaddock's Bradley says the High Point market "gives us a chance twice a year to invite our customers into our own house and to show our product in the way we believe it is best showcased."
B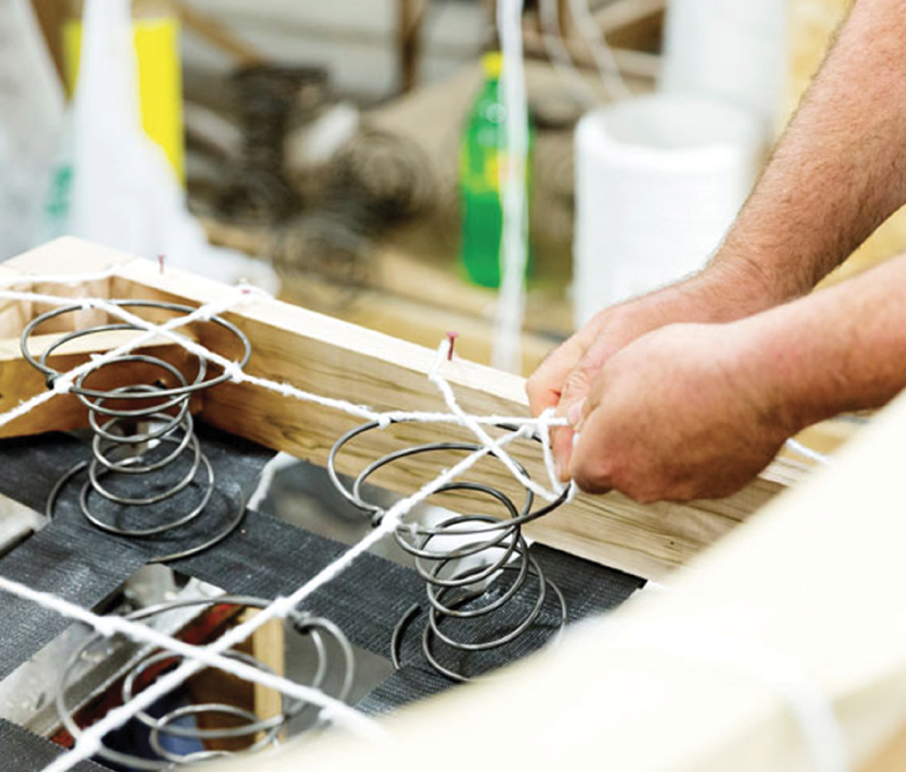 ernhardt agrees that proximity to High Point is "crucial. We have an 80,000-square-foot showroom that we change out completely every six months. We start months ahead. Being able to drive between the factory and the showroom is far more cost-efficient for us than showing at market centers in other parts of the country. We aren't selling furniture, we're selling environments," he says.
All of these western North Carolina companies thrum with dynamic energy. Here, artisans know that "business as usual" will never happen and that every day is a new exercise in excellence. Family-run and committed to their roots in America in the face of an industry where many have taken production offshore to save costs, these manufacturers share an underlying and ever-present respect as friendly competitors that share resources and applaud one another's successes. They are all part of a fraternity of furniture manufacturers who recognize their place in creating Carolina couture.
Bernhardt, bernhardt.com; Century Furniture, centuryfurniture.com; Chaddock Home, chaddockhome.com; 
Charleston Forge, charlestonforge.com; Lee Industries, leeindustries
.com; High Point Market, highpointmarket.org