Published as:
MODERN CHIC

Interior Design: Kelly Hoppen
Text: Michael Webb
Photography: Mel Yates
Expansive living spaces with lofty ceilings are a rare luxury in London, where even the costliest lodgings may feel cramped. Designer Kelly Hoppen searched for two years before finding a former auction house in the city. "It was quite literally rubble and full of columns, but the moment I walked through the door I said, 'I've got to have it.'" Fifteen months later it was transformed, as an intensely personal variation on the style that has brought her global acclaim.
Hoppen was born in Johannesburg, moved to London, and launched her career at age 16 by remodeling a friend's kitchen. This is the sixth home she has designed for herself over the past four decades and easily the most ambitious. As an interior designer with her own product line and a 40-person office, she is used to making fast decisions, but when working for herself she is beset by doubts. "Then I'm a client from hell, with too many choices to make and I'm constantly changing my mind," she confesses. "We did loads of sketches and 3-D computer models, laying everything out on a grid. I had the whole house displayed on a long table, with all the fabric samples, and every day I would check to see if I had got it right."
For Hoppen and her partner, the 9,000-square-foot house is a tranquil retreat. "We live in the media room, the kitchen and the bedroom," she says. Everything revolves around the main living room, and the first move was to lower its floor five feet to make it even loftier. Hoppen chose her favorite palette of neutral tones, with a pale oak floor, a warmer shade for the cabinetry and a range of beiges, taupe and grays for the furnishings. Walls and columns are white, and a black Venetian-plastered screen wall borders the open staircase.
Everything but a few favorite acquisitions is custom designed, and choreographed to play off the void. A shot of Yoko Ono sitting on the window ledge of her Manhattan apartment inspired the short curtains ("something a designer would normally never do," Hoppen says). The glass bubbles suspended from cylindrical light shades were a last-minute invention. Texture and tone are crucial ingredients. "I wanted to change the seat cushions of some chairs I found in Paris and for three weeks I considered a palette of suedes—fake, so as not to get stained when people dropped their bags there," Hoppen recalls. "Several times I thought, 'Kelly, be bold; use a strong color,' but I kept changing my mind about which one to choose. Eventually I selected a neutral. I'm naturally a natural—it's who I am."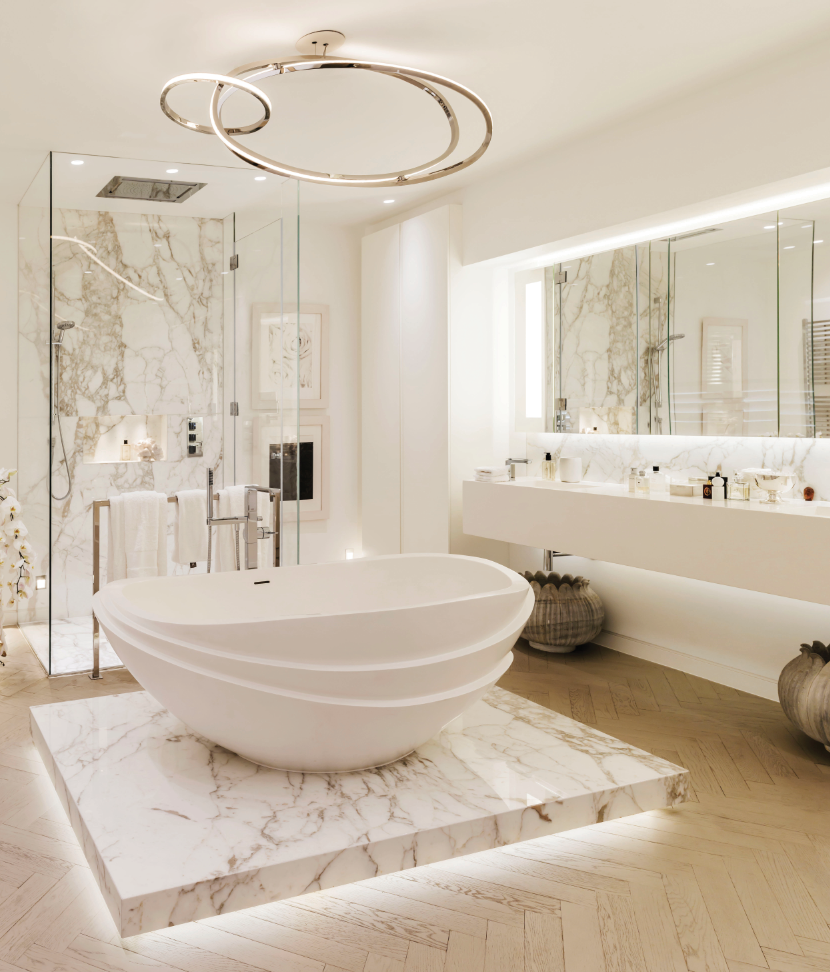 The scale of the room is amplified by concealed lighting, so that walls appear to hover above the ground. This concept is also employed in the smaller rooms to great effect. Hoppen's love of order is demonstrated in the dining area, where she hosts dinner parties for 30 guests. Overhead, three burnished-steel lighting troughs are suspended over the 20-foot sweep of a honed granite table. A white marble counter defines the serving area and an intimate breakfast nook opens off to one side. Guests tend to gather in the open kitchen, move to the table and stay there as conversations flower. So the sitting areas are under-used, but they are there when needed, and special guests are delighted to sink into the cushions around a triangular table that serves as an intimate gathering area just inside the entry.
The media room opens out of the sitting area through pivoting lacquered doors that echo the swiveling window shades beside the entry. Sybaritic chaises face a wall screen and geometric cabinetry that is cantilevered from the wall and backlit. Hoppen is an enthusiastic collector with a special interest in classic modern photography. (Luckily, her brother Michael has an acclaimed photography gallery in Chelsea in which she can indulge her passion.) Sculpture and glassware are also prominently displayed throughout the house, and her favorite Murano glass owl nests on a polished gold plinth in the powder room.
At the far end of the living room is an office that is enlivened by a zebra rug, a reminder of Hoppen's childhood in South Africa. The black pedestal table and cabinet contrast with a Wassily chair upholstered in cream linen. This room serves as a quiet retreat for Hoppen when she wants to bring work home from the office or check the proofs of her latest book. Stairs lead up to a gallery that commands a panoramic view over the living room and access to the bedrooms and gym.
The master suite is a softer version of the same aesthetic. Ribbed screens, suspended light globes and gray silk rugs flank the bed. Here, as in the guest rooms, crisp bed linens are set off by a sash of fabric draped over the edges and onto the floor like the train on a formal dress. There's a chaise and a simple white vanity, with a round mirror that the designer found in Paris. That's a recurring theme: A large circular mirror from an Eastern European railway station greets guests as they step into the foyer, and there's a play of reflections throughout the house. In the master bathroom, the Harmony tub that Hoppen designed for the Australian firm Apaiser is elevated on a platform of figured white marble, as though it were a throne, and lit from below. Behind is a glass-enclosed shower, and a hoop light fixture by Niamh Barry hovers overhead. The downstairs guest suite explores the same ideas in a stripped-down fashion.
In transforming a ruin, Hoppen has created spaces to dazzle the eye and delight all the senses. The height allows for multiple perspectives and makes the adjoining rooms feel intimate, despite their generous sizes. "That's the beauty of good design," says Hoppen. "You are always discovering fresh things, depending on where you sit and your state of mind." Kelly Hoppen, +44 (0) 207 471 3350, kellyhoppeninteriors.com