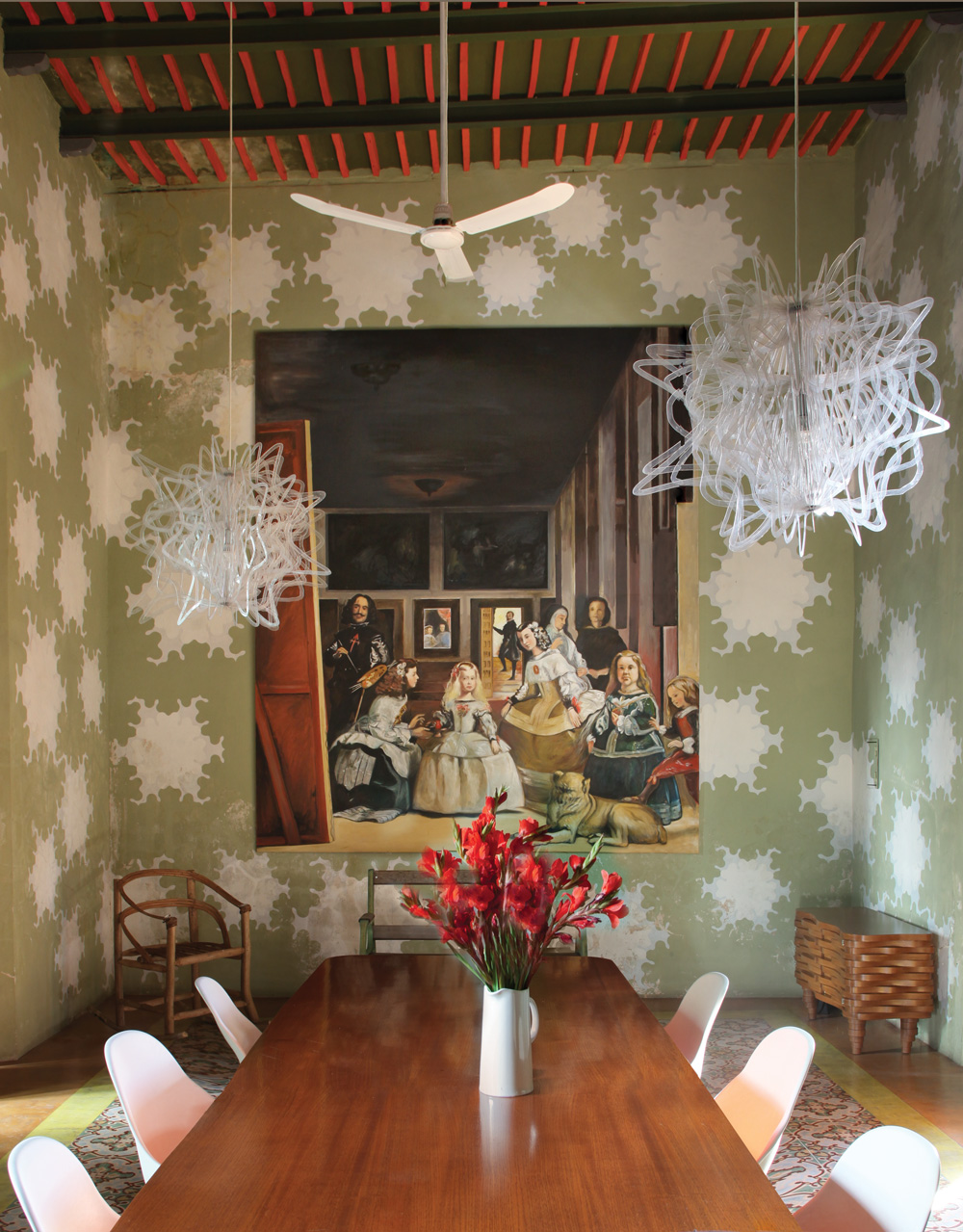 Published as:
Jorge Pardo
CASA DE ARTE



Text: Annie Kelly
Photography: Tim Street-Porter
Mérida, the capital of Mexico's Yucatán—well placed between the art centers of Miami and Mexico City—has recently proved very attractive to artists. Among those is Jorge Pardo, who, with his bold environmental creations, blurs the distinction between art and design.
Born in Cuba, Pardo moved to California when he was a child. He has had a long and close affiliation with the Los Angeles County Museum of Art (LACMA); in late 2013, Pardo was asked to design and build the LACMA9 Art+Film Lab, a portable workspace that would serve as a workshop, a film-editing lab and a place to record oral history. For this project, he reworked a shipping container, which traveled across Los Angeles as a mobile and functional artwork.
Pardo has now settled in Mérida, drawn originally by a large art commission to rework a nearby hacienda called Tecoh. Commissioned by a Mexican banking magnate, the house/sculpture was finished in 2013. This large and involved project meant a regular commute from Los Angeles to the Yucatán. After several years of commuting, Pardo moved to Mérida full time with his partner, Mexican-born performance artist Milena Muzquiz, and her young son.
The front door of the house opens directly into the dining room, which spans the width of the building. This sudden transition from a bustling street into Pardo's private world is unexpected—this is a house filled with playful visual surprises. Pardo has broken out the patterns and colors of its original tiled floor into a floating stencil design, which covers the room's high walls. A dramatic painting based on Diego Velázquez's 1656 masterpiece, Las Meninas, hangs on one wall. The long table and sculptural pendant lamps, all designed by Pardo, add freshness to the dark room.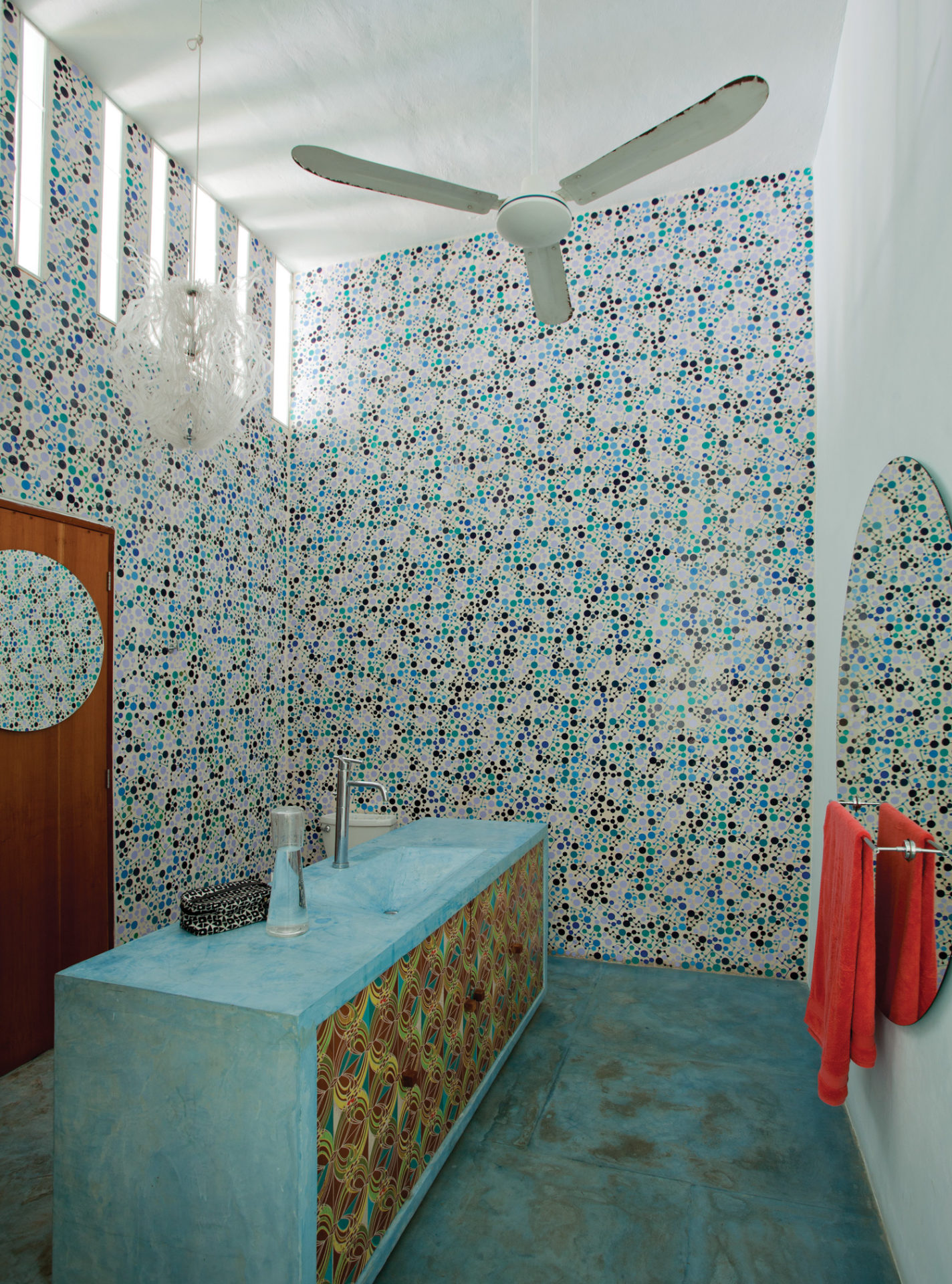 Beyond this, the main living area opens out to a swimming pool and tall palm trees. The space is almost entirely outdoors, except for the long stretch of kitchen counter tucked lengthwise into a colonnade, which leads to a two-story living room. Here you see the dramatic verticality of the house, a contrast to the typical single-story horizontal character of the rest of Mérida.
With large picture windows opening onto the central courtyard, the living room is defined by a long, L-shaped cushioned sofa running across two walls. A tall painted screen leads to a spectacular bathroom, where Pardo has created a space based on small and large circles. The round mirrors are placed so that they reflect in an endless repetition and are bisected by an island containing a sink and storage in the middle of the room.
A blue stucco spiral staircase leads up to the bedrooms, where Pardo has repeated the ceiling height of the ground-floor rooms. The cool, mint-green master bedroom has long, room-height slit windows of uneven spacing that have carefully planned views of the sky and the uppermost green leaves of the courtyard palms below. Above the bed, covered in a bright-red bedspread, open shelves painted red hold a growing collection of suitcases. Pardo uses mirrors to change the boundaries of the rooms; the master bathroom holds a 20-foot-tall mirror that looks back into the bedroom. A flourishing roof garden adds to the bedroom views and stretches across to another vibrant bedroom and bathroom.
Pardo and Muzquiz can mostly be found in the central courtyard at the side of a visiting chef or two during the festive dinners they love hosting. Recent visitors have included Italian Alessandro Porcelli, founder of Cook It Raw, and chefs from the United States and Mexico, including Roberto Solís, whose Mérida restaurant, Nectar, has become the center of what is considered the new Yucatecan cuisine. These food celebrities are drawn to Pardo's lively bohemian house to enjoy his charm, enthusiasm and arte de vida. Jorge Pardo, 323 225 4700, jorgepardosculpture.com