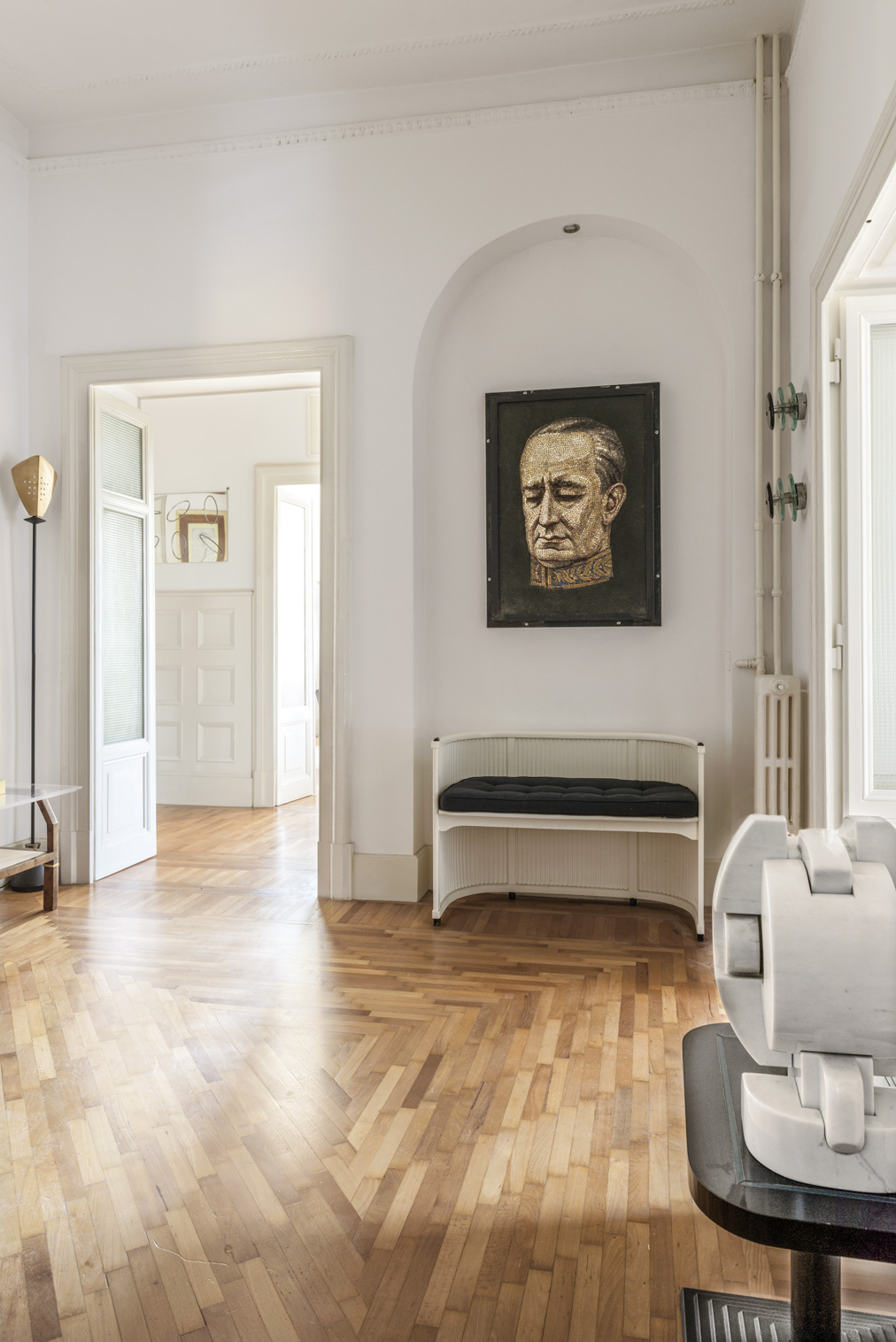 Published as:
Anna Fendi
in Rome
Text: Marina Pignatelli
Photography: Gianni Franchellucci
I met Anna Fendi in the 1970s with her legendary mother, Adele, and her sisters, Paola, Carla, Franca and Alda, with whom she created an empire. We have been friends ever since. In her new pied-à-terre ensconced in an elegant 1930 Roman building—with an archetypical romantic courtyard and a breathtaking view over the Eternal City—she receives us with the warmth and grace that distinguish her. In the home she renovated and decorated herself, one can feel her past, present and future as the queen of fashion, through the furniture designed or restored by her, the sketches by Karl Lagerfeld, and photographs of the many actresses she dressed for Oscar-winning movies. Even so, she shares an unexpected confession. "As a young girl with a passion for classical dance, I simply hated fashion," Fendi says. "But realizing I had no alternative, and following my mother's motto, 'Be always as the fingers of one hand, different but absolutely complementary,' I immersed myself in the fashion world with creativity, rigor, discipline and sacrifice in order to achieve our goals."
"After Fendi became a global luxury fashion brand, as a member of LMVF Group, I dedicated myself to my other great passion, scouting relentlessly for amazing residences in the most charming environments to renovate and decorate for my daughters and myself," says Fendi, whose accolades include honors as a Knight of the "Big Cross," the distinction as the first Italian woman to be inducted into the prestigious International Women's Forum Hall of Fame, and recognition as an awardee of the exclusive Fuoriclasse Castagner prize. "It was also great fun to transform a fabulous Art Nouveau mansion along the Tiber river into Villa Laetitia, an exclusive hotel and restaurant, as well as a Villa Laetitia bed and breakfast on the island of Ponza, a locale I love so much, where I built houses for my daughters Silvia, Ilaria, Maria Teresa and myself."
The "85 years young entrepreneur" (as she likes to present herself) is always at work on a multitude of projects. Most recently, she embarked upon the interior design of a special edition of a yacht for Invictus Yachts, in collaboration with Christian Grande. From her abode in the heart of Rome, she runs AFV (Anna Fendi Vini) in collaboration with her life companion Giuseppe Tedesco, a wine expert. "I wanted to personalize them with unusual names like Flanella, Plisse Soleil or Negligè—all tributes to my legacy of a life in fashion." Fendi further expanded AFV with The Art of the Table, a collection of porcelain tableware and glass vases and objects in Murano glass. She refers to the latter as "my last creature, of which I am very proud."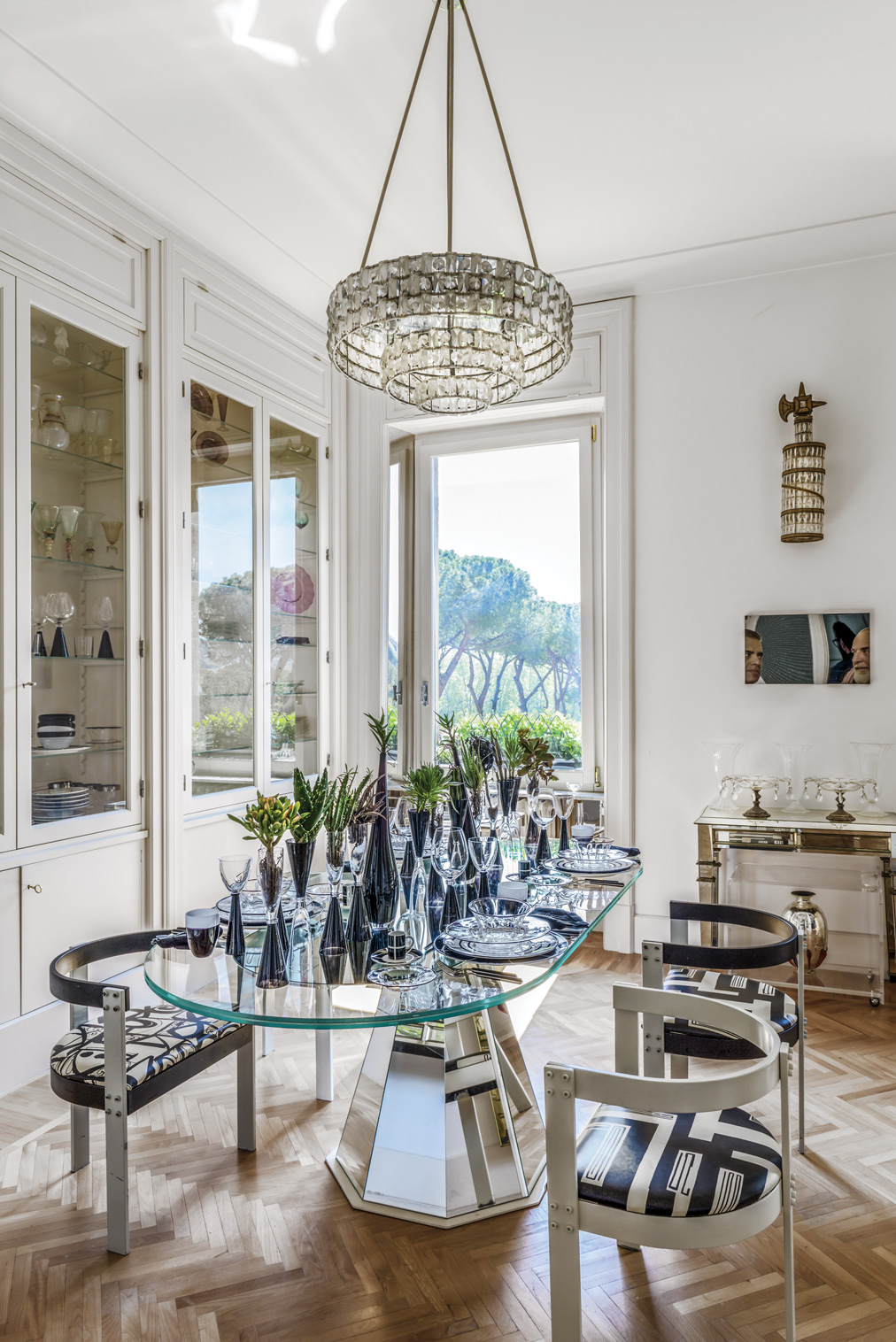 Her home reflects a life rich with art and memories. The entrance is rigorous and charming, decorated with sculptures by Oliviero Rainaldi, Andrea Cascella and Oliviero Manca. "I always design my residences with my favorite artists and unusual pieces, like the 19th-century teapots I've been collecting all my life, proudly displayed in the old family libraries, or the mosaic portrait of Guglielmo Marconi, inventor of the radio, found at a bric-a-brac shop in Venice." In the light-filled living room, Fendi placed circular sofas beneath soaring bookshelves, adding vintage armchairs brought from her previous residences and reupholstered in a blue-gray velvet, and a coffee table and chairs from her mother's house. A cozy, curved corner is an ideal space to relax and admire the majestic views of St. Peter's Basilica and other Roman treasures, framed by the green treetops below.
Every object in my houses has a story—it's what I like the most," Fendi says. "I made the patchwork throw on the sofa from remnants, and I bought the Austrian table and checkerboard during a trip to Vienna. I go around searching the flea markets for 45 and 78 RPM records, and play them on the old Lucite record player that reminds me of the beloved old times." The two Deco chairs, "which I bought when I was very young from the Florentine antique dealer Giovanni Bruzzichelli, follow me in all my houses," Fendi says. "I believe they bring me good luck." And the patchwork jute rug "is my homage to Burri, an artist whom I love very deeply." Indeed, one of Burri's Cellotex works decorates the space separating the living from the dining room, along with a piece by Mario Ceroli and an Andy Warhol ceramic work of art.
The dining room is perhaps the most representative of Fendi's world, which is full of her latest collections. "I wanted to create a retro atmosphere, so I chose an oval crystal and mirror table and I upholstered Deco chairs in black leather with abstract motifs. I am very proud of my Geometrie total black plates and my Romeo and Juliet double-use reversible Murano flutes, executed with an antique technique dating from the 18th century. Every day I love preparing the table with different pièces de resistánce from my collections." A Deco console, two mirrors by Michelangelo Pistoletto and Giulio Paolini, two sconces found by Fendi at a junk dealer, and cases full of crystals all contribute to an incredible atmosphere.
A long corridor leading to the private quarters is decorated with copper works by Ricciardi and sketches by Karl Lagerfeld, among them depicting a dress designed for Fendi, dedicated to her daughter Ilaria. "They represent great memories for me," Fendi says. "When Karl and I met in 1965, a great story of respect, admiration and creativity began." The kitchen is a black and white symphony, a palette that carries over to the bathroom. "I wanted to continue the same ambience in the bathroom—strictly black and white. I chose refurbished broken marble for the floor, vintage chairs and sconces, an old tub with fittings painted black and the oeils-de-boeuf over the closets." The room is an essential part of Fendi's private sanctuary, which includes her bedroom, where she eschewed conventional closets in favor of old windows, elevating the space's depth and texture. Centering the room is a portrait of her painted by Rinaldo Geleng, while family pictures fill a vintage chest and more sketches by Lagerfeld hang nearby, resulting in a most intimate atmosphere. "Here, I cherish the photos of my large and loved family and so many memories of my life, and I feel really happy and accomplished." Anna Fendi, annafendi.com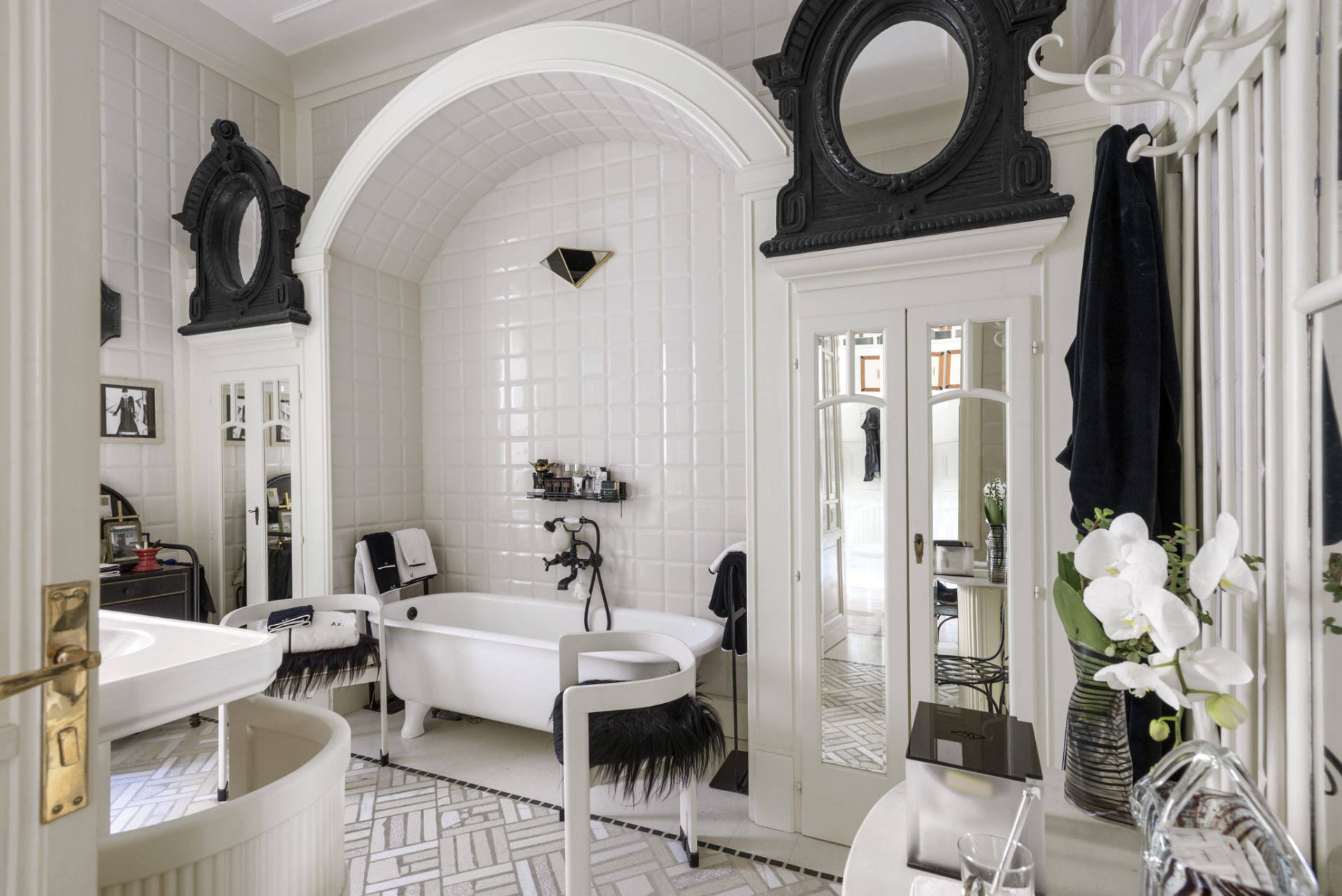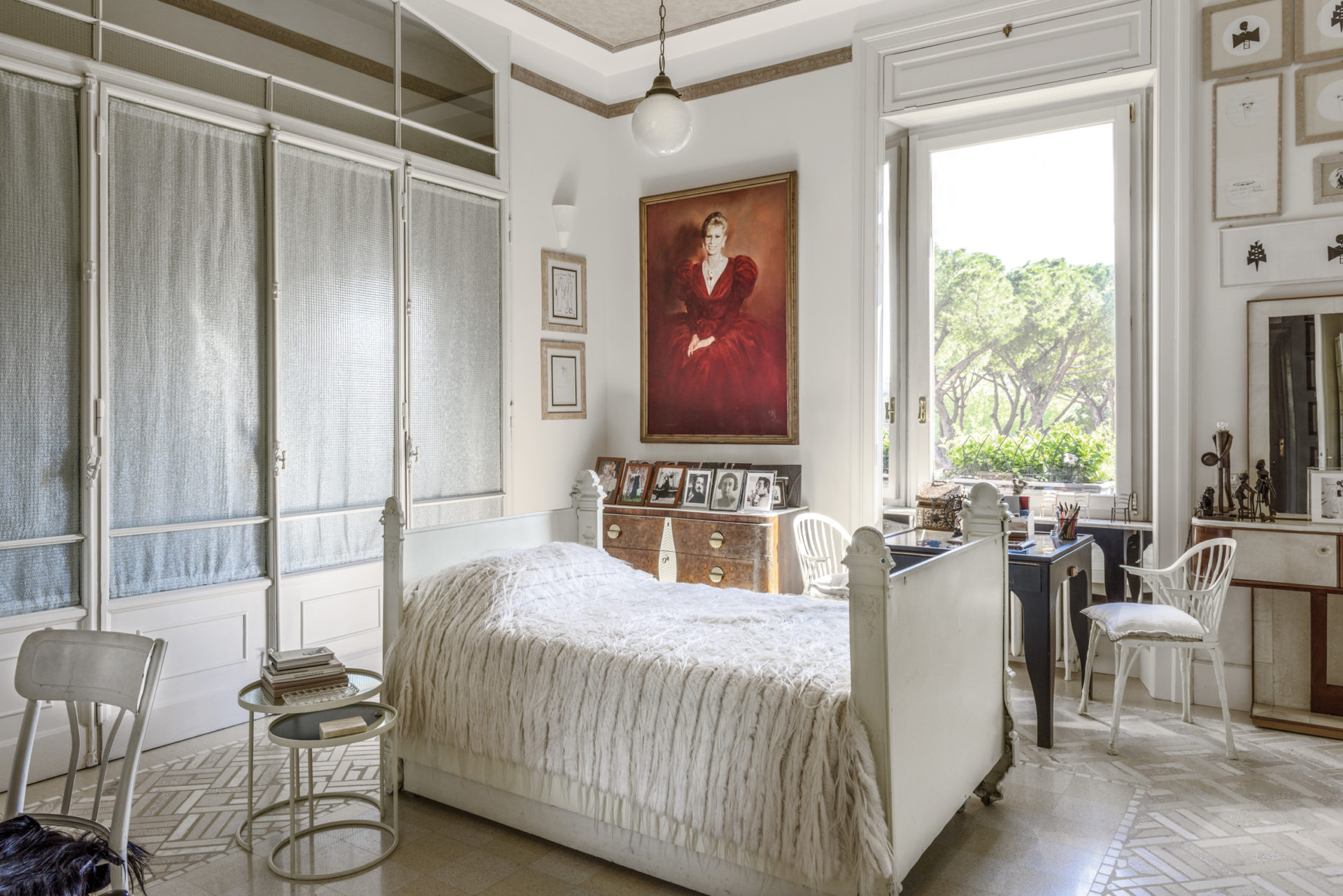 Save
Save
Save