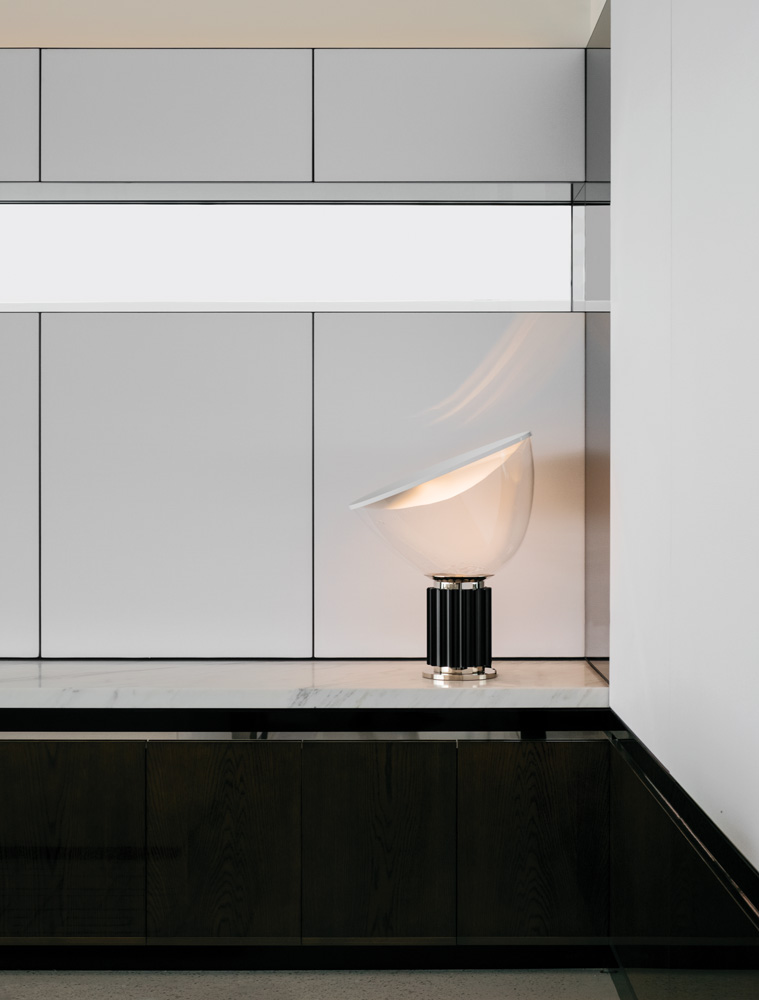 Published as:
FAR

&

AWAY
Architecture: Mhndu
Interior Design: Blainey North
Text: Jeff Turrentine
Photography: Felix Forest
The Russian avant-gardist Kazimir Malevich (1879-1935), a painter who helped usher in the era of abstract art, believed that the ultimate purpose of any artwork was to elicit a strong emotional response. In the manifesto undergirding the Suprematist movement he helped create, he went so far as to rank this ability above any and all other qualities that a piece of art might be said to possess. "The visual phenomena of the objective world are, in themselves, meaningless," he wrote. "The significant thing is feeling."
Given her line of work, the architect and interior designer Blainey North can't really help but engage with "the visual phenomena of the objective world." Her projects are necessarily defined by a keen sensitivity to form, material, texture and color, a sensitivity that's earned her numerous awards in Great Britain and her native Australia. But North, who has long found inspiration in Malevich's art and philosophy, understands what her forebear meant. The idea, she says, is to arrange and integrate visual phenomena—and especially in such a way as to make the finished product "transcend the ordinary into something more significant, or even otherworldly."
A recent project for longtime clients in Sydney's Rose Bay is illustrative. North had worked with the couple twice before, so trust and simpatico had already been established. This time, they were asking her for a residence that was not only interesting, timeless and suitable for entertaining but that also "felt connected to the harbor beyond." With its views of the sailboat-studded water and the skyline, the site had clearly been chosen for its extraordinariness. It both required and deserved a structure that matched it in the transcendence department.
Architecturally this meant a plan by the firm MHNDU that allowed for a sweeping central volume encompassing a kitchen, dining space and living space, "incredibly wide and without any columns," North says. Building it proved to be a significant structural challenge, unsurprisingly, but it also became an interior challenge "to ensure that each area had its own identity and feeling while the spaces, overall, felt consistent." She and her team delineated these sections with seating, such as the long Minotti sectional that elegantly but clearly establishes where the living area begins and ends, but they also defined space peripherally—up above by means of thoughtfully placed ceiling coffers, and down below with circumscribing metallic lines embedded into the floor. To unify the discrete sections, she custom-designed a set of symmetrical joinery units and placed them on both ends.
Every architectural and design element, North says, is designed to steer the eye toward a particular focal point or the body toward a particular destination. A waist-high belt of black—a "datum," in North's words—runs through the living space, "guiding your eye to the view." The stark contrast of the black support structure against the floating staircase's white marble treads "makes you look upwards toward the sky." Even the thresholds are intended to be seen, and considered: North wanted them to have solidity and dimension, "to encourage a consciousness about passing through something. The combination of material and form influences your body's movement, and the way that you feel, throughout the space."
The simple color palette—mostly black and white, punctuated by the occasional warm wood tone—leaves visual space for the textures of North's layering of materials to vibrate at their own unique frequencies. Here, too, contrast is emphasized: between the study's soft linen wallcovering and shining lacquer desk, for example, or the dressing room's plinth-like marble bench and the plush carpet on which it rests. To experience these textures in such close juxtaposition is to "move from soft to hard, and from comfort to excitement," North says. Her partner in achieving this effect is light: not just the spectacular natural light that floods in each morning off of the harbor and stays all day, but the light emanating from an array of sculptural fixtures: a spherical Kaia chandelier that glows over the dining table like a futuristic floating orb; a whimsically canted Taccia table lamp nestled into a nook of the living area; in the study, a pair of sober wall sconces from the architect's own collection.
Malevich and the Suprematists revered basic geometric forms: circles, squares and triangles were believed to have an almost spiritual power in certain contexts and combinations. North concurs. "There's a deceiving simplicity in the forms and shapes throughout this house," she says. "The complex moment when these simple lines come together creates an incredibly beautiful internal landscape." And like any great artwork, the house reveals its rewards over time. The clients, North says, have written her letters telling her how much they love their new home, and letting her know "how amazed they are at the details they keep discovering each day." Blainey North, blaineynorth.com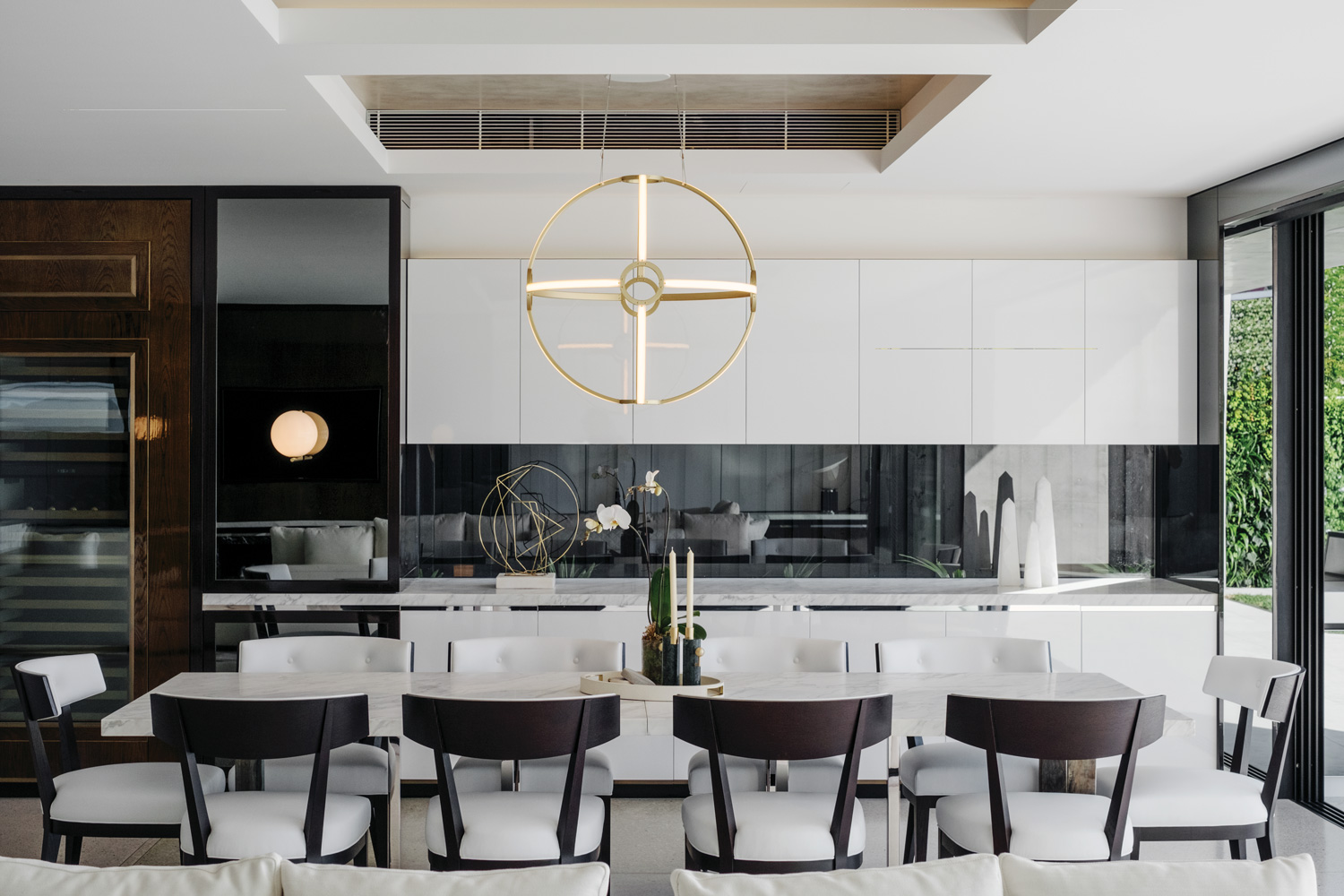 Save
Save
Save