Interior Design: Studio Munroe
Text: Zlata Kozul Naumovski
Photography: Thomas Kuoh
Published as:
Visual Symphony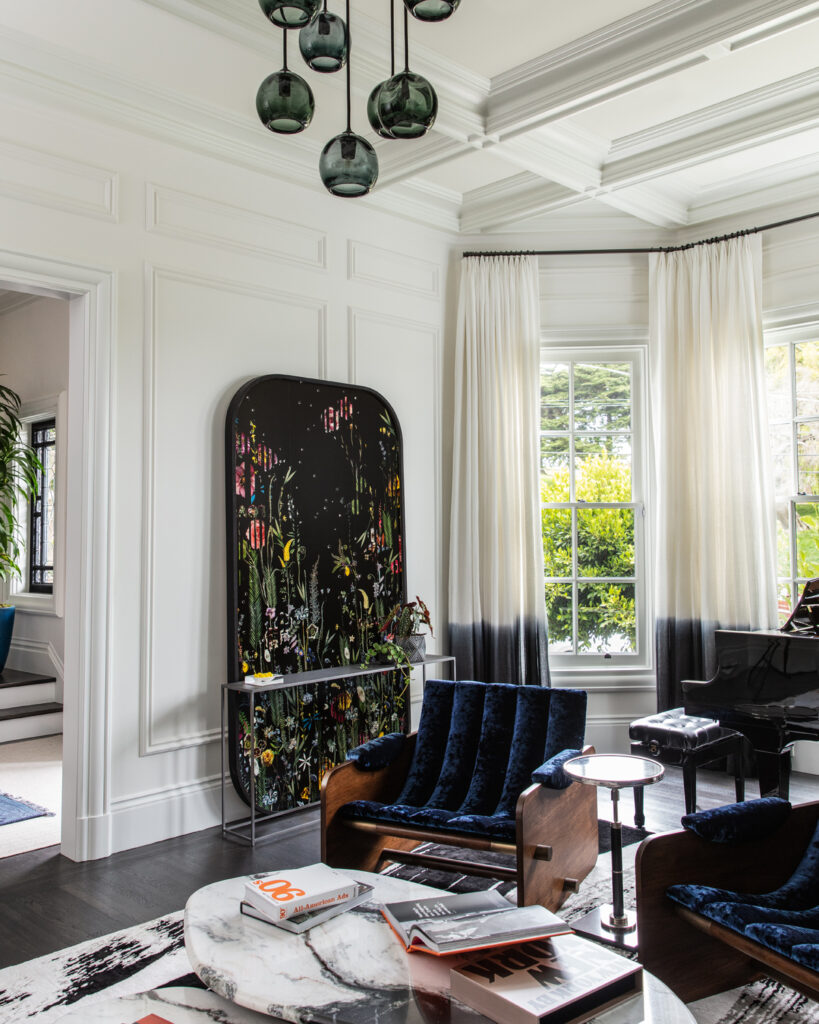 When interior designer Emilie Munroe's clients eyed a 1910 Victorian in the Pacific Heights neighborhood of San Francisco for their family, which includes two young daughters, she was thrilled to help them make it their forever home. "Miscellaneous renovations had occurred over the course of the years, but there was not a thoughtful, integrated approach to the upgrades that had been completed to date," she says. "The house was ready for some love to bring it all together."
Having previously worked with the husband and wife on their first home, Munroe had a heads-up on their style preferences and functional needs. The interior designer used white as a foundation and reserved black for dramatic moments, creating engaging spaces for entertaining and restful rooms for repose. "In this home, we wanted to honor a black and white palette stylistically, and experimented with some color," Munroe says. She sprinkled shades of blue and green in all their incarnations—sky, indigo, seafoam, emerald—throughout.
The kitchen radiates classic white, from the large central island topped with Cambria countertops to the custom cabinets. With ceilings at 10 feet, proportion was critical. "There's a lot of vertical volume to fill," Munroe says. "We had to be sure to scale appropriately." She adds, "Those nice, longer pulls in kitchen—they also bring a gleam and depth and interest to a white palette." The pièce de résistance, however, is the La Cornue range. The culinary equivalent of a fancy race car, the French appliance came in an array of colors. The clients, encouraged by the designer to add a bit of whimsy to the space, agreed on Provençe Blue. "Our clients already have style," Munroe says. "We're here to give them confidence."
The dining room, by contrast, is better suited to after-dark hours where whiskey and wine flow more freely. With walls sheathed in black lacquered raffia from Phillip Jeffries and under the spell of a pair of Lindsey Adelman Studio gold fringe chandeliers, you can imagine guests spilling all sorts of secrets and libations. "It's a brilliant way to get the texture and have visual interest," Munroe says of the moody wallcovering. Furnishing the room came easy. The clients' existing table made of a concrete top and wood-stump bases fit beautifully. She was also able to reuse their set of dining chairs—upholstered in either ivory woven linen or green velvet—as they worked just as well in this residence as in their previous home. Munroe added a sideboard by Croft House with a black leather front and updated the fireplace by replacing the pink iteration with a blackened steel surround and black marble mantel.
Both the family room and living room revert to a lighter shade with walls dressed in white. To counterbalance all the angles in the living room, Munroe worked in an abundance of curves. The biomorphic sofa from Coup d'Etat in fabric by Great Outdoors from Holly Hunt and the velvet-upholstered lounge chairs, also from Coup d'Etat, soften the room as do the custom linen dip-dyed drapes by Rosemary Hallgarten, sourced through De Sousa Hughes. Coffee tables by Holly Hunt from Kneedler Fauchère are without angles as well. Clusters of glass globes descend from the ceiling in the form a chandelier by John Pomp. "Circles and curves bring in a warm feeling and create balance when architecture is so angular," Munroe says. A lengthy wall in the living room with inset paneling demanded a fireplace. "The first thing I said when I walked in was, 'Why is there no fireplace here? This wall begs for a fireplace.'" Made of cast concrete, the fireplace surround was designed to emulate the trim details throughout the room. According to the designer, "The goal was to integrate the new mantel seamlessly into the existing architectural detailing while using a more contemporary material."
Munroe worked with Simon Breitbard Fine Arts to commission the piece above the fireplace in the living room. "We hand-selected those shades of green," she says. She flexed her creative muscles by creating a custom art piece of wallpaper with a black field and florals from Christian Lacroix. She then layered it behind a console table, creating an inviting, casual moment within an elegant room. The family room, too, displays a gorgeous mural made of Pierre Frey wallpaper. It sits above an A. Rudin sectional in gray Jerry Pair leather. A chaise upholstered in a Great Plains alpaca from Holly Hunt as light as the sky throws in some curves. Frequented by the entire family for lounging, "It's the wife's favorite room," Munroe notes.
More contemplative is the husband's study, where a leather-clad chair from Bright joins a custom desk with walnut veneers, surrounded by custom bookcases painted in Benjamin Moore's Graphite. "The dark element in the office is more dominant, like in the dining room," Munroe says. "Furnishings pop on top of dark rooms. Design elements are featured in a way you don't expect." Also unexpected is the custom bed in a guest room. Designed by Munroe and executed by Brimer Workshop, it required collaboration from various tradespeople. The frame, made of black-stained oak, embraces an inset panel of natural fiber wallpaper and another panel of ivory velvet. "We wanted to bring some joie de vivre to the room," Munroe says. Keeping scale in mind, she added an oversize chandelier from Rich Brilliant Willing, and added grasscloth wallpaper to cocoon visitors. "I'm all about lightness and freshness and dark rooms," Munroe says. "There are so many Victorians in San Francisco, and we specialize in bringing a contemporary and fresh approach while honoring the original architecture. That's the dance." Studio Munroe, studiomunroe.com