Published as:
Natural
GEOMETRIES

Architecture: Marcio Kogan
Text: Michael Webb
Photography: Fernando Guerra and Romulo Fialdini
It's easy to feel overwhelmed by the experience of flying into São Paolo. A forest of high rises, seemingly as dense as those in the Amazonian jungle, rises from an urban sprawl that is home to 30 million people and extends almost as widely as Tokyo. Affluent commuters fly to work by helicopter to avoid the congested streets, and escape to weekend homes beside the ocean. And yet, as in Mexico City, the vibrancy of Brazil's commercial capital compensates for the overcrowding, and there are leafy residential neighborhoods where the tempo seems as lazy and seductive as a samba. This is the territory that Studio MK27 has cultivated over the past 35 years. Principal Marcio Kogan and his colleagues have built more than 100 houses in these enclaves of wealth, and there's a rigorous consistency to their work. Long horizontal volumes open onto shady patios, and there's a distinctive mix of shuttered concrete and finely crafted native woods.
The Ramp House was commissioned by a professional couple that likes to work from their home offices and it was designed to show off their exemplary collection of African masks and Pre-Columbian textiles. She is a director of her father's pharmaceutical company, he is the president of Electrolux in Brazil, and they wanted a house in which every detail was in harmony with their refined tastes. All of Kogan's houses take their cues from nature and engage the landscape. Here, as he explains, "the wife was passionate about plants, so we sited the new house on the footprint of the one it replaced in order to preserve the existing trees and plantings." Ferns and banana trees screen the boundary walls so that the house and its lawn appear to occupy a clearing in a forest.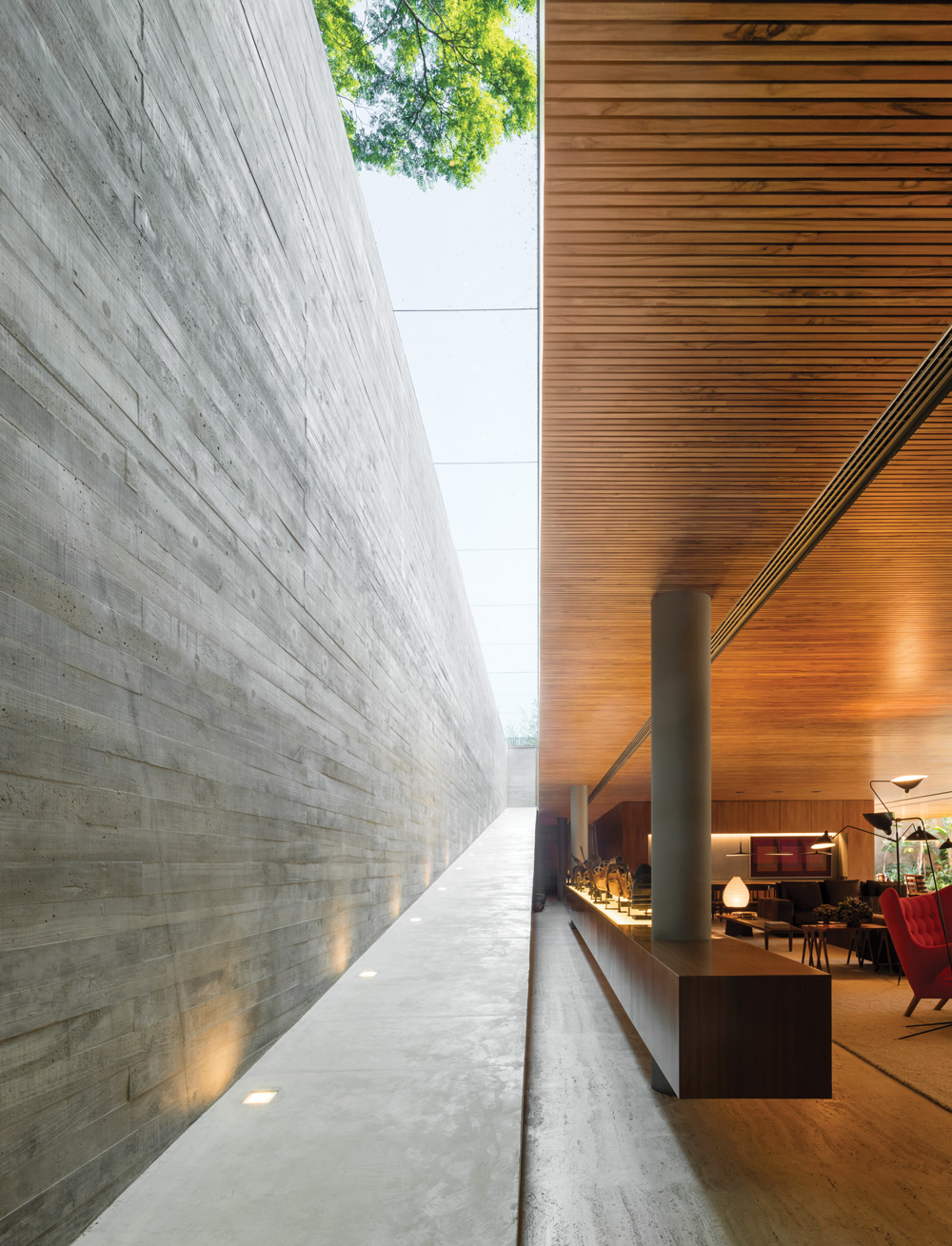 The house faces west and appears as a long bar of teak that is cantilevered 13 feet over the ground floor so that it appears to float above a shaded terrace. Shutters filter light or fold out to open up the facade and frame views from within. The warm-toned wood contrasts with the concrete walls to the sides and rear. Living spaces open up through glass sliders to this terrace, which provides a cool outdoor refuge in the height of summer and shelter on chilly winter days. The interior is even more dramatic. The wooden facade is pulled in to line the ceiling. Unobtrusive concrete columns at front and back support 33-foot spans, turning the travertine-paved ground floor into a thrilling expanse of unbroken space. To the rear, a teak-veneered bookshelf is suspended between two columns, echoing the long bar of the facade and supporting an array of masks. Behind this, the concrete ramp that gives the house its name ascends in an 85-foot sweep to the sleeping areas and offices on the second floor. It is silhouetted against the rear window and the concrete wall behind that, and is bathed in natural light from above, creating a lively interplay of tones and textures. "The ramp allows you to experience the house and its contents from different perspectives," explains Kogan. "It embraces the art and makes it part of the owners' lives, rather than a detached spectacle." He concedes that the house is a 70/30 mix of living space and showcase, and it may one day become a private museum.
Diana Radomysler, interior designer for Studio MK 27, has created a sybaritic living environment. "I try to interpret what our clients want in our language if they will let me, and here we were in complete accord," she says. "I wanted to create a dialogue between rational and organic forms, the spare architecture and modern classics, mixing work by masters of elegance." Sculptural chairs by Vladimir Kagan and Hans Wegner share space with lamps by Serge Mouille and Isamu Noguchi in the living room. Joaquim Tenreiro's jacaranda and cane chairs surround a dining table by Sergio Rodrigues, and a painting by Roberto Burle Marx adds another note of Brazilian exuberance. The owners have enhanced their bedroom with a wall of textile fragments and have installed a collection of ex-votos in the entry hall.
"The clients are perfectionists—the most organized people we've ever worked with," says Renato Furlanetto, who collaborated with Kogan on the design. The success of the partnership between architects and clients is evident in the meticulous detailing of wood, stone and concrete. This a house in which every space is well proportioned, and every surface is in harmony with the rest. There's an ideal balance between openness and enclosure, light and shade, natural and man-made. Recordings of classical music waft through the house, providing a soothing refuge from the urban jungle beyond. Marcio Kogan, Studio MK27, studiomk27.com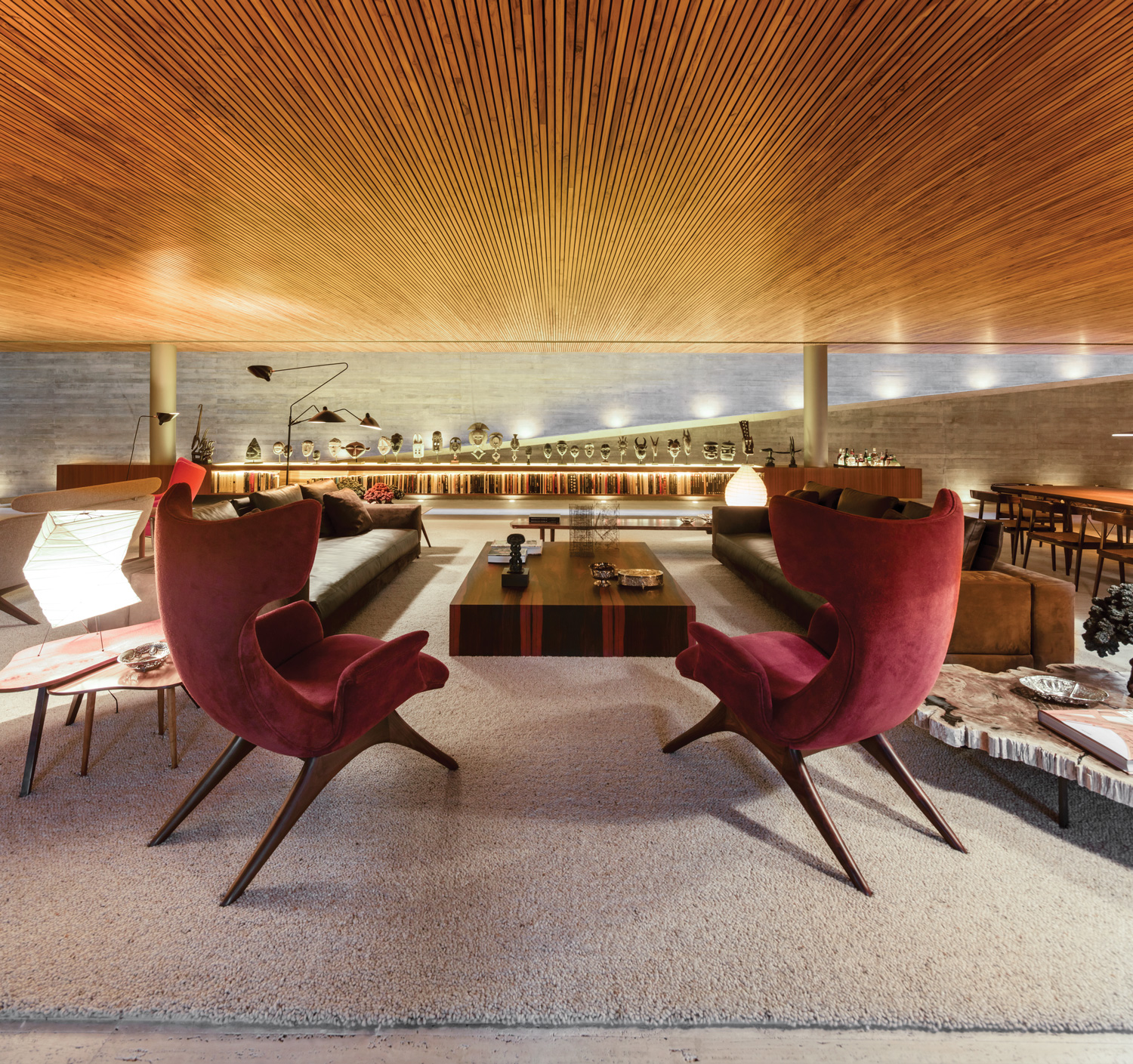 Save