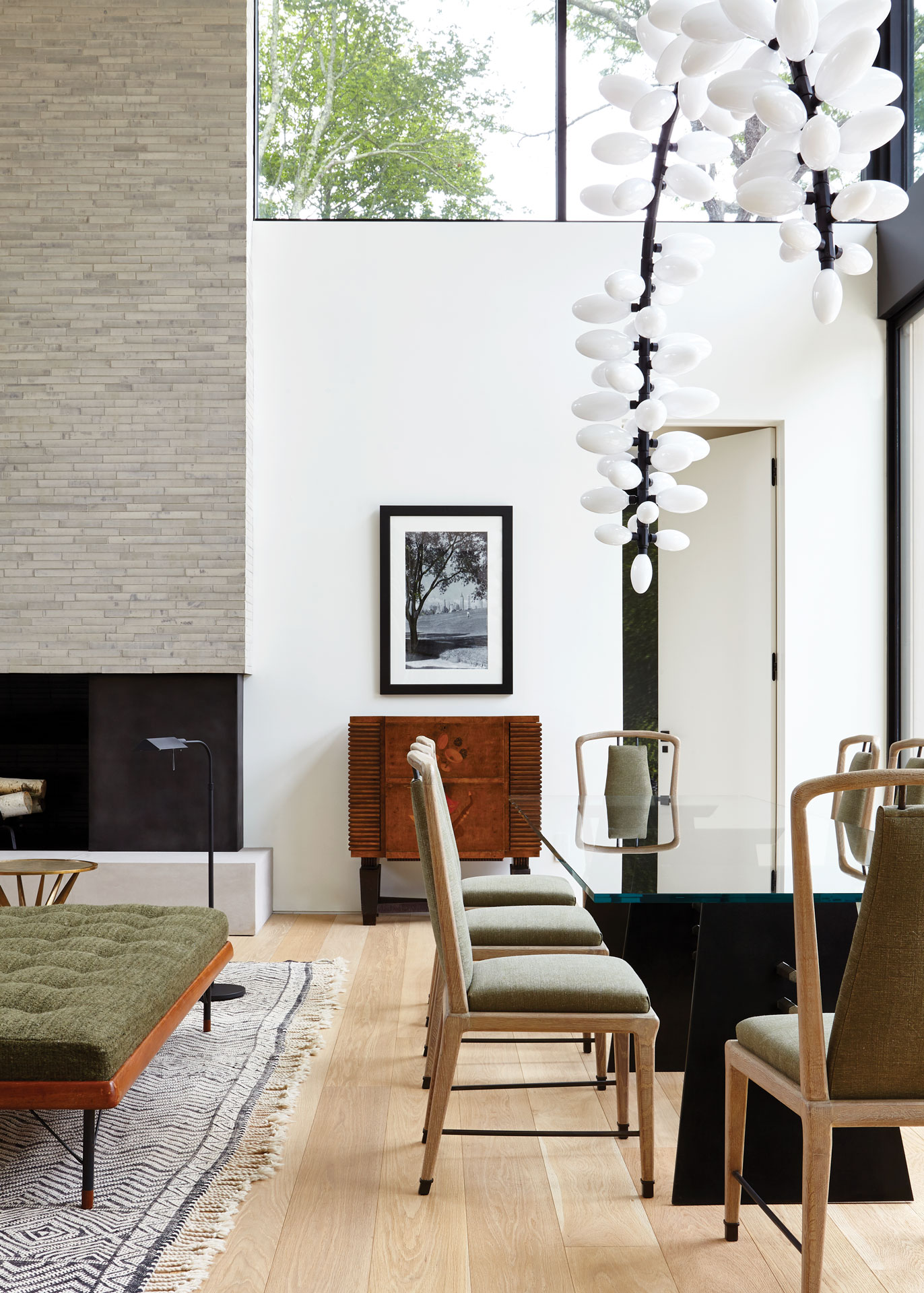 Published as:
At One with


NATURE



Architecture: A+M+L Architecture
Interior Design: Bradley Bayou
Text: Jeff Turrentine
Photography: Joshua McHugh
Before Bradley Bayou began designing homes professionally about ten years ago, he enjoyed a successful career in the fashion industry: first as a high-end couturier, dressing the likes of Beyoncé, Anne Hathaway and other tastemaking clients; then as the creative director for Halston; and finally as the creative force behind his own eponymous ready-to-wear line. Before that, Bayou drew upon his formal art training and lived the life of a painter, immersing himself for a while in the contemporary art scene. And before that, believe it or not, he worked as a real-estate developer in his native Texas, where he began buying and selling houses at the tender age of 21.
He took something important from each chapter of his life, he says, and brought it all to the table for a recent project in Southampton, New York. His client loved the mood and topography of this upscale, wooded Long Island enclave. He was much less a fan of the area's signature architectural style. "He didn't want one of those typical, gray-shingled Southampton houses that look like giant cottages. He wanted it to be contemporary, with clean lines and not too much fuss." The project would require a couturier's sensitivity to the client's desires, an artist's sense of daring, and—given his budget and Southampton's rigid building codes—a developer's understanding of how to move things along and stay out of the weeds.
The first step: Team up with A+M+L Architecture, a Southampton stalwart whose portfolio deeply respects the local stylistic vernacular—but also, from time to time, respectfully disagrees with it—to create a residence combining the clean, hard-lined International Style of Philip Johnson and Pierre Koenig with the warmth derived from the use of natural materials. The firm's familiarity with local ordinances made it easier to clear an early hurdle: How to retain the original dwelling's compound-like structure, each component of which had fallen into serious disrepair.
"The main house was like a Brady Bunch house, out of the '70s, and it was literally falling apart," says Bayou. "At first the client said we should just renovate it, and see what we could do. But we started finding a lot of problems." Tearing it down gave Bayou and the architects freedom to reimagine the three parcels—a principal structure, plus two smaller guest houses appended to the garage and the poolhouse—as discrete yet interrelated elements of a single, cohesive statement, one that balanced fidelity to the modernist ethos with the client's expressed need for livability.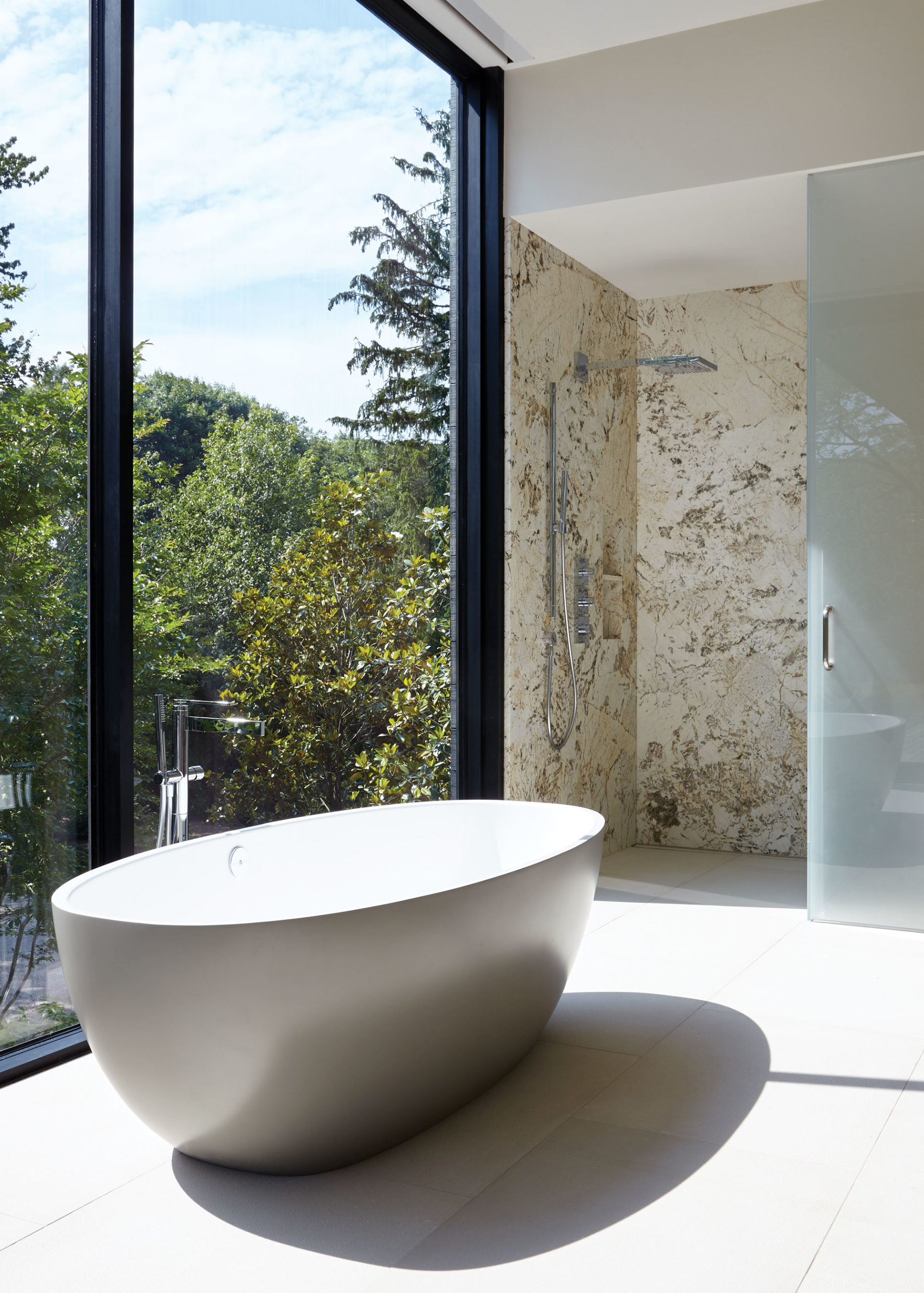 In the main house's sweeping central volume—encompassing the kitchen as well as living and dining areas—contemporary and vintage-modern furnishings combine to form a sequence of gathering spaces. Beside the fireplace, the whimsy of a Studio Van den Akker cocktail table whose base is a splendid mess of bronze "urchin" feet is tempered by the soothing, grass-green Rosemary Hallgarten upholstery (through Thomas Lavin) of a vintage rosewood-and-metal daybed. In the adjacent dining area, a sculpturally arched Lindsey Adelman chandelier floats ethereally over the Mario Grimaldi glass-topped dining table and cerused oak chairs like a will-o'-the-wisp. Around the kitchen island, a sextet of Powell & Bonnell Alto stools manages, somehow, to be both Bauhaus-stark and beckoning. The adjacent kitchen lounge, with its sage green vintage chairs, Dos Gallos Douglas fir table, and tree branch lamp by Robert Kuo, blends in with the nature surrounding it.
"What's really important to me, number one, is function," says Bayou. "Number two is making it comfortable. People often equate contemporary architecture with uncomfortable furniture. But I have clients sit-test furniture to make sure that it suits them. Comfort is so incredibly important, especially in a vacation house; you don't want to feel like it's so precious that you can't sit in it in a bathing suit." The second-level master bedroom's furnishings bear this philosophy out: Here, contemporary pieces—like the Poltrona Frau bed, the Kimberly Denman leather swivel chairs, or the Minotti settee—were clearly chosen not for any associations with the cutting edge, but rather for their simple, intrinsic invitingness.
Throughout, colors and materials were selected according to how well they harmonized with all of the natural beauty pouring through the residence's copious glass. The ultimate integration of nature and structure can be found in the lush, vegetation-covered roofs atop both the outbuildings and a cantilevered portion of the principal structure. Painstaking effort went into keeping natural sightlines open. From the master bedroom suite, the client can peer out the window and see the green of the poolhouse roof before taking in the trees and plantings beyond, creating the illusion of an elevated lawn. Similarly, windows and glass doorways were carefully aligned between the main house and the poolhouse, such that one can be in the former and see through the latter to the verdant periphery. "This way the main house is connected to the entire property; wherever you're sitting or standing, you feel like you want to run out to that grass."
Each of his past professional lives—developer, visual artist and fashion-industry mogul—has taught Bayou to value the crucial interrelatedness of design elements. "When you're designing clothes, especially gowns and dresses, you have to be able to see the three dimensions in your head—to see the person coming and going, not just the facade," he says. "It's really about the whole 360 degrees." From any vantage point, this house is a triumph of warm, welcoming modernism. Bradley Bayou, bradleybayou.com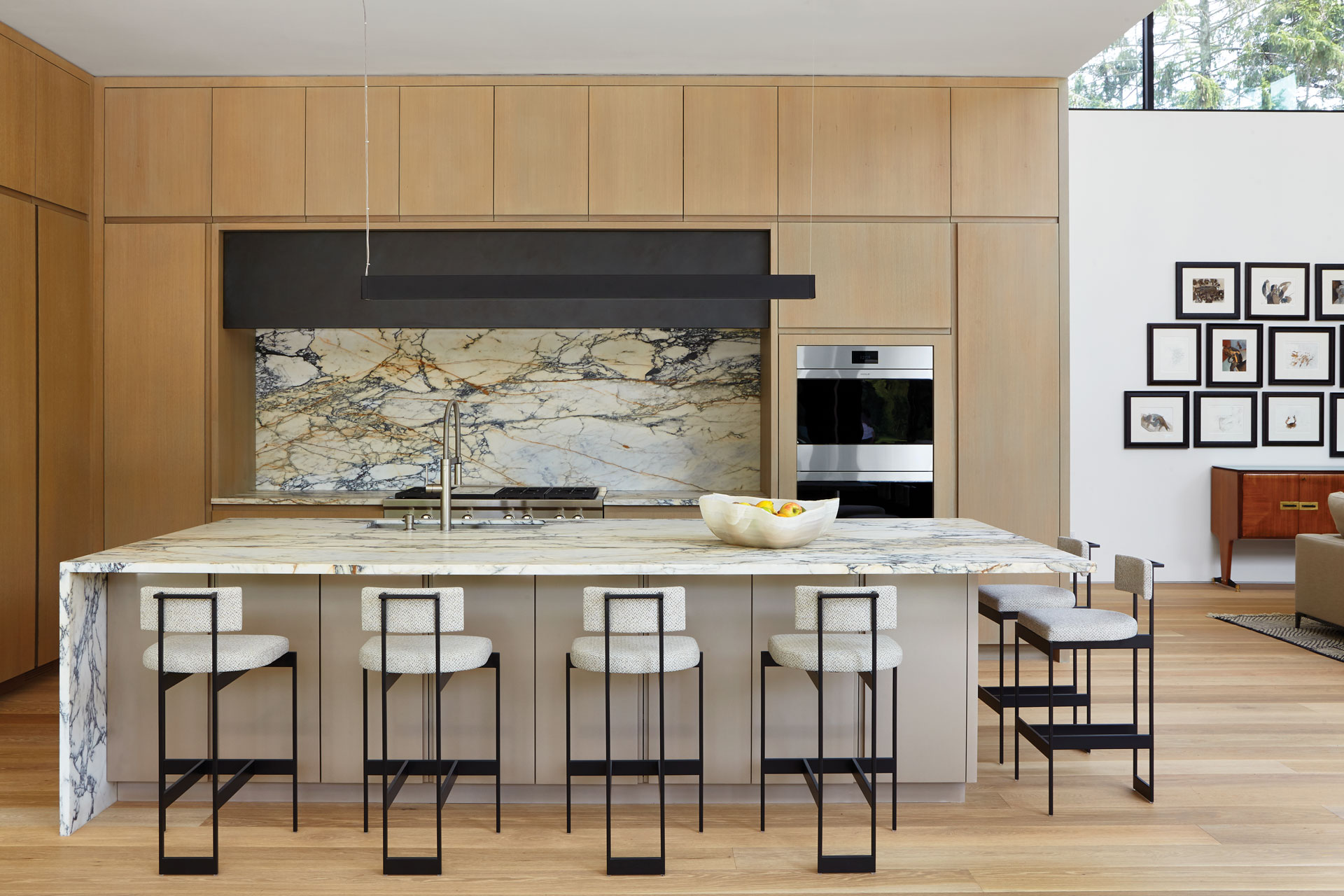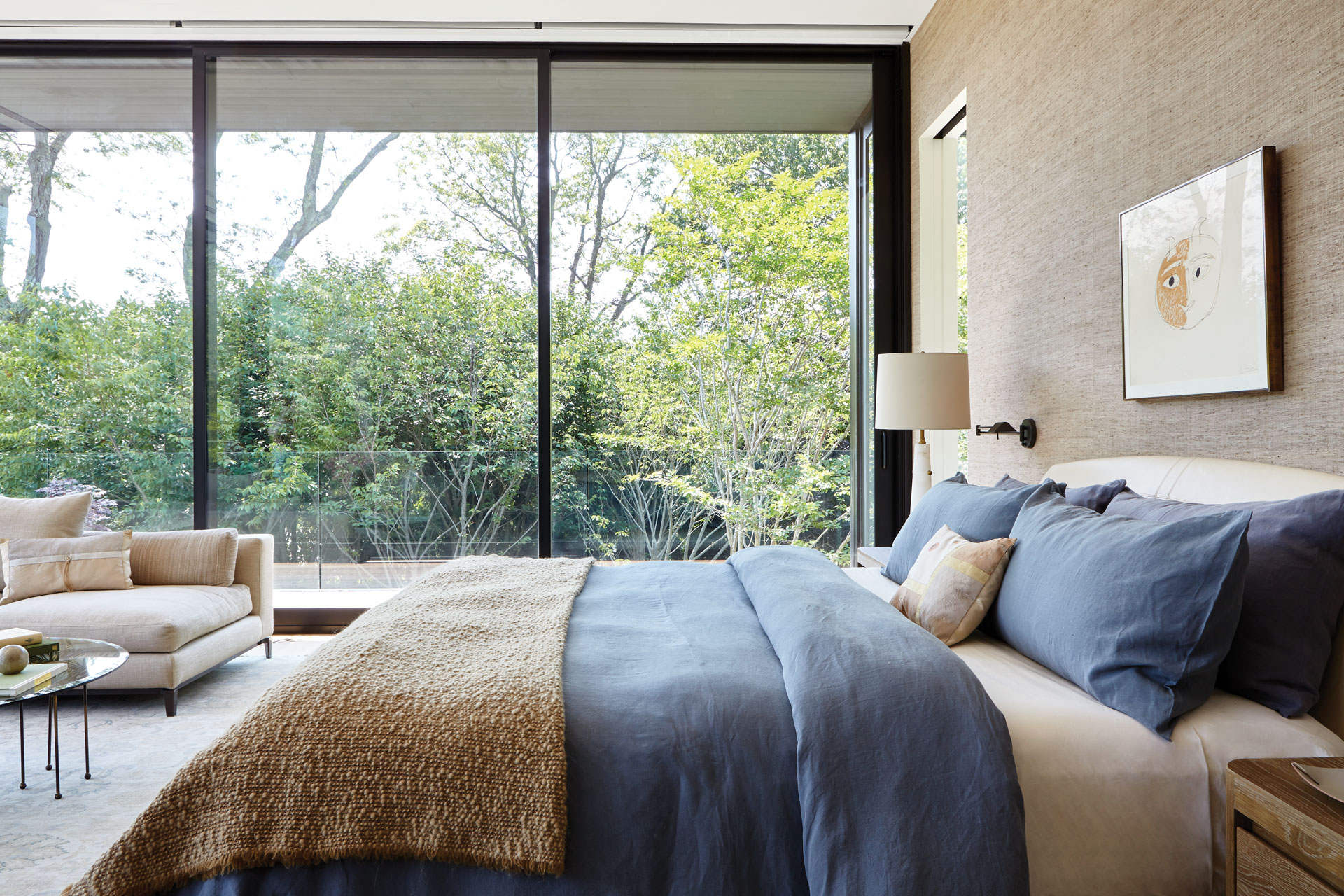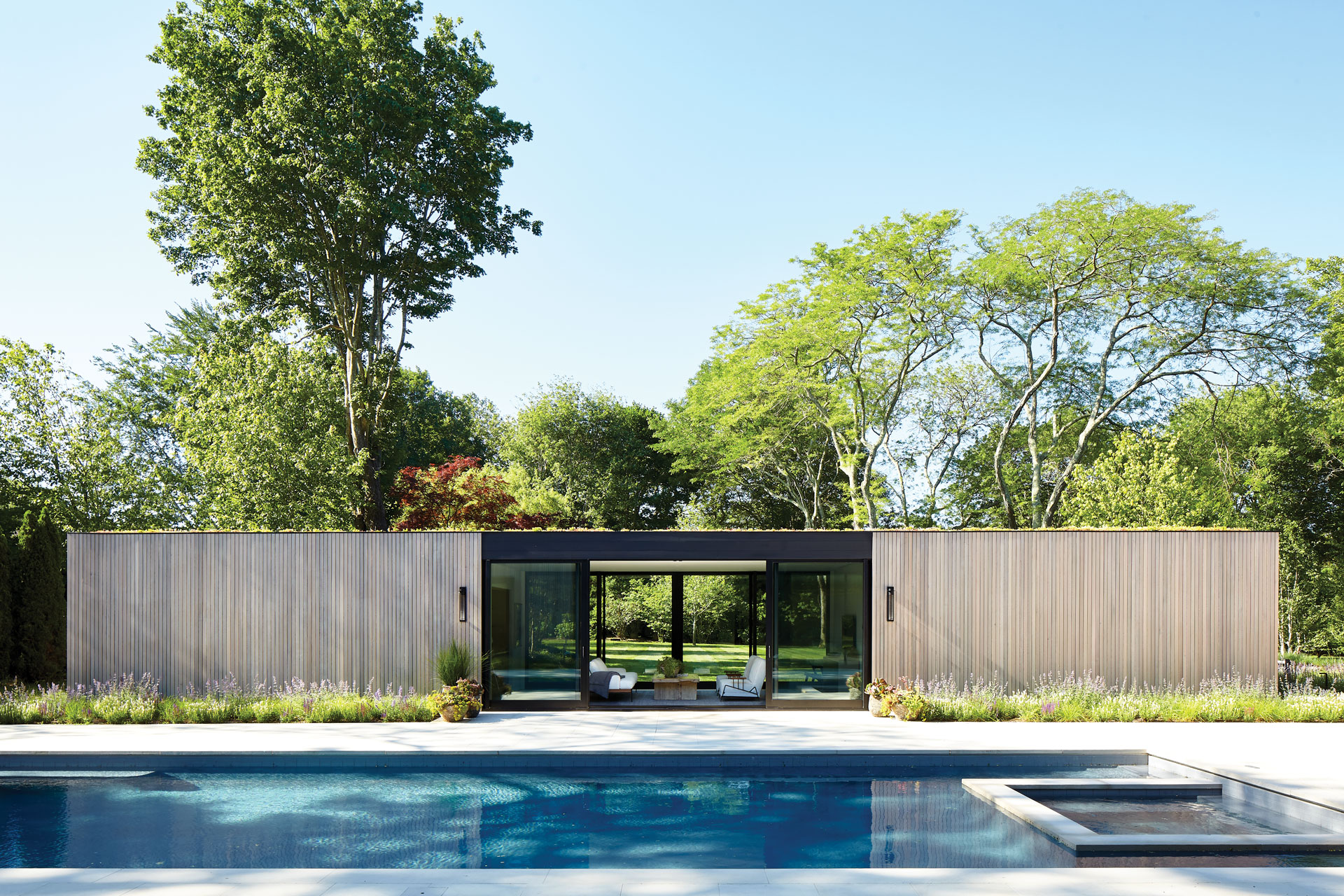 Save
Save
Save