Published as:
HIGH DESIGN

Interior Design: Woodson &
Rummerfield's House of Design
Text: Erika Heet
Photography: Karyn Millet
Above the hustle and flow of downtown Los Angeles, the Gensler-designed tower housing the Ritz-Carlton residences stands as a beacon of a changing skyline, mostly for the better. Inside, a penthouse apartment with a relatively small footprint—not quite 2,000 square feet—has received a makeover courtesy of designers Ron Woodson and Jaime Rummerfield. "Everything in this unit was really well thought out," Woodson says. "We left nothing to chance."
The project, a pied-à-terre for a client based in Russia, needed to serve as a home away from home for the resident, who visits the city several times a year. And it needed to interact well with its surroundings: the constantly moving freeways below, and expansive views of the city. This was a familiar tale for the designers, who have finished a dozen units in the same building. "Because he travels so much, the apartment needed to have a worldly feel," says Rummerfield. "But there's definitely a California aesthetic to this project." To that end, the designers shopped locally for most of the furnishings.
With limited space and such a dramatic background to work with, Woodson and Rummerfield carefully considered each piece. In the intimate entrance hall, a Daliesque gilded mirror "melts" downward toward an imposing French stone architectural fragment decorated with acanthus leaf carvings. The designers ripped out the original flooring in favor of gray and white stone squares that run into the nearby kitchen and living-dining area. From here they also continued metallic ceilings throughout. "It feels opulent but comfortable," Woodson says.
The main room, with views on two sides, is dramatized by a smoky mirrored wall centered by Etopia, a back-painted glass eglomise-style work handcrafted by L.A. artisans. "This gives a sense of double space," Woodson says. It also sets the scene for the dining area, with its 1970s stone-base table from Cain Modern and circa 1930 Italian dining chairs from Downtown. Nearby, a pair of circa 1950 tole trees from Dragonette frame a custom sofa from Minotti Los Angeles covered in a metallic Moore & Giles leather, and a lacquered goatskin cocktail table by Aldo Tura, whose top tier slides open to cantilever over another. A pair of tufted velvet armchairs picks up the blue in the custom carpet by Tania Johnson for Woven Accents. In one corner, a gilded iron and brass Bastide lamp from Julian Chichester rises behind James Magni's Colette table, whose bronze legs seem to stand en pointe. The designers wired this room for sound for the resident, who is an audiophile, and, notes Woodson, "We designed the room so that there's a perfect view from every seat."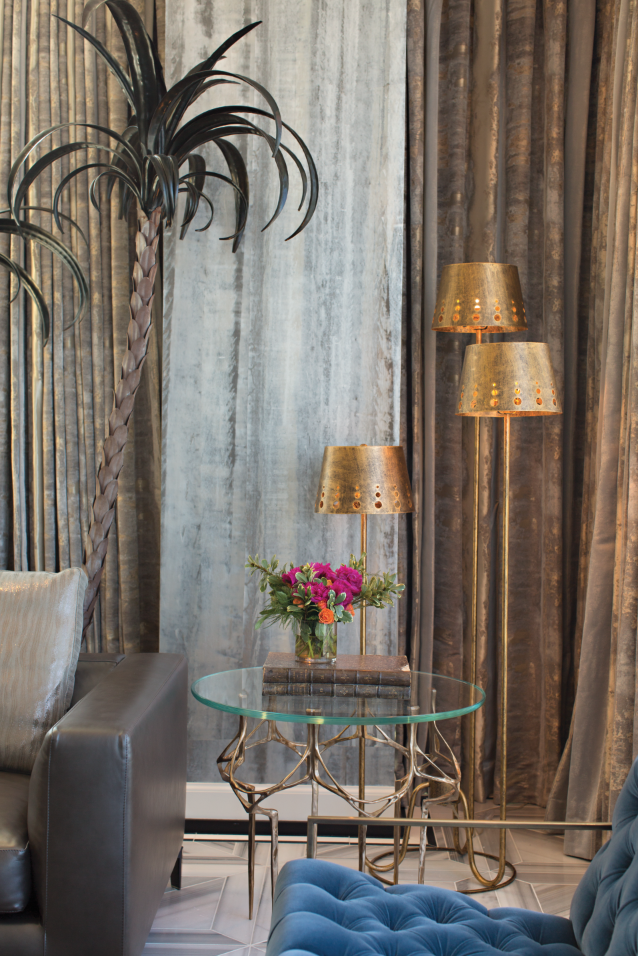 In a refreshing change from the open layout, the kitchen, a custom design from Snaidero, is tucked behind the living room, its tall ceilings, light palette and floor-to-ceiling draperies from Pierre Frey lending the room the illusion of more space. Part of the firm's gut renovation ("We took it all the way down to the studs," says Woodson), the kitchen received bold accents such as mercury-black quartzite countertops, a bronze and blackened brass chandelier from Apparatus and a custom bronze refrigerator handle by Soane Britain depicting three tiny hands grasping a bar. "We really like playing with scale," says Woodson. "Why not give it some oomph?"
Situated on opposite sides of the apartment, the bedrooms evoke a certain sensuality. The guest bedroom's interplay of neutrals includes a Phillip Jeffries silk wallcovering, a bed with a faux shagreen headboard from Century Furniture and a brass desk chair by Jonathan Adler. On the wall, an 18th-century Italian Neoclassical mirror from JF Chen joins Luigi Rossini copper-plate engravings found at Blackman Cruz. Behind Jim Thompson metallic silk draperies, a glass window wall allows views of planes taking off from and landing at LAX, and a sliver of ocean.
Centering the master suite is a 1970s Lucite and brass bed by Charles Hollis Jones, who, at the request of the designers, came to the apartment and assembled the bed, then signed one of the Lucite posts. He also designed and built the accompanying Lucite cocktail table, which joins a leather Pebble chair by Chuck Moffit found at Blackman Cruz. Flanking the bed is a pair of selenite tables by the designers, topped by lamps made from thin geode slices, from Dragonette. The natural accents, says Rummerfield, remind the client of his late father, who was a geological engineer. With touches like a handmade silk de Gournay Wisteria wallpaper, a bespoke carpet from The Rug Company, and—as in the guest room—a faux fur throw, the room embodies the feel of the entire residence, a relaxed but elegant city house. "This is our nod to high rise living," Woodson says. "New Yorkers have their look and feel, but this is L.A." Woodson & Rummerfield's House of Design, wandrdesign.com