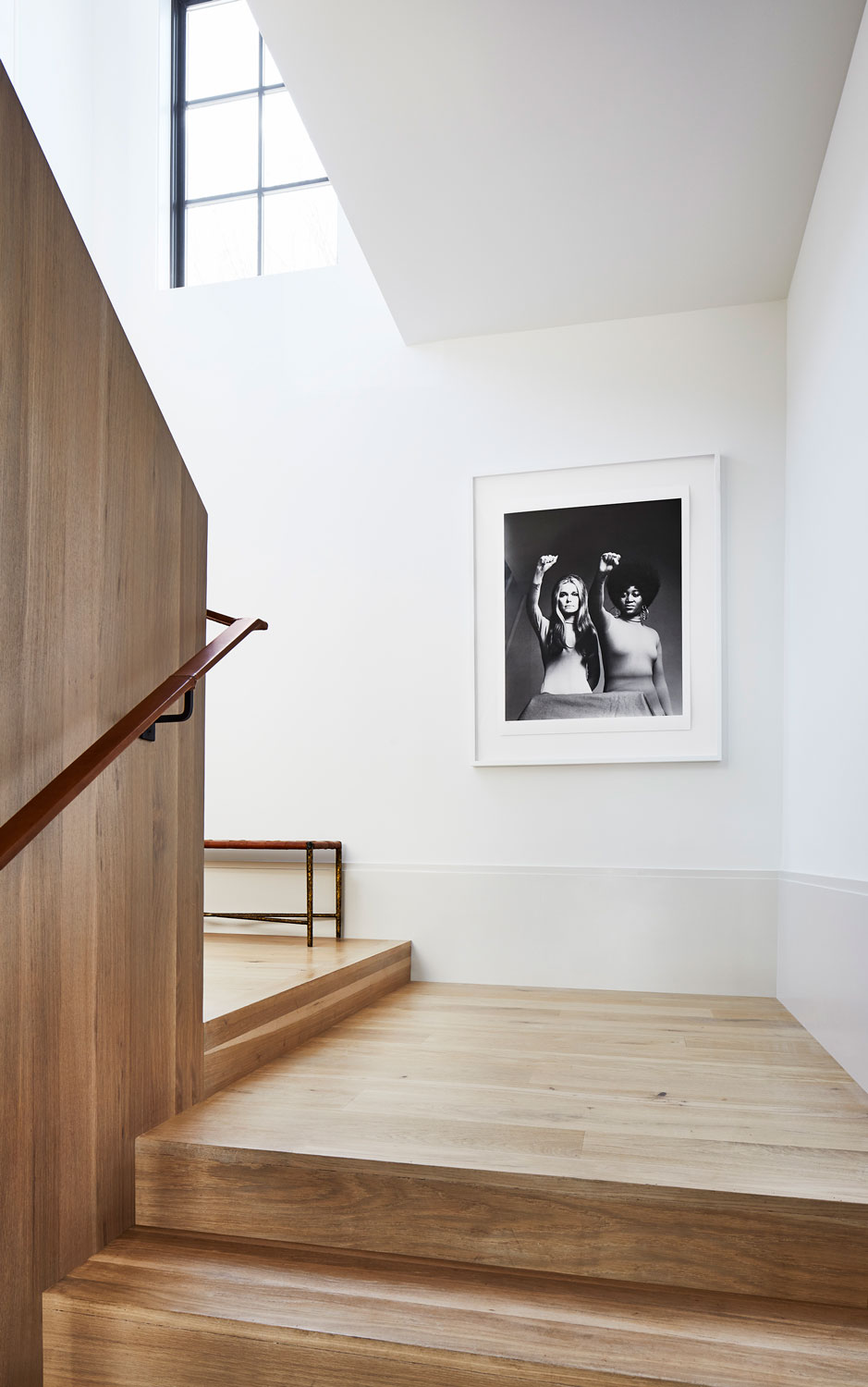 In a bright, contemporary home Chad Dorsey created for a client in Dallas, a single space captures the spirit of the place. It's a light-filled stairwell, angled around a wall formed by slabs of rift-cut white oak sandwiched around a raw steel insert. A black-and-white 1971 Dan Wynn photograph of Ms. magazine cofounders Gloria Steinem and Dorothy Pitman Hughes, their fists raised defiantly, hangs on a landing ("One of the first pieces we placed," Dorsey says). Sunlight spills through mullioned windows that offer views out to the treetop canopy of Bluffview, the leafy north Dallas enclave known for its privacy and rolling hills. As the stairway zig-zags around a corner, so too does the handrail, which is wrapped in leather, hand-sewn onsite over the course of a week.
"It's handmade in a way—handcrafted," Dorsey says. He could easily be talking about any of those details, but he's talking about the home itself, which he designed and constructed from the ground up with his firm MORE Design + Build. Dorsey cofounded that company with partner Kurt Bielawski some 15 years ago, and since they've built a business renovating and constructing homes in the Metroplex and beyond. Recently, Dorsey spun off his own interiors practice, Chad Dorsey Design, which has an office in Dallas and a satellite in Los Angeles, crafting interiors with an architect's eye for material, creating richly detailed spaces with a coherent sense of calm.
"I really like space," says Dorsey, who trained as an architect. "I'm always designing architecturally, in three dimensions." At the Bluffview home, that meant considering the strong Texas sun to plan for open spaces, indoors and out, in which to host friends and enjoy the surrounding views. The designer and client decided the home, which replaced an old cottage on the site, should look like it had always been there, gradually extended and added to over time like an old European estate. The material palette—antique brick salvaged in Chicago, native stone, dark chocolate-colored metal siding—was informed by Belgian architecture, while Scandinavian furniture was the starting point for the interiors. Yet the spirit of Texas infuses the space, from materials that echo the landscape to handworked, hardworking details like the steel bowties embedded in the kitchen's bleached walnut bar top. "It made the things that we're good at in Texas come out," Dorsey says of the home. "We have amazing masonry, stone and tile work; combined with woodworking and steel manufacturing we have some great artisans."
That detailed attention to craft—treating architectural details with the same attention one would expect in a piece of furniture—provides a backdrop for an equally considered approach to furniture. "To me, the furnishings almost come secondary, after you understand the architectural space," Dorsey says, and it's the fact that he's able to consider both elements together, from the very beginning, that he credits with giving the work its refined appeal. "It almost feels like you can pull items from one room to the other, and they fit in nicely."
That harmony stems from a carefully edited color palette and Dorsey's let's-just-make-it attitude toward custom furnishings, often pushing the craftspeople he works with on architectural finishes to create pieces they'd otherwise never imagined, like the living room occasional tables made by a local steel artisan. Artfully mismatched pieces create carefully balanced groupings: A McGuire Bercut lounge chair sits beside a wing chair from Hickory Chair and a Piet Boon chaise in the gathering room, while in the living room, a leather-and-linen "cloud" chair of Dorsey's design joins a Ligne Roset lounge in a Knoll boucle, a linen Oliver Gustav sofa, a low-slung custom ottoman with midcentury lines facing a steel-framed fireplace set within a hearth of oversize limestone tile. "Every space felt like we were using two or three different vendors and artisans to create the final design," Dorsey says of the move, which has the added benefit of ensuring that everyone has a favorite place of their own to sit.
"I'm never going into a space trying to put furnishings in it for the sake of it; I want the furnishings to elevate the architecture," Dorsey says, and this is perhaps nowhere as evident as in the lighting choices, which provide a crisp, graphic counterpoint to the relaxed yet tailored palette created by the furniture. A spotlight-like trio of Aim suspension lamps from Flos illuminates a custom sandblasted-oak dining table surrounded by slipcovered B&B Italia armchairs, while an oversize Luna Rossa pendant from Ligne Roset casts its glow over a custom concrete-and-steel table by the terrace entrance.
While every detail of the home is thought out, there's one space that Dorsey designed with change in mind: the custom steel shelving that forms a gallery just off the dining room, home to an ever-rotating lineup of the homeowner's art collection with musical instruments ready for an impromptu jam session. It's all rooted in the designer's concept of relaxed luxury, which has surprisingly little to do with what things cost. "Luxury is a feeling, an experience," Dorsey says. "Luxury is thirty minutes to read a book or sitting in a comfortable chair when you get home from work. Everyone can have that; it's how we interpret that for each individual person." Chad Dorsey Design, chaddorseydesign.com; MORE Design + Build, moredesignbuild.com
Save
Save
Save