Interior Design: Joanna Parol
Text: Abigail Stone
Photography: Manolo Langis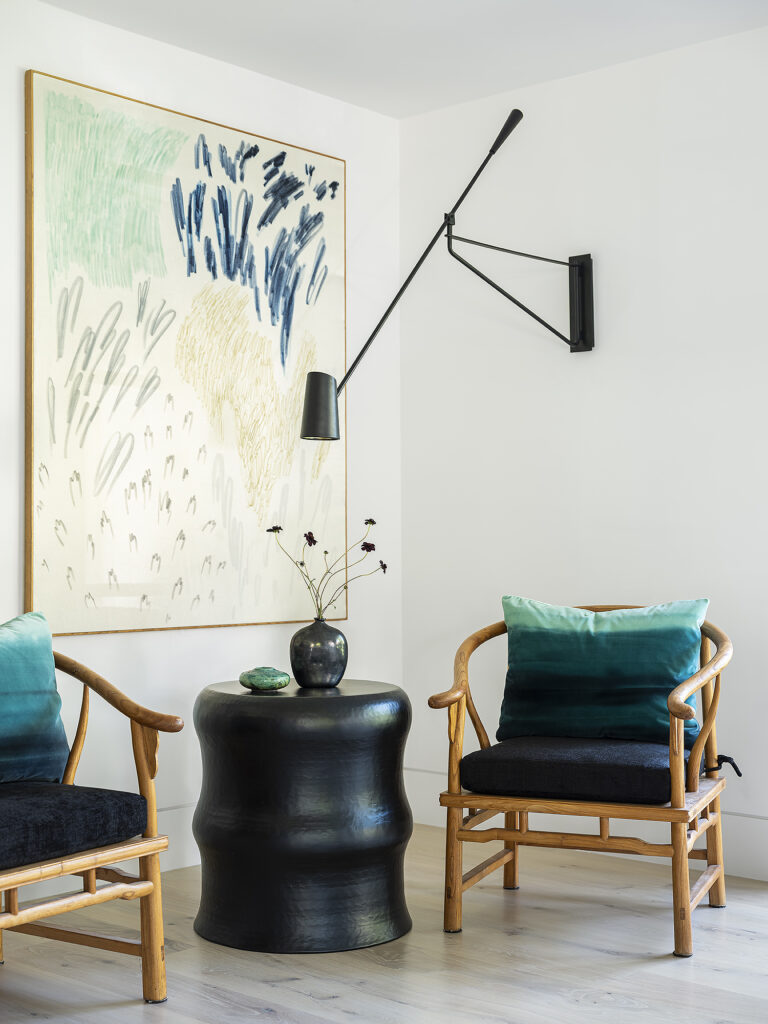 While many of us dream of unfettered creative freedom, the reality is that the best work demands limitations. So when interior designer Joanna Parol was told to do whatever she wanted with the client's home, she panicked. But Parol, a protege of James Magni, had absorbed his lessons well, integrating them with her own impressions to create a vision of modern that was uniquely hers. It would prove the ideal foundation for the project she'd shouldered.
Although the clients—a Hollywood film director and his wife, a painter and writer, both of whom immigrated from Asia—had come to Los Angeles as adults and had raised their children here, they still felt very connected to their birthplace. In fact, it was the backyard's thicket of bamboo, a glimpse of familiar landscape, that had prompted them to purchase the home. Parol, who was raised abroad, had some insight into the challenges of navigating two distinct cultures. Still, she struggled with how to marry the clients' background and their heavy vintage Asian furniture with the bright California setting in a way that felt contemporary and sophisticated. "I felt determined to make this work for them," she says.
Salvation came, as it often does, through serendipity. She stumbled across an image by Christian Liaigre. The French interior designer and architect was known for forceful minimalist interiors that seamlessly incorporated Asian furniture, African sculpture and European antiques. "Once I saw that, I knew I could figure this out," she says. The photo helped coalesce what she had learned about the couple. "The textures and colors the husband preferred were punchy and strong, while hers veered toward soft and watercolor," says Parol. That nod to the principles of yin and yang guided her work.
"Japanese Garden," a floral wallpaper by DeGournay, sets the tone. "It was exactly the vision I'd imagined," she says. "It had the neutral, barely pink background with splashes of vibrant color." Framed, it sprawls across one wall of the dining room. "They didn't have anything that was large enough," Parol says, "and, given that it's hand-painted, I consider it art." Bold pieces with organic shapes—Poliform's Concorde table, Saarinen's open-back chairs—support its leading role.
That same carefully orchestrated balance wends throughout the home. In the family room, the colorful whimsy of a piece by artist Ammon Rost is steadied by the muscularity of a vintage Chinese daybed, reimagined in a Holly Hunt boucle, and four swivel chairs upholstered in the same fabric. In the living room, richly colored pillows from velvets found at Una Malan pop against a pale cotton velvet alpaca, also found at Una Malan, which covers the curved sofa and club chairs. Parol designed their voluptuous contours—which float on a round rug from Stark and join a curvy table from Holly Hunt—as a lyrical counterpoint to the heaviness of the Chinese console and horseshoe chairs, updated with throw pillows in a velvet stripe from Zoffany, whose shades pick up those in the modern abstract painting by Larissa Lockshin. Those robust silhouettes and inviting textures also find their way into the primary bedroom, where a selection of fabrics by Romo and Zimmer + Rhode, discovered at Thomas Lavin, dominate. Pale rose, used for throw pillows and the custom vanity chair, is a shy starlet in the soothing parchment-colored room.
The judicious exceptions to Parol's script are dramatic and arresting: The vibrant pink marble in the powder room is one. "I'd actually specified a completely different stone," Parol remembers, "And then I saw this slab." She grabbed the three remaining pieces. "I had to have them," she says. Now well into the rhythm of the project, her instincts were on target; the clients readily gave their blessing. It effortlessly merges into a custom wallpaper by Black Crow Studios. Seed Design's Ling V mini pendant provides the room's final flourish. The husband's office, which doubles as the home theater, is another striking space. Parol's custom-created sofa and ottomans, drenched in a red cotton velvet from Una Malan ruched to fit over their bulbous silhouettes, share the spotlight with the husband's collection of vintage movie posters. A desk from Modloft Hayes, lit by a playful orange lamp by Giancarlo Mattioli for Artemide, doubles as both a console and a work surface.
The backyard is a tranquil, meditative oasis. "I knew we had to make it a focal point," Parol says, referring to the Chinese Buddha that she framed with a feature wall. "And the lily pond is a reference to Buddhism and rebirth, since this home also represents a new chapter for them." Shaded by a pergola, the furniture's forms echo the interior's pieces. "They were never outdoor people," Parol says. "But the daughter told me that now her mother is always asking if they want to sit outside." Though the bamboo is now a memory, Parol's success in capturing its spirit in her design of the home is clear from the husband's assessment of the project. "He told his daughter, 'This is the first time I feel like I'm home,' " she says. "This is why I do what I do." Joanna Parol, joannaparol.com