Interior Design: Dawn Engeman-Brehm of Diggs Design
Text: Laura Mauk
Photography: Jack Robert
Published as:
A Perfect Marriage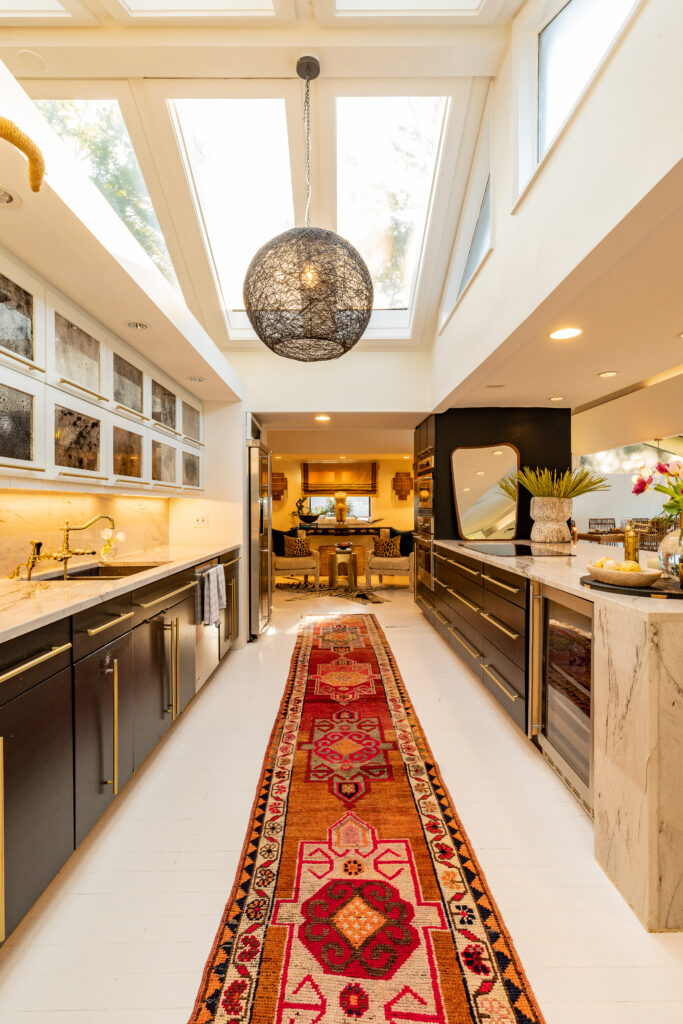 Interior designer Dawn Brehm is a master storyteller. Her verbal tales consistently put listeners on the edge of their seats and her visual stories are sights to behold—arrangements where color, texture and form come together symphonically and almost always incorporate family memories. "The minute I see a piece of design or art, I feel a story being told," says Brehm, who co-founded Diggs Designs in Greenville, South Carolina, with Danielle Walter. "I grew up an only child, so I think design is my way of telling stories to myself and whoever will listen," she says.
Dawn's own Greenville home—imagined in 1958 by architects Kirk R. Craig and F. Earle Gaulden of Craig & Gaulden Architects, now Craig, Gaulden Davis Architecture—is the backdrop for some of her more remarkable visual stories. The designer purchased the sunlight-filled house in 2018 with her husband, Jimmy Brehm, a criminal defense attorney and musician, for their family, which includes their 15-year-old son, Porter, a sheepadoodle named Fender, and a labradoodle named Rucker.
The way that Dawn and Jimmy came to purchase their home is one of the designer's more compelling stories. "Jimmy and I have known each other since we were in grade school," she says. They were friends for years, but began dating after spending time together during the weekend of a friend's funeral. "We dated for two months after the funeral, when Jimmy's dad was hit by a car and killed," Dawn explains. "After he passed, Jimmy turned to me and said that if I married him, he'd let me pick our house." She said yes and drove almost immediately to the midcentury house in the Stone Lake neighborhood of Greenville that she'd been coveting. "I told Jimmy that I loved this house and his response was that it wasn't for sale," she says. "I reminded him that everything's for sale." And as the story goes, the designer marched up the front walk, rang the doorbell, and made the homeowners an offer they couldn't refuse.
The house quickly became theirs and the couple went to work, updating and personalizing the design. They traded in small sliding glass doors in the open-plan living-dining area for massive retractable glass ones that connect the interior to the rear yard, where there's a pool terrace, a fire pit, a bar area and a bathroom. They painted the hardwood floors, the walls and the ceiling a shade of bright white and removed six feet from one end of the living area's double-sided brick fireplace. "We wanted it to be more open," Jimmy says. "We also took out ceiling beams in the kitchen and living area because they blocked the view of the backyard."
The couple re-created the kitchen, swapping out the existing counters—which they repurposed as counters for the outdoor bar—for white quartzite ones with bronze-toned veining. Dawn painted the lower cabinetry black and added brass-colored pulls. She created antique-style glass insets to give the upper cabinetry an old-world sensibility. "Originally, the insets were greenish bubble glass," she says. "The kitchen was so modern that it needed something different. I like to create juxtaposition. Mixing old with new tells a more interesting story."
The designer enlivened the living area with bright color and a variety of forms and textures, arranging a glass-topped driftwood coffee table, a slim-silhouette Robin Bruce sofa wrapped in maize-colored velvet, snake side tables crafted from fruitwood, and a pair of swivel barrel chairs upholstered with fuchsia chenille—a fabric choice that comes with a funny story. "Those chairs used to be upholstered in white fabric," Dawn says. "Porter and our nephew had been eating hot dogs by the pool and came inside in wet bathing suits and sat down in them," she says. "When they got up, there was mustard, ketchup, and water stains all over the chairs. So, I went and got the fuchsia chenille and had them recovered."
A pair of 1930s stools from Paris covered in black mohair balance the brightness of the barrel chairs. "It's important to mix high-end and low-end pieces," Dawn says. "Again, it tells a more interesting story." To provide history and dimension, the designer added her father's wood chest of drawers to the living room mix. "The dresser has been in my family for as long as I can remember," she says. "There's starch on the front from my dad's shirts. When he passed away, I just looked at the dresser and smiled. I knew I'd always keep it and make it work in my house." A wood box that Jimmy built with his dad holds all of his records from high school and lends more nostalgia and texture. In the dining area, Dawn surrounded a Serena & Lily wood table with woven chairs from Indonesia and hung a sculptural brass light fixture made in Charleston by Molly Trotter. "It reminds me of Tinker Toys and takes me back to my childhood," she says. "I always played with Tinker Toys at my grandparents' house on the Santee River."
Dawn, who admits that she has always bored easily, is an expert at generating delight and layering design elements in a way that keeps her and visitors to her Greenville home constantly engaged. "Jimmy walks around the house playing the guitar morning, noon, and night," she says. "I pinch myself as I sit in my living room with a cocktail in my hand and think about the fact that I'm being serenaded by a really good-looking guy and have this beautiful view of the pool and a fire in the fire pit outside. It's just like a dream." Diggs Designs, diggsdesignsllc.com