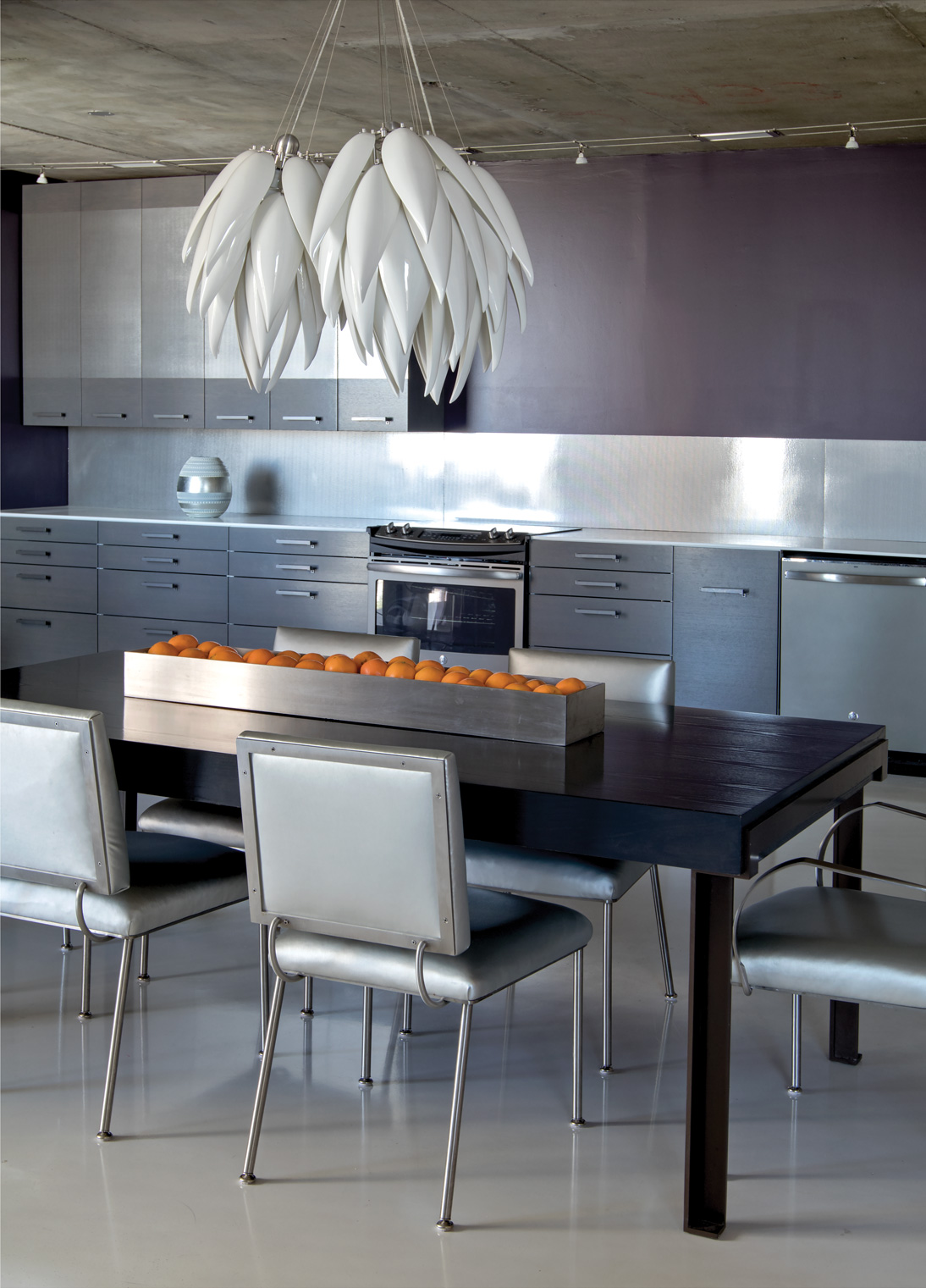 Published as:
COLOR
STORY
Interior Design and Architecture:
Marc Desplaines and Luis Salazar
Text: Heather Corcoran
Photography: Christiaan Blok
It's no coincidence the root of the word "curator" comes from the Latin for "to care." It's not a curator's job to merely select items; there's a certain responsibility, a sense of stewardship inherent in the role. This etymology makes perfect sense when you look inside the art-filled Phoenix home of furniture designer Marc Desplaines, a space deeply reflective of a creative mind and his cohort. "I'm a collector at heart," he says. Filled with pieces by longtime friends, along with his own work for his expressive furniture line, Antoine Proulx, it's a life story told through the objects on display. "I have a personal relationship with everybody who's represented at my house—Mark Albrecht, Gary Hutton, Scooter LaForge," says Desplaines. "Being surrounded by what's in here reminds me of them. It's like, my family's all here today—and I like that."
The home is Desplaines' loft-like apartment in a 1963 Al Beadle–designed high-rise, an unusual typology for Phoenix, but one that provided crisp northern light and views of the Superstition Mountains. When the designer first encountered the home, the 1,600-square-foot three-bedroom, two-bath had been through a series of renovations that left it feeling dated, chopped up and filled with popcorn ceilings and glass blocks. So Desplaines called upon architect Luis Salazar, himself an artist, with whom he had developed a friendship working on a number of projects at his previous home-slash-showroom. "My initial relationship with Luis started out as putting in a patio," Desplaines says. "And he ended up making an outdoor pavilion, building me a new office, gutting the house, redoing the kitchen, adding a bathroom. It just became a full-fledged, almost from the ground-up job. So when I bought this place, I knew Luis would be ready. Everything I looked at, I was like, 'Oh, Luis can handle that. Luis will know about that.' "
At the Beadle apartment, challenges soon revealed themselves. The plan was to remove partitions to create a more lofty space with two bedrooms and an open office with desks of Desplaines' own design, but the discovery of asbestos quickly complicated things. In stripping the space, the team also discovered the original board-formed concrete ceilings, a design opportunity that Desplaines didn't initially recognize. " 'Luis looked at me, like, 'Are you on drugs?' " Desplaines says with a laugh. His trusted collaborator quickly put his fears at ease by explaining that the raw concrete, once cleaned and acid-washed and paired with new, polished white acrylic floors, would provide a crisp, contemporary counterpoint to Desplaines' slick, modern furniture. Salazar was right. When the sun rises through the east-facing windows in the living room, which is painted Benjamin Moore's plummy Grappa, it hits a multihued Chroma table by Gary Hutton, casting a prism of color across the white floor. The light is picked up in a coffee table Desplaines designed two decades ago with hand-blown, hand-cut Irish crystal legs. "Like corduroy on steroids," Desplaines says of the textured effect.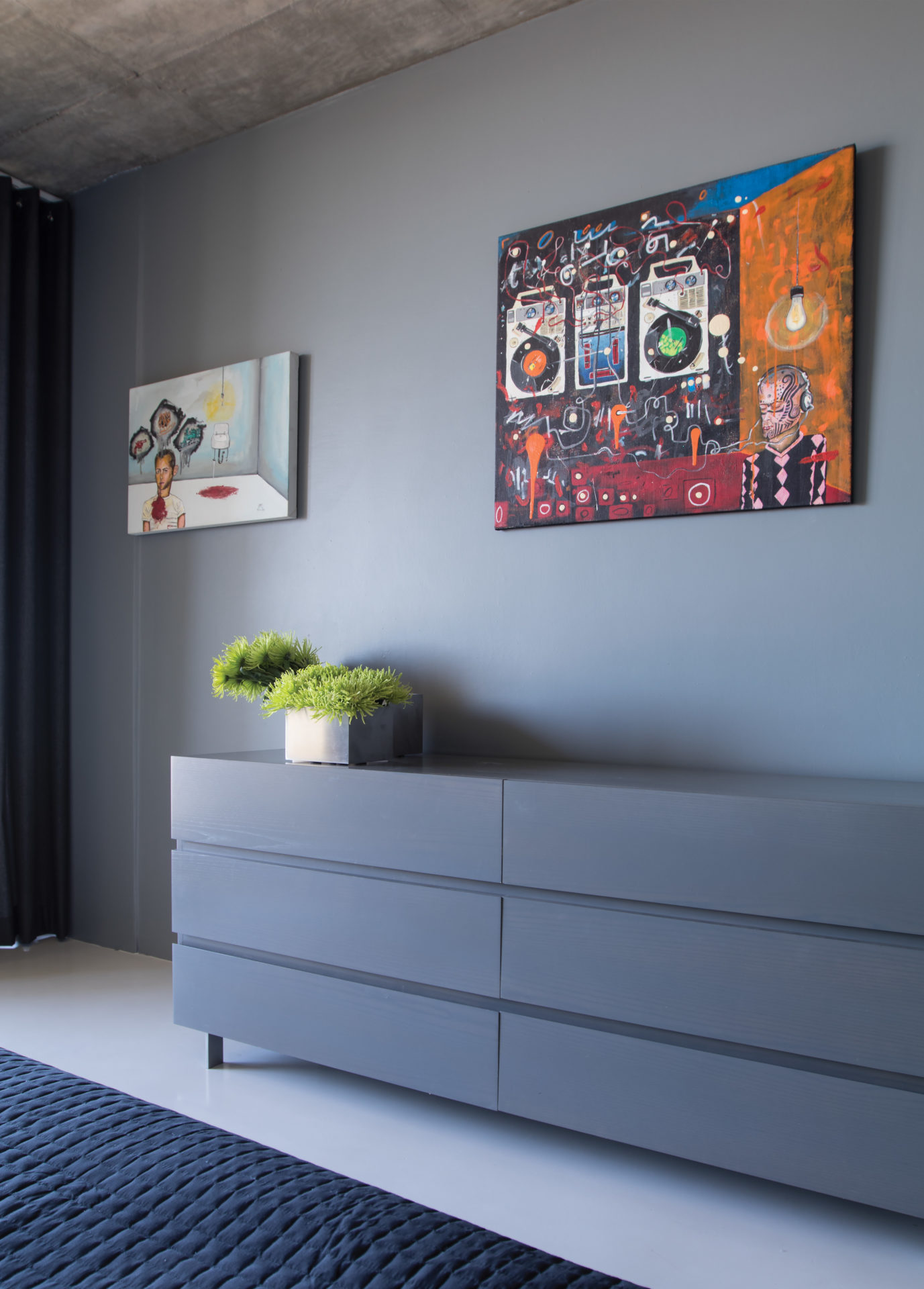 The home's industrial backdrop of concrete and metal (including the kitchen backsplash) is countered with moments of vibrant color, like Benjamin Moore's Fiesta Orange (one of the few moves where Desplaines had to convince Salazar), and rich, almost baroque, textiles such as a couture Jakob Schlaepfer jacquard printed with nosegays of jewels and the white stamped mock-crocodile that adorns the Mark Albrecht chairs. Desplaines found inspiration for the dramatic palette, which says he finds soothing, in the art of painter Francis Bacon. And then there's Desplaines' own art collection, color-saturated canvases by Scooter LaForge and the atmospheric photograph by Salazar that hangs over the mirrored Antoine Proulx headboard in the master bedroom, and pieces like the bone china chandeliers by Jeremy Cole with the organic look of aloe vera that hang via metal conduit that criss-crosses the concrete ceiling to decorative effect (Salazar's idea), in the dining and living areas. In the entry, opposite a black wall, two floral sconces by Cole flank a painting by LaForge over a drop-leaf Wendell Castle table that once sat behind a sofa.
"Everything in here started out as something else," says Desplaines, who sees his collection as a constantly evolving set of source materials that can be repurposed, reupholstered and re-envisioned to suit his changing needs. "It goes back to my fashion days," says Desplaines, who worked for avant-garde designer Yohji Yamamoto in Tokyo. "You have a closet full of stuff and you know you don't want to wear it the same way every day." Likewise, the designer defers to his creative collaborators when it comes to fabric and finishes. "I have a collector's mentality. I like when I give the designer and the artist free rein to do what they think is cool," Desplaines says. "If that's what they think is cool, then I feel I've got the best, and I'll work with that."
In just one space in the home, the back bedroom—originally the master, but envisioned by Desplaines as a cozy guest suite—the team kept the original popcorn ceiling (painted Benjamin Moore's deep Dragon's Breath) and added a shag carpet as a nod to the building's 1960s vintage. Now two nautical sconces sourced from a shop in Provincetown flank an Antoine Proulx bed outfitted with what Desplaines describes as "taffeta bedding with tassels on it, sort of like a Vermeer painting." Like every room in the space, it's a symphony of color and texture that rewards close attention. "I hate beige with a passion," Desplaines says. "Color is soothing—even if it's orange or purple. It makes me feel good, makes me feel happy. It's necessary, in life, to be surrounded by color—not beige." Antoine Proulx, antoineproulx.com; Luis Salazar, salazararchitects.com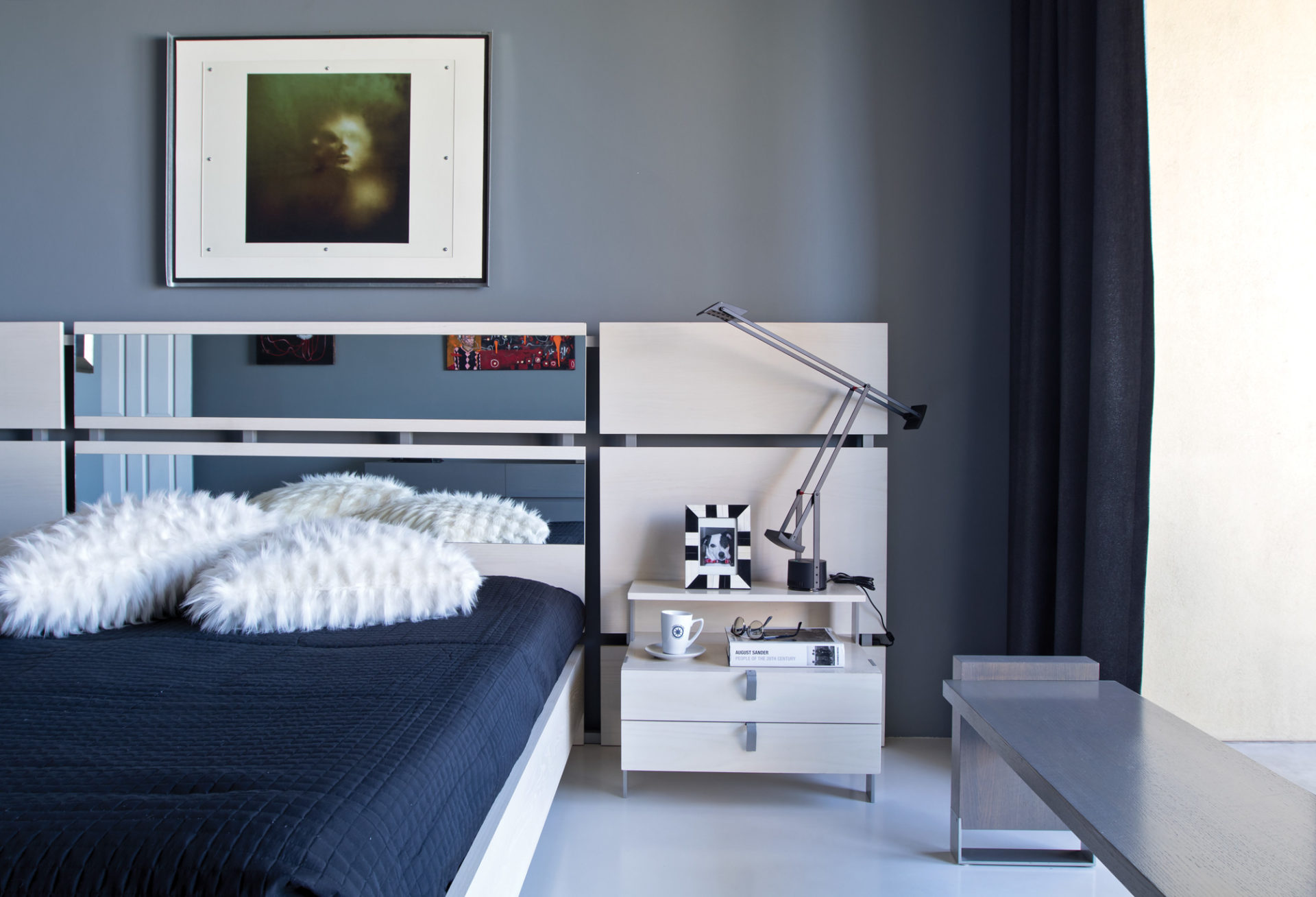 Save
Save
Save