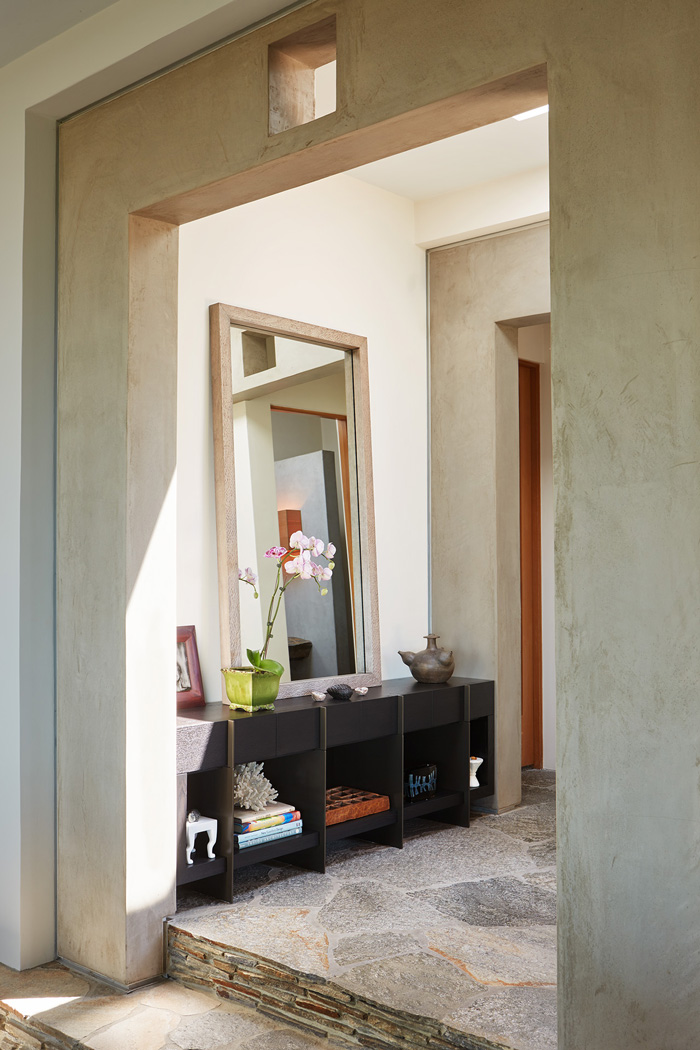 Published as:
California Cool



Interior Architecture and Design: Nick Berman
Text: Erika Heet
Photography: Sam Frost
Near the top of a canyon road that snakes upward just off Sunset Boulevard in Los Angeles is the home of designer Nick Berman, who has spent more than 25 years transforming it into a living design laboratory. When Berman—who runs the furniture atelier Berman Rosetti with his business partner, Gennaro Rosetti—bought the 1970s house, it was architecturally unremarkable, but it was tucked into a steep lot with stunning views across the canyon below to the Queen's Necklace, the ocean and Catalina Island beyond.
For Berman and his wife, Debbie (who helps manage the business), work, life and design intermingle here yet are appropriately separated: A former downstairs guest suite has become the office, and the rooms upstairs are mainly reserved for living and entertaining. "It's like a mullet," Berman says with a laugh. "Business in the front and party in the back." Throughout, Berman has integrated a combination of his handmade, wood-dominated furniture designs that run the gamut from one-offs to prototypes to classic pieces in full production, along with art and objects from the couple's world travels. Here, in his own space, Berman is comfortable trying new design approaches. "When I hit my stride and got something I felt comfortable with for this house, it opened things up for me in my work," Berman says. "When you're experimenting it becomes very liberating."
The approach to the home immediately reflects Berman's touch. The once-exposed entrance is now protected by a courtyard of his design that provides a slow reveal of an architectural gesture whose Cubist angles and joyful terra-cotta color recall Luis Barragán's modern houses in Mexico. Just inside the entrance hall, Berman—who began as a fine artist and studied architecture and interior design at Art Center College of Design and UCLA—played off those exterior angles by introducing a doorway surround clad in plaster that has been waxed to a shiny finish, punctuated by a perfect square cutout overhead.
This finish continues on the walls flanking the stairs to the office below and on the main living room wall, which Berman angled slightly outward as it rises to almost touch the ceiling. "It throws you off a little bit," notes Berman, who threw another vertiginous element into the mix: a huge mirror framed in aged leather, leaned against the same wall. "I made it for another house I designed, but it was ultimately too big for that house, so I had to take it home," he says. When a shipment of Northern Idaho quartzite for the floors arrived in a golden color rather than the specified gray, Berman devised a gradation of gray to gold stones paving the way from the master dressing area, which is dominated by tansu chests of Berman's design, to the master bath. "Taking an error and turning it into something that works for you is the biggest lesson you can learn in almost every aspect of life," Berman says. "You make mistakes and figure out how to make it work. It's like a watercolor; when water drips you have no control over it and you have to keep moving. It forces you to be loose and on your toes."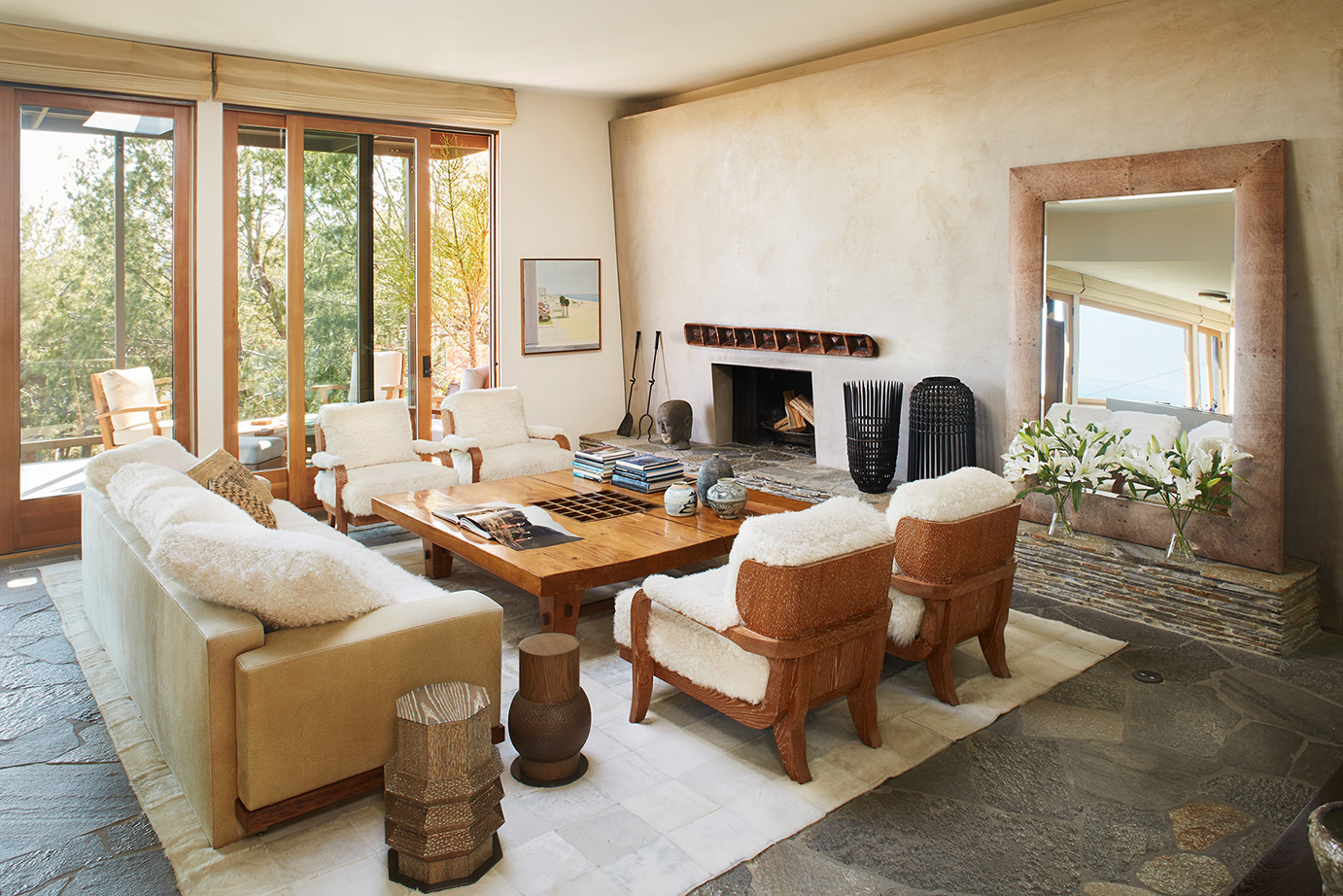 Berman has left many areas of the house open for quiet contemplation. In the living room, among Berman's furniture, a painting by California artist Larry Cohen and sculptures by married artists Echiko and Minoru Ohira join a serene concrete head from Sumatra, an antique wood chicken feeder and a spiked Indonesian fish basket. The latter is from Mimi London, who in 1987 asked Berman to design a furniture collection for her showroom in Los Angeles ("I didn't know what I was doing, but it turned out, and suddenly the hobby became the avocation," says Berman) and in whose showroom Berman Rosetti remains represented today.
Elsewhere, such as in the open kitchen and dining area Berman reconfigured from a maze of smaller rooms, a seamless palette of light woods allows the views to be the main focus. Recently, after determining that the dark finish on the long table was "a counterpoint," he reskinned it in a rift-oak veneer in Driftwood and traded dark wood chairs for cerused-oak chairs and stools covered in leather from his collection. "Now, this is all one value," he says. "It's fun to evolve."
Art is part of this ongoing evolution: A Spring trip to Cortona, Italy, yielded the quartet of wire boars by artist Antonio Massarutto that currently bound across the sitting room wall. In the master suite, Gary Ruddell paintings of swimmers hang above the bed, which Berman designed 15 years ago. In the guest bedroom, a pair of plaster zoomorphic African tables by John Dickinson stand as an homage to the legendary San Francisco designer. "His work was transformative for me in my mid-to-late 20s," Berman says. "I had never seen anything like it. It really stayed with me, that primitive modern aesthetic. It was such a powerful influence."
Taking full advantage of the slim ribbon of space directly bordering the house, Berman has created natural segues into outdoor rooms on all sides, from which the couple enjoy the cross-canyon afternoon breezes that rustle the palms and pines. For the terrace off the living room, he designed a roof overhang dotted with small square perforations that echo the grid of the wood table beneath, an early Berman Rosetti design for David Sutherland. "The cutouts create little squares of light that move with the sun," says Berman, whose design process benefits from being able to interact with his creations every day. "It makes a huge difference, to know how something truly functions," he says. "It's the best way to learn, experiencing all the palettes, with one texture next to another."    Berman Rosetti, 310 476 6242, bermanrosetti.com