Interior Design: Christina Kaz and Lilit Devejian, Luxyspace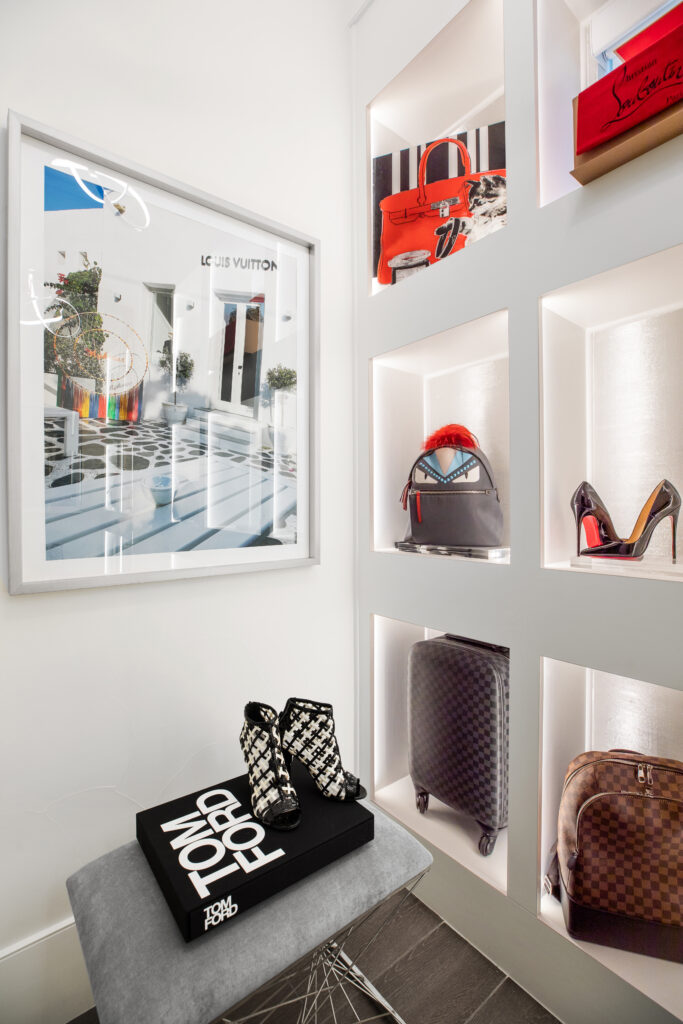 A California couple enlisted design firm Luxyspace to help them outfit their home in Bluff Pointe, along Central California's San Joaquin River, defined by a dramatic, double-height great room overlooking the property. "The homeowners enjoy spending any free time traveling to exotic places," says Luxyspace co-principal Christina Kaz. "We wanted to create a space that represented that exciting lifestyle." They also knew they had to make the most of that luminous, soul-refreshing view.
As harmonious as the couple are in their love for travel, their family, and for each other, their styles differ greatly. The goal was to create an interior design style that felt cohesive and made the most of this duality. "One partner enjoyed a more earthy aesthetic, while the other had a more elegant style," says co-principal Lilit Devejian. "Opposing forces can, however, serve as the perfect counterparts, creating depth via the juxtaposition of concepts."
Since the home's entryway is the home's first defining moment—where visitors are greeted with the view of the breathtaking California landscape, framed by the large-scale windows across the entire back wall of the Great Room, "our goal," notes the designers, "was to make it a place where you simply pause to take it all in." Kaz and Devejian selected a beehive chandelier to complement the curvature of the dramatic spiral staircase. A railing was custom designed, made to flow with other elements in the home.
"The San Joaquin River was the ultimate focal point throughout this home," the designers say. Raw silk draperies frame the tall windows that invite the natural backdrop in. "The fabric dramatically transitions into a dark velvet and puddles down perfectly into the glazed porcelain flooring," Kaz says.
Chic, serene balance is achieved in the primary suite, where a dramatic focal point takes shape in the custom headboard spanning the entire back wall of the room. The team also introduced a seamless blend of eclectic French, industrial, vintage, and traditional lighting fixtures. Since fashion is a huge part of the homeowners' lives, and because they both appreciate fine art, the primary suite also features a memorable, boutique-style closet, where minimalist compartments and accent lighting emphasize the displays. "Our clients fell in love with the harmonious atmosphere," Devejian says. "When it comes to two halves of a couple, the visions really can merge to create one whole, striking design." Luxyspace, luxyspace.com