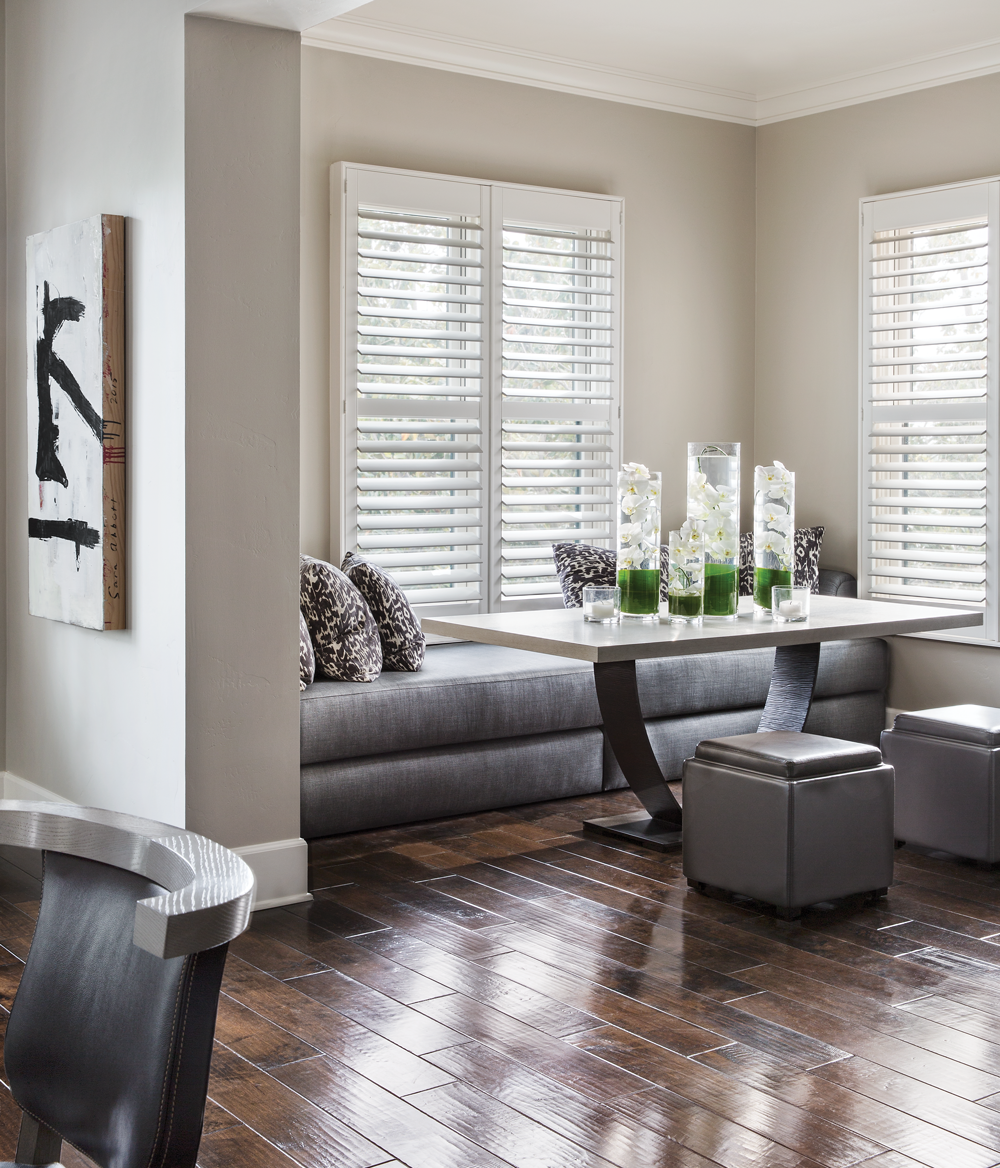 Published as:
Neutral



TERRITORY

Interior Design: Coryne Lovick
Text: Ron Broadhurst
Photography: Laura Hull
It takes only a few minutes of conversation with interior designer Coryne Lovick to recognize that she and her client, the owner of a sprawling condominium in Pasadena, California, were sympathetic comrades in design, favoring palettes that tend toward the dark and the neutral. The apartment she designed for a bachelor dentist is a dramatic and peaceful place to entertain guests; this is immediately reflected in the entry to the apartment, where the first of many ornate Persian carpets inherited from the client's family greets visitors.
In fact, it was the large Persian carpet, with its pink and green tones, in the expansive living room that presented the greatest design challenge to Lovick. The client gave Lovick virtually free rein, with only two important requests. "I'm a single guy and I wanted a masculine place," says the client. "And we were limited by my carpets. Where I go, they go." In the living room, the carpet's dominating proportions required Lovick to design or select every piece in the room to respond to it in some way. The client, says Lovick, "wanted the house to be comfortable, but his main objective was for it to be timeless." To that end, Lovick created an assemblage of robust furnishings, culling from her own collection for Mimi London, and introducing custom pieces that would make a strong impression standing alone, "which is how I design when I go into people's homes," she says. Here, Lovick anchored the room with her Loft bookshelves straddling the fireplace and, immediately opposite, two suspended Cuir consoles, paired with sconces by Kevin Reilly for Holly Hunt, framing the pair of French doors leading to the main terrace. A mélange of artwork hangs in the open room, with pieces by Sara Abbott, Angelo Monserat and Sheri Lee Robinson, whose abstract painting, The Bull, is placed above a Jiun Ho Ulu table paired with Minetta chairs from Holly Hunt.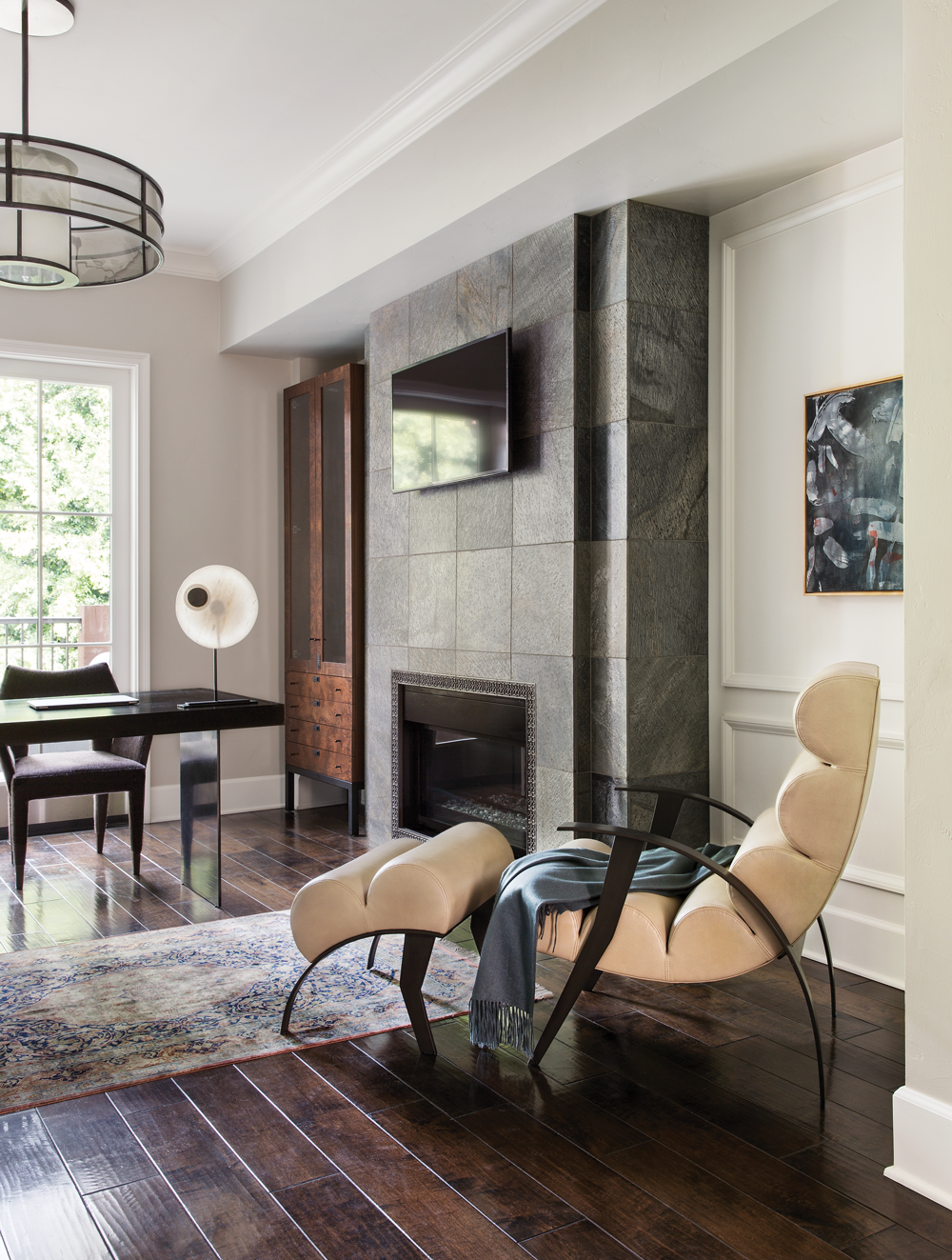 These elements frame a grouping of distinctive large-scale pieces—a sofa by Joseph Jeup for Holly Hunt, with silk taffeta pillows by Rose Cumming, and a silvery green Elana daybed by Bright from Thomas Lavin. The room's tour de force, a marble slab coffee table, was custom designed by Lovick, as were the Horn dining chairs, covered in a pebbled gray Berman Rosetti leather, providing a complement to the dining table from Holly Hunt. In the adjacent kitchen, Lovick worked with the existing tile and cabinetry, adding a trio of Berman Rosetti barstools. She put her stamp on the light-filled breakfast area with the Mezza Luna table from her collection and a custom-designed banquette.
In the dark-toned, elegant study, Lovick responded to a family heirloom Persian rug with a custom-designed desk and a sculptural chair by Natasha Baradaran from Jean de Merry. But perhaps the most distinctive piece in the room is Lovick's Hudson chair and ottoman, which the client saw advertised and was the deciding factor in his choice of Lovick as his interior designer. (Lovick reciprocated the gesture by gifting the client with a wood sculpture by Kerry Vesper hanging in the apartment's entry hall.)
The master bedroom exudes the perfect balance between light and dark, raw and refined, with a series of abstract female nude charcoals by Hilary Taub dominating an entire wall, offsetting the custom bed and nightstands designed by Lovick. Other artful touches include a weighty but sinuous rosewood chaise longue by Therien and, in the room's entrance, a console from Lovick's collection, its curved base made from smoked eucalyptus. "A lot of my pieces I create with curves," says Lovick. "I don't know if it's more feminine or I'm just really attracted to curves. But there were such harsh lines here, it felt like it needed something to soften the space as you entered." Outside, the master bedroom's private terrace is furnished with an arched chaise longue by Link Outdoor, with a Corbusian lounge chair and table from the same line.
The guest bedroom is more subtle, with strong profiles such as the Arroyo bed by Berman Rosetti and a floating, cantilevered side table custom designed by Lovick. Just above, a Billy Criswell serigraph on paper is reminiscent of an abstracted asterisk. As throughout the home, the result is a curated collection that creates a neutral environment with a riot of color and creativity just beneath the surface. Coryne Lovick, corynelovickcollection.com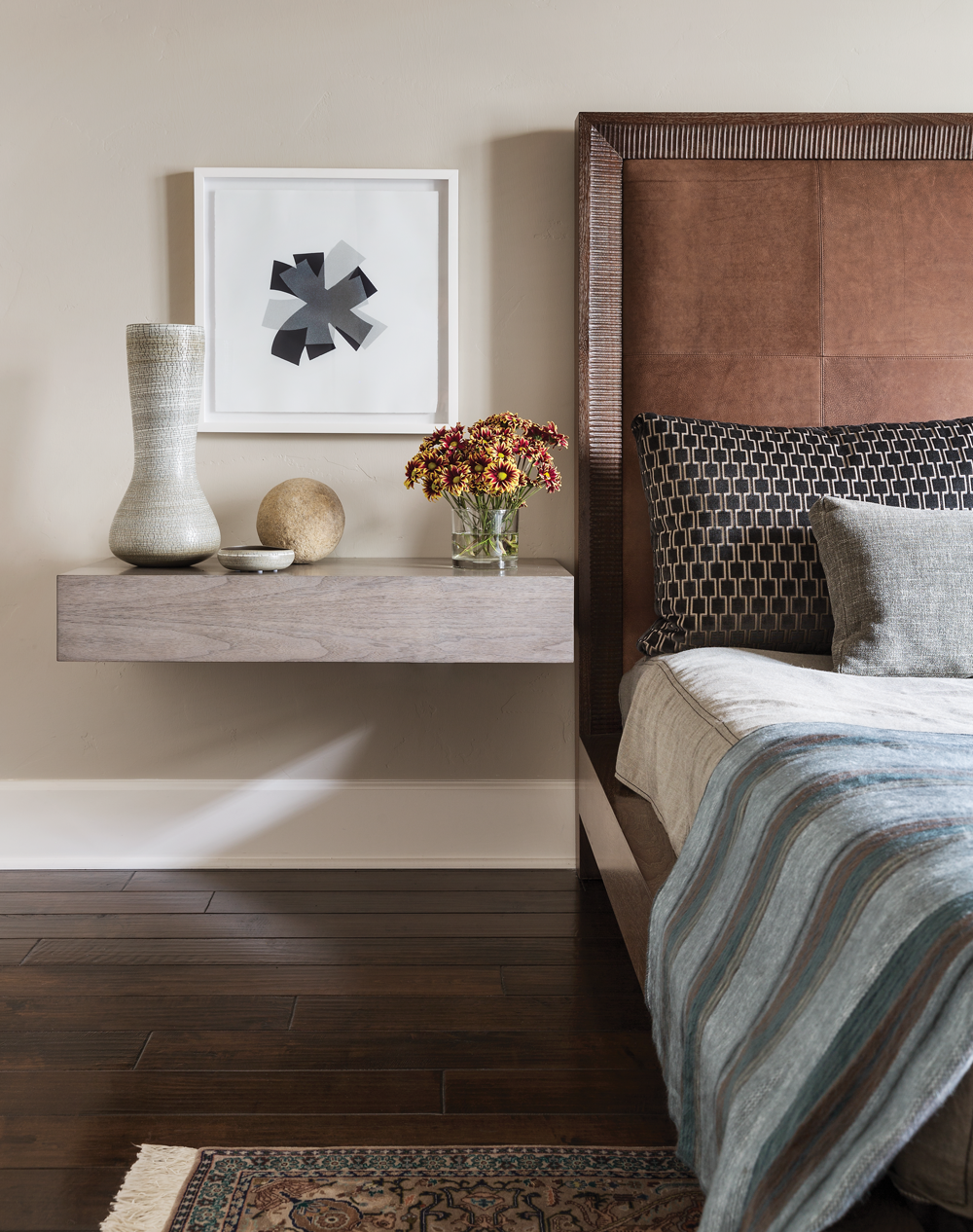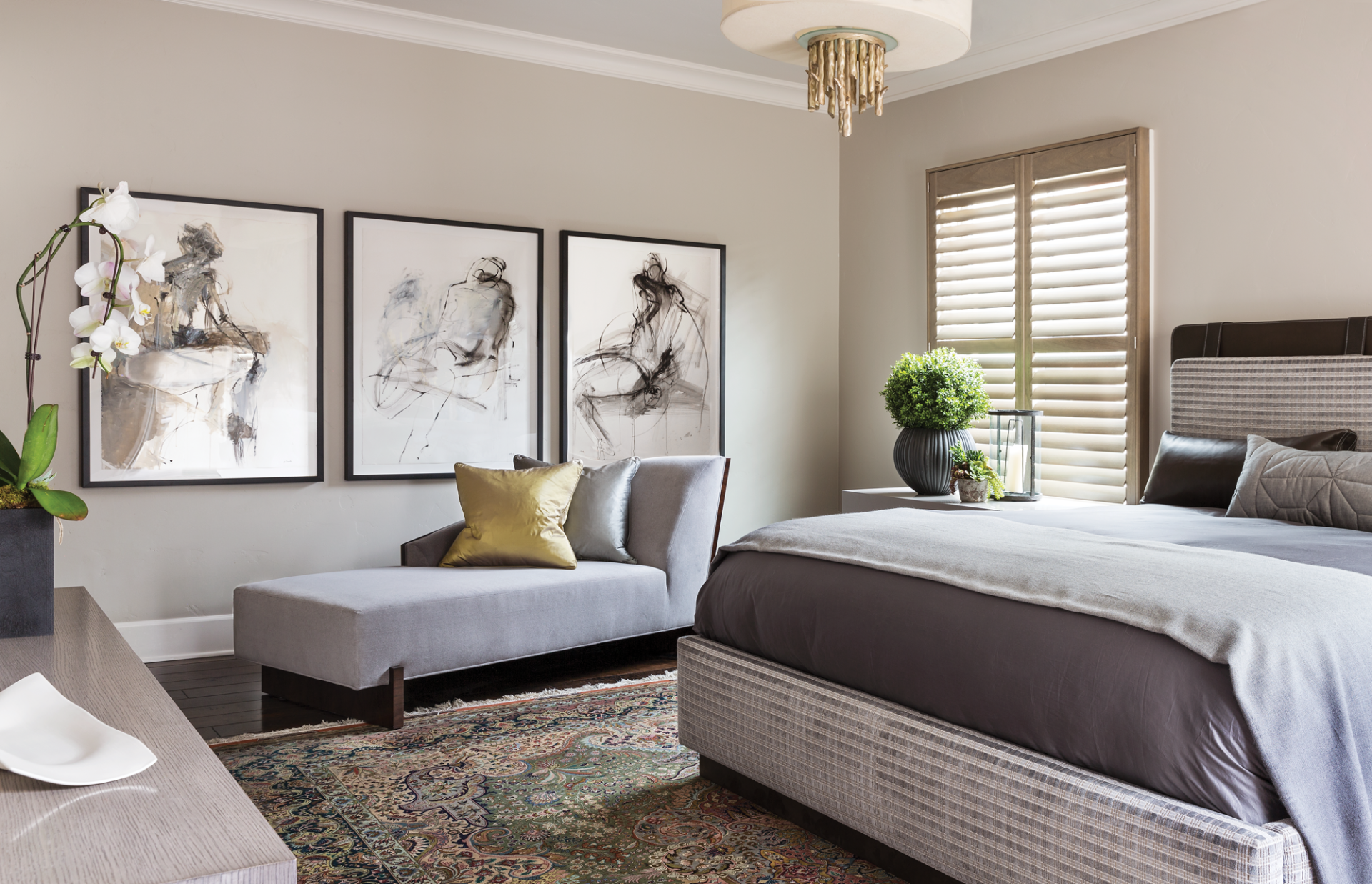 Save