Interior Design: Grade NY
Text: Erika Heet
Photography: Thomas Loof
Published as:
Manhattan Muse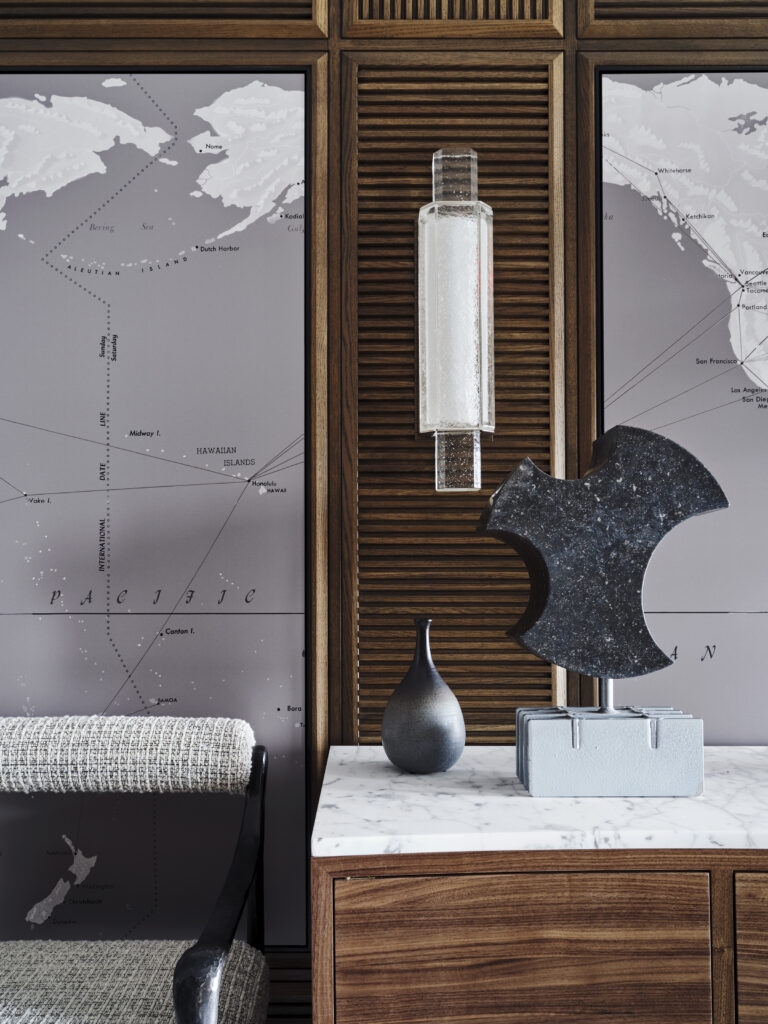 It all began with a pair of armchairs: circa 1940 Bombay style with ebonized black ash arms that curve and reach down to the floor, selected by the design firm Grade NY for their clients on the Upper West Side of Manhattan. Found via Rose Uniacke, the chairs have "an understated, graceful effect, which were qualities we wanted to express within the project," says designer Edward Yedid, who founded Grade with architect Thomas Hickey in 2004. "The couple came with some specific lifestyle and stylistic requests in mind," Yedid says. "They envisioned their home blending late '40s, postwar French with a refined sense of Hollywood glamour, and were drawn to the sleek lines and unfussy details of those periods. The desired effect was mature and elegant, design-forward with a modern palette of luxurious, rich materials."
For this peripatetic and philanthropic couple—a former Pan Am flight attendant and US import business owner and his husband, who works in real estate—their New York home would reflect their broad worldly vision through Grade's mastery of mixing vintage, custom and contemporary elements. Focusing on the clients' original aspirations, the team extended this balance in unique ways throughout the apartment, such as combining a curved Vladimir Kagan sofa, a custom Grade-designed faux shagreen display cabinet, dining chairs by Gallotti & Radice, and, of course, those Bombay chairs, which now anchor the living room overlooking the city.
This blend is established in the entrance hall, which lets light and more city views in through floor-to-ceiling glass doors leading to the bright main rooms. Here, a nod to the client's past in the skies and the couple's shared love of travel emerges through vintage maps of Pan Am flight routes, surrounded by custom fluted oak millwork. A symphony of materials is introduced with a solid lacquered walnut credenza topped by a honed satuarietto marble slab, custom made by John Lee Furniture. It is accompanied by Cesare Arduini's Abstract Stone Sculpture with Base, 2018, a steel and blue Belgium stone beauty from Maison Gerard, and the handcrafted cast glass and polished nickel Carmel sconce from Magni Home Collection, found at Jean de Merry. "From the moment you enter the penthouse, textures are introduced in an impactful way," Yedid says. "There are 'moments' that feel rich and inviting, and others that are softer and more luxurious, and to achieve that interplay we focus on textures, such as stained walnut and oak, woven silk and velvet upholstery, and beautiful plaster finishes, which all create depth in a refined manner."
Yedid's background in art advising and collecting helped add what he describes as "that extra layer of character and complexity, even a sense of power, to a room that is just not achievable without it." The Alex Katz painting in the living room, Christy, 2013, "with its swaths of black against the softer tints and jewel tones in gentle forms brings the room together in an unexpected way," Yedid says. The natural wood totem sculpture in the dining room by Frank Evennou "is a playful break in the array of directional lines of the banquette seams and upper cabinets while complementing the millwork and herringbone pattern on the floor." Madmen #1 and Dance Party by Tomoo Gokita in the primary bedroom "juxtapose and ground the color scheme of the room with soft abstractions in black and white."
The primary bedroom's gray scheme perfectly reflects the muted light of New York, with a channeled bed and table lamps by Holly Hunt, wallcovering by Dedar and a gray-dominated Stark carpet. Between the windows is Jennifer Bartlett's fittingly titled Black, Grey, White. These hues continue in the dressing area, cleanly accented with a custom Grade ottoman covered in a Jim Thompson mohair. "With its layers of sophisticated gray tones, the room is a departure from the warmth and the richness of the other spaces," Yedid says. "It does relate to the edginess of New York City in that it strengthens the intent of the room, but the execution is soft and graceful." It's a juxtaposition that fully embraces the city that inspired it. Grade NY, gradenewyork.com